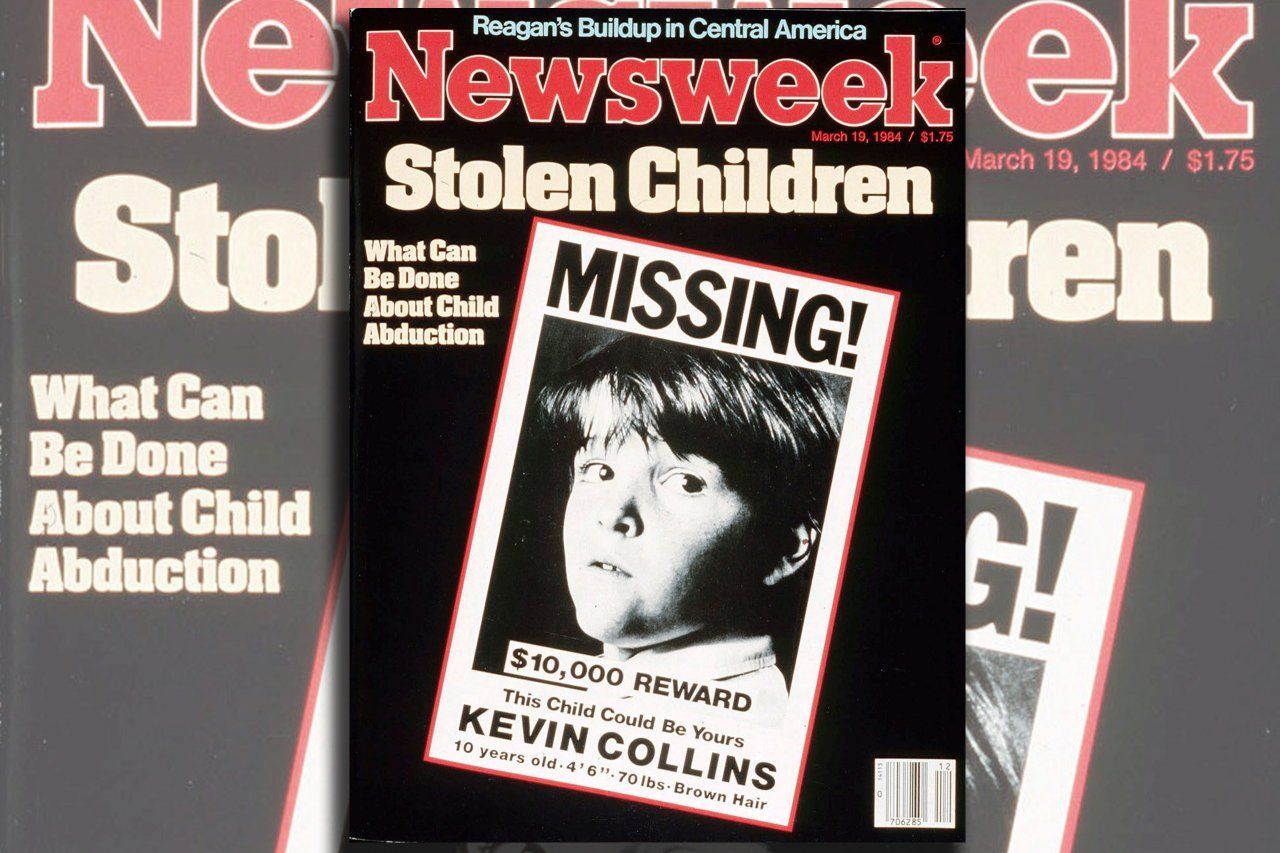 By David Gelman with Susan Agrest in New York, John McCormick in Chicago, Pamela Abramson in San Francisco, Nikki Finke Greenberg in Washington, Marsha Zabarsky in Boston, Holly Morris in Atlanta and Tessa Namuth in Houston
Has anyone seen Kevin Collins? Kevin is 10 years old and 4 feet 6 inches tall, with brown hair, green eyes and a cheerful disposition. When he vanished without a trace after basketball practice at St. Agnes School in San Francisco on Feb. 10, the assumption was that he had been abducted, and the city responded with all the shocked, if usually short-lived, attentiveness such outrages provoke. While San Francisco police conducted a massive, round-the-clock search for the missing boy, volunteers distributed more than 100,000 fliers carrying his picture, the school offered $2,000 for information leading to his return and Mayor Dianne Feinstein posted an additional reward of $5,000.
Kevin's parents, meanwhile, offered the only thing they could, a public appeal to his abductor that seemed all the more wrenching for the self-control it must have required. "We are not interested in seeking justice or punishment," said David and Ann Collins on local TV. "We are only interested in his safe return. We love our son and we need him." A month has passed without a hint of the boy's whereabouts.
Predatory Cruelty: Of the approximately 1.8 million children who are reported missing each year, 90 to 95 percent are likely to be runaways or youngsters abducted by a parent involved in a custody fight. By widely varying estimates, anywhere from 6,000 to 50,000 missing children are, like Kevin Collins, presumed to be victims of "stranger abduction," a crime of predatory cruelty usually committed by pedophiles, pornographers, black-market-baby peddlers or childless psychotics bidding desperately for parenthood. Only a few cases are solved. Even fewer stranger-abducted children are recovered alive.
Though they constitute the smallest portion of the missing-children phenomenon, they can be weighted at 10 times their number for the emotional havoc they leave in their wake. Noreen Gosch, of West Des Moines, Iowa, whose 12-year-old son, John David, vanished from his paper route on the morning of Sept. 5, 1982, recalls the sheer "physical pain" of the vigil. "Our hearts hurt, our stomachs hurt. We thought of him being tortured or murdered," she says. Eighteen months later Noreen still holds whispered conversations with her son's picture to steel herself for public talks about him: "Johnny, I know the percentages," she murmurs. ". . . But I also know you might be alive — and I'm doing something about this."
Until recent years it was one of the secondary shocks for parents of stolen children that they were alone in their crisis -- and often nightmarishly thwarted by foot-dragging police departments, jurisdictional tangles and an FBI unable to enter a case unless there was clear evidence of an abduction. But things began to change about five years ago, when the disappearance of six-year-old Etan Patz from Manhattan's Soho neighborhood brought the considerable force of the New York media into play. Since then, interest in the subject has snowballed.
Fingerprint: To counteract what they regard as law-enforcement dawdling, self-help organizations -- some of them founded by parents of victims -- have sprung up to provide information and educational programs and lobby for stiffer laws against abductors; some communities have begun to fingerprint children and teach them how to protect themselves against potential abductors (page 80). On the national level, the case of Adam Walsh added to the growing public awareness. Adam, six, disappeared from a Sears store in Hollywood, Fla., on July 27, 1981; two weeks later his severed head was found in a canal 100 miles away. Last October, after NBC aired "Adam," a two-hour dramatization of the tragic case, the network showed pictures and data on 55 missing children. As a result, 14 of the children have since been found. (The program will be rebroadcast next month, with 41 new cases appended.)
It was the anguished testimony of Adam's father, John Walsh, before two Senate subcommittees that helped lead to the Missing Children's Act of 1982, which allows local police and parents appealing to the FBI to log local cases into the bureau's National Crime Information Center (NCIC) computer. (Public pressure has also forced the FBI to change its policies -- they now enter cases after 24 hours on the assumption that the child has been transported across state lines.) Last month a Senate subcommittee began hearing testimony on a bill to strengthen the '82 act by providing funds for a national resource center on missing children, but tressed by a toll-free hot line. "Millions of children remain at risk, vulnerable to exploitation, abuse and murder," said Sen. Arlen Specter, the bill's cosponsor, as the hearings opened. "It is imperative that the federal government assume a more active role."
But in spite of increased legislative activity, the law-enforcement effort remains eratic and confused. Because the overwhelming number of the missing turn out to be runaways, police often avoid taking vigorous action until 24 to 48 hours have elapsed -- long enough for an abductor to have escaped to another jurisdiction, where the search is apt to get low priority. Richard Ruffino, supervisor of the missing-persons bureau of the Bergen County (N.J.) Sheriff's Department (and himself a kidnapping victim when he was nine), says that overburdened police departments "will play the percentages if they have to. Up to age nine, I can't conceive of any agency that wouldn't go all out, immediately, for a missing child. But when it gets into the age of the so-called runaway zone, perhaps more of an individual determination comes into play."
False Leads: On the whole, police dread such cases. Kidnappings of children are distressingly easy to commit and notoriously difficult to solve: a stranger or a vaguely familiar neighborhood figure talks a child into accompanying him on some ruse, without attracting the suspicions of passers-by. The trail, if there is one, soon goes cold and the police investigation sinks under a crushing number of false leads. Says Jay Howell, a consultant to the Justice Department on missing- and exploited-childrens' cases: "The abduction of a child is often a friendly encounter leaving no evidence behind to suggest the nature of the disappearance. It is unique in law enforcement."
The nightmare can begin with chilling suddenness: Adam Walsh vanished during the eight minutes in which his mother says she left him alone in the toy department of a Sears store while she shopped for a lamp nearby. A security guard remembered throwing a rowdy group of older boys out of the store and admitted six-year-old Adam might have been among them. Beyond that, there was nothing but vague recollections of witnesses, including a 10-year-old who underwent hypnosis, of seeing Adam with a mustached man with a blue van. Two weeks later fishermen found Adam's head in a canal near Vero Beach.
Two-and-a-half-year-old Russell Mort disappeared on May 5, 1982 some time between 12:20 p.m. when his mother sent him to play outside their trailer in a Wheatfield, N.Y., mobile-homes court, and 12:25 p.m., when she poked her head out the door to check on him. By 5 p.m. around 500 people, plus the police, the volunteer fire department and a bloodhound were searching for him. The bloodhound traced his scent to a road leading out of the trailer park, and police have since followed leads in 21 states and Canada. But Russell is still missing, and Ruth Mort says she tries, at this stage, to keep her weeping down to "three times a week."
Kevin Collins finished basketball practice at San Francisco's St. Agnes School at 6 p.m. on Feb. 10. Then he and some schoolmates headed toward a truck driven by Paul Fontana, the sixth-grade basketball coach, for a lift home. But Kevin never got to the truck, parked only a block away, and neither Fontana nor the other children have any idea what happened to him. One witness claimed to have seen him 15 minutes later at a bus stop, a block to the south. Two other witnesses say they saw him 15 minutes after that on a corner two blocks north standing near a man and a large black dog.
Since then, searchers have questioned around 2,000 people who live along the bus route Kevin sometimes took home. There have been scores of tips -- some from psychics who are often called in on missing-person cases. One took them to an abandoned brewery, where they searched all 35 vats. There were three sightings in the Sacramento area: one woman saw a child resembling Kevin seated in a frozen-yogurt shop between two men; another saw him with two men in an old Chevrolet sedan loaded with camping gear. Police actually tracked the car down — none too swiftly, Kevin's parents complained — but the child was not Kevin. Meanwhile, David and Ann Collins sit at home, with their eight other children, waiting for news.
The wait can be excruciating. Almost five years and thousands of dashed hopes after their son Etan Patz disappeared on his way to his Manhattan school one spring morning, Stan and Julie Patz are in therapy, trying to regain some perspective on their lives. The once ubiquitous posters of Etan have disappeared, public interest has long since subsided, and although the police still check out leads (more than 1,000 in the past year alone, including one that took them as far as Israel), there has never been a real clue to his fate. "Don't think we're bricks, says Stan. "We're getting counseling and I think some kind of therapy is needed in a situation such as ours. What makes it more difficult than a mugging or a homicide is there is no resolution. We have no evidence he is dead and no evidence he is alive. The first week we couldn't eat, we didn't think we could survive one month without him. That in May it will be five years is something that when it started would have been inconceivable."
Blue Sedan: It is always inconceivable, the more so because it can begin, as Stan Patz says of Etan's disappearance, "with a very ordinary occurrence. He is late — very late coming home from school." John David Gosch still hasn't come home from the paper route he went out on in West Des Moines, Iowa, on Sunday morning, Sept. 5, 1982, although his miniature dachshund, Gretchen, did — "the only living thing," his mother believes, "that saw what happened to Johnny." There were no other direct witnesses to the event, but as private detectives pieced it together, the boy may have been seized by one of two men who approached him, one in a blue sedan and one on foot. "I grew up watching 'The FBI Story' with Efrem Zimbalist Jr. blazing across the screen as he solved all those kidnappings," Noreen Gosch says. "It was hard for us to realize we wouldn't get an answer soon."
Noreen and her husband, John, have done about all that is humanly possible to find the answer themselves. They have held garage sales, auctions, pancake breakfasts, even horse shows, and sold 100,000 candy bars with wrappers carrying his picture and the legend "Help Find Johnny Gosch" — all to raise around $80,000, most of which has gone to private-detective agencies. They have conducted 200 "abduction awareness" programs for schools, PTA's and service organizations. On alternate Friday nights they meet with 20 or 30 supporters to discuss possible leads in the case. They send out a monthly newsletter and, with the help of two pizza chains and several other businesses, they have blanketed the country with 1 million fliers seeking information on Johnny. "It's the kind of effort you have to make," explains Noreen. "You're just one of a thousand good causes."
Crank Calls: Casting the net so wide inevitably has brought up some strange fish. The Gosches have received around 700 crank calls since Johnny's disappearance. Most unnerving was a September 1983 call from a man who said, "I've got Johnny. He's alive and you're never going to get him back, Mrs. Gosch, never." The Chicago detective agency now working for the family says there have also been hundreds of well-meaning but erroneous reports.
One seemingly near miss has tormented the Gosches. According to Noreen, early last year a teen-age boy approached a woman leaving a convenience store in a Southwestern city and urgently said, "My name is John David Gosch — please help me, lady!" Before the woman could do anything, two men appeared from around the corner, dragged him off. She followed them to an apartment complex, then called the police, who dismissed the incident as probably a family problem. Seven months later she recognized Johnny's face in a gallery of missing children shown at the end of the "Adam" dramatization on NBC, and she got word to the Gosches.
Damage Suit: The detective agency is now concentrating its search in the area of that sighting. But the Gosches are bitter at the indifferent police response. "The feeling of coming that close and not getting him just runs a knife through me," says Noreen. The family's relations with the West Des Moines police soured shortly after Johnny's disappearance and deteriorated into name-calling as the weeks and months wore on. At one point the Gosches threatened a $15 million damage suit against the city. "It became our burden to prove Johnny was in danger," Noreen complains.
The relations with police are almost unavoidably rancorous in missing-children cases — much as they often are in a mugging case. The frantic families of victims understandably want an all-out effort, but what they encounter are the routine, sometimes enigmatic, processes of the law. Despite the massive hunt for her son, Ruth Mort is still furious that police only searched under the 186 trailers in her mobile-home park and never got warrants to search inside the trailers — although they did tear apart her own. Once, she recalls, she even bawled out the federal lawmen. "When I start praying to the FBI, then I'll believe you make no mistakes," she told an agent. Typically, the families vent "displaced anger," says Gary Hewitt, executive director of the Center for Missing Children in Rochester, N.Y., which counsels victims and their relatives. "Like in suffering a death, they go through denial, anger, grief -- but there is no funeral, no funeral director to take care of their needs."
No Man's Land: In any case, the problem is not so much the local police department, which may keep track of a case for years, but the difficulty of getting the same degree of interest from other departments. Unfortunately, missing children fall almost immediately into the jurisdictional no man's land -- across state lines and bureaucracies -- that is one of the weakest areas of the justice system. It would seem the natural place for the FBI to step in, but the bureau is not required to do so and the onus of investigations still falls on local police.
The Justice Department itself lobbied vigorously against the missing-children act because it feared the new law would thrust the bureau into the free-fire zone between police and parents and that parents would misinterpret it to mean the FBI was always obliged to become involved. Some federal agents, moreover, believe that when a child vanishes, chances are he has run away, or succumbed to enticement, owing to trouble at home. "What has to be recognized," says Ken Lanning of the FBI Academy's Behavioral Science Unit in Quantico, Va., "is that it's relatively rare to have a family with Mr. and Mrs. All-America and — boom — the kid's gone. By and large, in most of these cases, there's something there."
Indeed, the parents, because of the statistics, are often the first suspects when a child disappears. It is one of the many insults added to their injury -- along with the whisperings of friends and total strangers about their parental competence. Many are made to submit to lie-detector tests and intensive investigation of their past. Noreen Gosch had to produce her first husband's death certificate when rumors circulated that he was alive and had abducted Johnny. Where there were no answers, Julie Patz told a Senate subcommittee in 1981, people "made up their own." Blaming the victims, apparently, satisfies some perverse public need.
About the abductors themselves, relatively little is known because there has been so little coordination of investigative data from around the country. The FBI Academy's Behavioral Science Unit broadly categorizes them as:
The FBI has a considerable file of manuals and other materials on child seduction that have purportedly been produced by and for pedophiles. And some authorities corroborate the unit's categorizations. "There are people out there looking for surrogate children, there are people who steal kids to sell them, there are people who want to exploit them sexually or kill them," says Tacoma detective Roger Price. "It's sad but true."
Price is working on a tragic case of his own at the moment. A little over a year ago, a Tacoma man named Stanley Guidroz went strolling in a neighborhood park with his two-year-old son, Wallace, and encountered a couple with a small blond girl. While the children played together, the adults struck up a friendly conversation and, presently, the two men went off to have a quick beer, leaving the toddlers with the woman. On the way back, Guidroz's companion took off in another direction and he returned to the park to retrieve his son, but the woman and the children were gone. Wallace has not been found. His father, stricken with guilt, took an overdose of sleeping pills two days later and had to be hospitalized.
Leaving Wallace with a stranger may have been a careless act, but no parent is always on guard. Guidroz thought he was dealing with a wholesome family group; Detective Price thinks it may have been a preplanned abduction. Seven-week-old Cherie Kennedy was stolen from her mother's arms in a Ft. Worth outpatient clinic last May by a "woman in white" who asked if she could show the baby to "the other nurses." Six months later, on a tip from her sister, federal agents arrested a woman named Linda Gomez, and recovered the Kennedy baby. Gomez, described by relatives as "a very sick person" who wanted a child of her own so badly that she used to stuff pillows under her blouse and pretend she was pregnant, is scheduled to be tried for kidnapping next month.
Disarmed Parents: Parents of older kidnap victims often berate themselves bitterly for raising their children to be too submissive to adults. "If I had taught him to scream, he might be alive now," says John Walsh in NBC's "Adam" docu-drama. It is a sentiment that has been echoed in almost precisely those words by the others. Yet, as the Guidroz and Kennedy cases demonstrate, parents themselves can be disarmed just long enough to be victimized. And it would take an uncommonly alert child — or a very skittish one — to run screaming from an encounter with a friendly stranger.
Self-help groups counsel parents against the lacerating guilts that destroy so many of their marriages after a child disappears. But the main educational effort is aimed at teaching children to be more self-possessed, even aggressive, with adult strangers who approach them. It is a notion that many parents find heretical, and some worry that it will make their children needlessly fearful. But others believe it is the lesser evil. "I'd rather have Meghan a little paranoid than have to identify her body in the morgue," says John Walsh, referring to the daughter who was born after Adam was killed.
The self-help groups have become a vigorous force not only in educational programs but lobbying for legislation and national networks of information that have led to the recovery of missing children. The Society for Young Victims, based in Newport, R.I., circulates photos of the children and assists police and parents in the searches. In the wake of the murders of five children, Salt Lake City's SLAM (Society's League Against Child Molestation) helped push through a new state law — billed as the country's toughest — that mandates minimum, indeterminate prison terms for persons convicted of kidnapping or sexually abusing a child under 14. "We're just shouting a little louder out here," says Dorothy Williams, head of Salt Lake City's chapter of Child Find.
The Adam Walsh Child Resource Center, headed by Adam's father, John, fingerprints young children and monitors courtroom trials of sexual molesters. Child Find itself, the oldest (1980) and perhaps largest of the self-help groups, puts out an annual directory of missing children, with monthly supplements. In Connecticut and New Jersey the directories are distributed statewide in the public schools, and the organization is aiming at national distribution by next year.
Yet for all their efforts, the self-help groups are barely able to cover the territory. Most of them are overextended. The Center for Missing Children, for example, operates on a shoestring; since last June it has spent just $20,000, raised from loans, donations and a benefit party. "The problem is bigger than any of us," says Child Find founder Gloria Yerkovich. "We refer and refer and refer."
The principal burden still rests with the police, and it is a measure of the fuzziness of the law-enforcement effort that there are still no reliable statistics on child abduction. The figure that is most often heard is 50,000 abductions a year, but that number, argues the Center for Missing Children's Gary Hewitt, is "not even a best guess. The numbers came out of the sky." Based on his own research, Hewitt says, a more accurate estimate is 6,000 to 8,000.
Part of the problem, clearly, is that most police-department records don't distinguish between runaways and abductions or adult andjuvenile missing persons. In most cases, a missing child is simply missing. For activists in the field, and in the absence of clarifying evidence, that conundrum underscores the importance of funding the national resource center and clearinghouse proposed in the pending Missing Children's Assistance Act. Besides coordinating specific local data, it could furnish vital information "patterns" on typical abductors, typical victims or places and circumstances in which abductions happen.
Moments' Notice: Meanwhile, for some parents, the data on missing children are all too precise. Ruth Mort still fantasizes that her son, Russell, has somehow, miraculously, landed with loving foster parents. The Patzes still cling to the hope that Etan is alive, after five years. At the Gosches' home in West Des Moines, Johnny's room remains as he left it, except for his bed, upon which sits a suitcase packed with his clothing, ready to go at a moment's notice should he be found.
The bed also holds greeting cards and presents meant for their son for every holiday since his disappearance. The marks of their grief are everywhere, yet they keep it muted. "Sometimes it's tough — oh, is it difficult for us," says Noreen. "But we took a vow never to forget who the victim is. The victim is Johnny."