Stolen Dinosaur Statues Found at University of Texas Frat, But One Was Destroyed
Three dinosaur statues stolen from a popular Texas museum were returned after being spotted at a University of Texas fraternity house over the weekend.
Minmi, Dilong and Dimetrodon, the names given to the statues, were stolen from the Dinosaur Park in Cedar Creek from their exhibit areas last week. Austin Nunez, who works in marketing at the park, said the dinosaur sculptures were returned after a tip from someone at a Saturday party.
"Our dino babies were recovered last night," the park wrote on Facebook.
The university's police department worked with the Bastrop County Sheriff's Office to recover the statues but did not specify which fraternity was involved.
Although the three statues were recovered, one sustained significant damage and another was destroyed.
Dinosaur Park wrote on Facebook that Minmi is intact but Dimetrodon is in need of major reconstruction due to the loss of a foot and other cosmetic damage. It might not be salvageable. However, the worst off is the blue dinosaur, Dilong, who was found without teeth or feet. The statue is considered destroyed.
"We're certainly happy to have them back. We're definitely bummed out and disappointed that it happened in the first place and that two of them were returned damaged, but we are grateful to have them back," Nunez told Texas newspaper the Austin American-Statesman. "We're grateful that the community was able and willing to help out, and that a good Samaritan was able to put in a good tip that led to us finding them."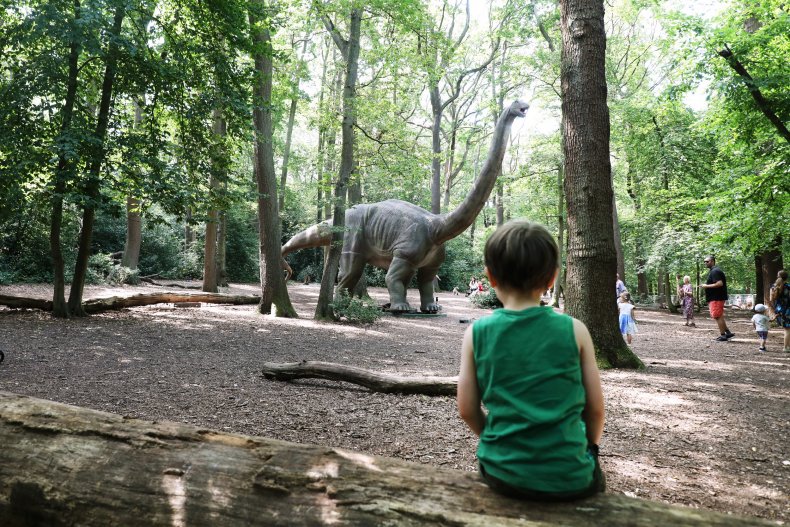 Each statue, between six and 10 feet long, was taken from its exhibit area. Park owner Linda Nunez said the people must have broken into the facility between 4:30 p.m. October 20 and 9 a.m. October 21. She believes they parked on a back road to avoid security cameras.
In the future, they plan to install more surveillance cameras in the park, in particular near the places where the dinosaur statues are displayed. Nunez said the dinosaurs can cost at least $5,000, which is why she and her husband Daniel wanted them back.
Dinosaur Park started in 2005 and the Nunezes have since created more than 30 realistic and life-size dinosaur exhibits in the museum.
Bastrop County Sheriff Maurice Cook told the American-Statesman that his office is investigating the incident but it's too early to tell if charges will be filed. The district attorney will be reviewing the case.
Newsweek reached out to Dinosaur Park for comment.