Stolen Marc Chagall Painting Goes on Auction After Disappearing for 24 Years
After being stolen from a gallery in January of 1996, Marc Chagall's Jacob's Ladder is on public display for the first time in 24 years, and is about to go on the auction block.
The painting, which portrays a scene from Genesis 28, shows several white-garbed figures with angel's wings hoisting and flying over a ladder against a dramatic blood red sky and a darkly painted urban landscape. In the foreground, a bald man reclines, propped up on his elbow. In the Biblical passage which inspired the art, Jacob dreams of angels ascending and descending a ladder to heaven while on the run from his brother, Esau.
Israel's Gordon Gallery had been displaying Jacob's Ladder ahead of its 1996 auction when it disappeared just days before the final sale was to take place. The theft had been discovered when a visitor to the gallery asked a worker "Where's the Chagall?" They soon discovered the spot where the painting had been hanging stood bare—the only sign the painting had been hanging there was a bent nail.
There was great speculation about how the 8-inch by 10-inch painting had managed to disappear from the gallery.
"I think the painting is eating oysters in Paris or Moscow by now," then-Gordon Gallery owner Shaya Yariv said at the time. Yariv thought the small painting might have been smuggled out in someone's raincoat.
But Jacob's Ladder wasn't ultimately that far away. The painting turned up in the safe of a elderly Jerusalem woman after her 2015 passing. How she wound up with it, no one knows, but she bequeathed it to her nephew in her will.
The nephew subsequently tried to have it appraised by an art dealer, who thought it might be worth a lot of money, and told him to approach the Comité Marc Chagall, an organization formed by Chagall's heirs to verify his works. But they instantly recognized the painting as the long-stolen Jacob's Ladder and called the authorities.
"Nobody knew anything about this painting, even close family members [of the Jerusalem woman]," said auctioneer Amitai Hazan Tiroche during an interview with The Jewish Telegraphic Agency.
Migdal Insurance, which paid out a claim on the painting to the original owners when it vanished, tried to seize Jacob's Ladder. Migdal and the elderly woman's nephew went to trial over the art, with a court ruling in 2015 that Migdal was the rightful owner of the painting.
Migdal Insurance then turned to Tiroche Auction House to recoup what they paid out for the 1996 claim. Estimating that the painting is worth a minimum of $130,000 to $180,000, the opening bid of the January 25 auction is set for $110,000. Tiroche explained that the price doesn't take in the increase in value Chagall's work has seen in recent years.
"We want the opening price here to be relatively attractive to buyers in Israel and overseas because if the estimate is too high, people may decide not to bid. And also the insurance company wants to finish the saga of the money they paid out over 20 years ago," he said to The Jewish Telegraph Agency.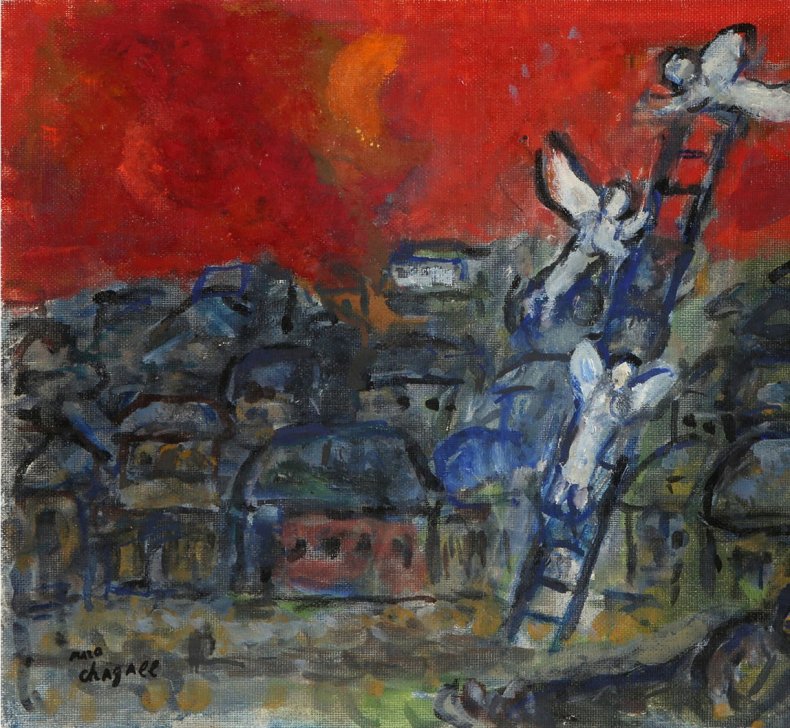 None of this information has made Tiroche's catalog for the auction—calling it "gossip-oriented," Tiroche said that they had refrained from speaking of it.
Now, Jacob's Ladder will be displayed before meeting its permanent home.
"Touch wood, in 27 years we haven't had a single incident of theft or anything like that. Everything should be OK," Tiroche said.
The auction may be watched live via this link on the Tiroche Auction House website.
Marc Chagall, born in 1887, was a modernist whose work is described as "naive-surrealism." Chagall created art in multiple mediums and countries. He has stained glass windows in locations as far-flung as The United Nations Building and Fraumünster in Zurich, Switzerland. His paintings adorn the ceiling of the Paris Opera House and are hung upon many museum walls across the world.
He worked with Pablo Picasso, who said of him, "His canvases are really painted, not just tossed together. Some of the last things he's done in Venice convince me that there's never been anybody since Renoir who has the feeling for light that Chagall has."
Chagall died in 1985.