Stolen Picasso, Mondrian Works Found 9 Years After Theft
Two paintings by 20th century masters Pablo Picasso and Piet Mondrian that were stolen more than nine years ago have been recovered by Greek police, according to a statement released on Monday.
The police statement did not provide any details on the condition of either painting, and no announcement has been made on whether any arrests have been made for the crime.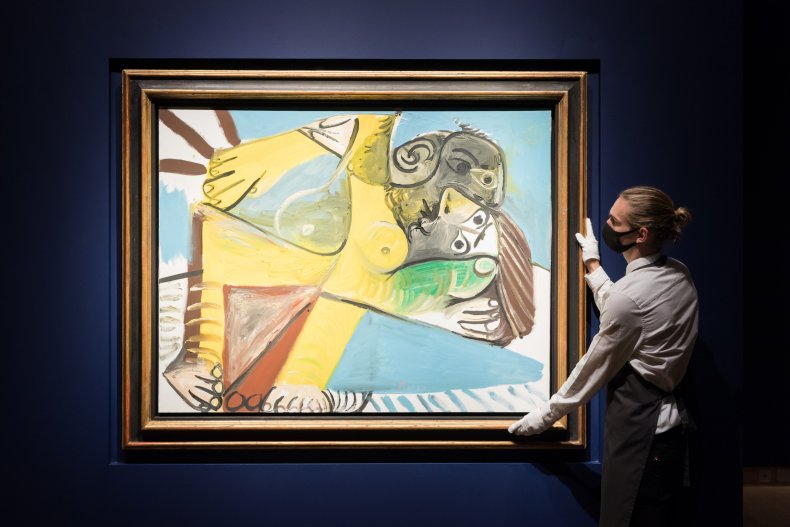 Picasso's "Head of a Woman" and Mondrian's "Stammer Windmill" were on display at the National Gallery in Athens, Greece, when they were stolen on Jan. 9, 2012. The stolen Picasso work is a cubist female bust, which the Spanish painter created in 1939. He later donated the work to Greece in 1949 with a dedication that said it was being given to the country as a gift "in homage to the Greek people" for their resistance to Nazi German occupying forces during World War II.
The Mondrian piece was completed in 1905 and is an oil painting depicting a riverside windmill.
The two works by Picasso and Mondrian were said to have been found Keratea—a town Greece's East Attica region—inside the house of a Greek man. Police had been monitoring the man and his house, though no further information was given about the man's involvement with the heist.
Police said at the time of the heist the operation was completed in about seven minutes. Also taken during the theft was a pen and ink drawing of a religious scene by Italian sketch artist Guglielmo Caccia. The thieves also attempted to steal another work by Mondrian, but that painting was dropped after a guard gave chase to one of the suspects.
The art heist that occurred in the early hours of Jan. 9, 2012, baffled police and became worldwide news. After first distracting security guards away from the paintings by setting off alarms at locations throughout the gallery, two burglars entered the museum from an unlocked door on a balcony. Security footage captured the men removing the paintings from their frames before quickly making their escape.
Two Albanian men were later arrested and convicted for the heist, but a supposed mastermind behind the heist continues to be a mystery for investigators.
Pablo Picasso is believed to hold the record for the artist with the most stolen artworks in the world, with more than 1,100 of his artworks reported missing. One of the more high profile stolen Picasso paintings was recovered in 2019 by a Dutch art detective. Considered one of Picasso's masterpieces, "Portrait of Dora Maar" had been missing for 20 years after it was stolen from a yacht off the south coast of France and is valued at $28 million.