Stolen School Bus Rams Cars in New York City, at Least 1 Officer and 1 Civilian Hurt
At least one police officer and one civilian were injured Thursday when a stolen school bus rammed into vehicles in New York City's Brooklyn borough.
No children were inside the school bus as the incident was taking place, a spokesperson for the New York Police Department (NYPD) told Newsweek.
The incident began Thursday afternoon when a school bus that police said had been stolen "fled" along Jackie Robinson Parkway in Brooklyn's Cypress Hills neighborhood, according to police. The school bus eventually ended up within the jurisdiction of the NYPD's 73rd Precinct, where it broke down.
Before the bus came to its final stop, officers were trying to get inside it "to no avail," the NYPD spokesperson told Newsweek. Once the bus broke down, officers were able to arrest the driver, who was identified by authorities as an adult male.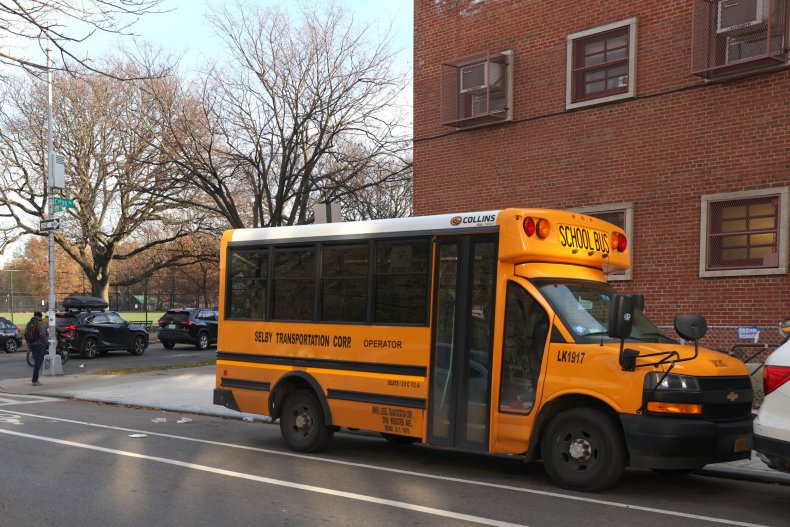 Information regarding the arrested individual's name or age were not immediately available, police said. Motives behind the theft of the bus and the path it took through the streets of Brooklyn have not yet been determined, but the NYPD said the incident is currently under investigation.
At least one police officer suffered "minor" injuries, the NYPD said. At least one civilian was also injured when his vehicle was struck, but the NYPD spokesperson said that individual's injuries were also minor and that he was in stable condition. Further details regarding the nature of the officer's and civilian's injuries were not immediately available.
According to WABC-TV, two other individuals also suffered injuries in connection with the incident, but the NYPD told Newsweek shortly after 5 p.m. local time that the officer and one civilian were the only individuals with confirmed injuries at that time.
Shortly after the stolen bus drove through the city streets, video began spreading on social media that appeared to show a school bus driving into vehicles, some of which appeared to be parked while others appeared to be stopped along the streets. In one video, officers could be seen chasing after the school bus on foot while dodging other vehicles in the path of the bus as those vehicles were struck. Bystanders could be heard yelling and screaming as sirens blared in the background.
The NYPD spokesperson told Newsweek authorities were aware of the videos but could not comment on their content.
WABC-TV reported an estimated 15 to 20 vehicles were struck as the bus drove through. Helicopter footage shared by the station Thursday evening showed multiple streets containing vehicles that may have been damaged as the school bus forged its path.