Stolen U-Haul Truck Leads to Bizarre Police Chase Through L.A.
A driver was seen crashing a suspected stolen U-Haul truck into parked cars and driving on the vehicle's rims, during a police chase through California.
The truck headed from Norwalk into several cities in Los Angeles and Orange County on Monday before ending up in a park in Long Beach later that night.
Local TV station NBC4 reported that its helicopter hovered over the chase around 8:50 p.m. as the stolen vehicle traveled southbound on the 405 Freeway. Buena Park police began the chase before California Highway Police assisted, the CHP said.
The truck was hotly pursued by officers as it traveled south on the 405 Freeway past Huntington Beach and took Harbor Boulevard through several Orange County cities, including Costa Mesa, Santa Ana and Fountain Valley, reported the news outlet.
The driver then steered the vehicle onto the 22 Freeway, heading westbound back towards the 405 Freeway in the Garden Grove area.
Police used a spike strip to puncture the vehicle's tires as the driver took the northbound 405 Freeway and headed towards Long Beach. As one of the the front tires began to smoke, the truck came to a temporary stop on the freeway before swerving and doing a U-turn and leaving Long Beach.
The vehicle, which now had one front tire missing, was then pursued on Long Beach Boulevard and other surface streets in the area—with the truck occasionally traveling on the wrong side of the street.
A short time later, the now badly damaged vehicle was sparking as it was driven on its rims. Entering a gas station, the driver almost hit a customer's vehicle while running into a pole before reversing and leading police on the chase once more.
The vehicle, which had lost the ability to maneuver due to the blown out tires, then hit a parked car, however, this did not stop the driver who ploughed on and headed to a park, again crashing into a parked vehicle as he struggled to maneuver the truck.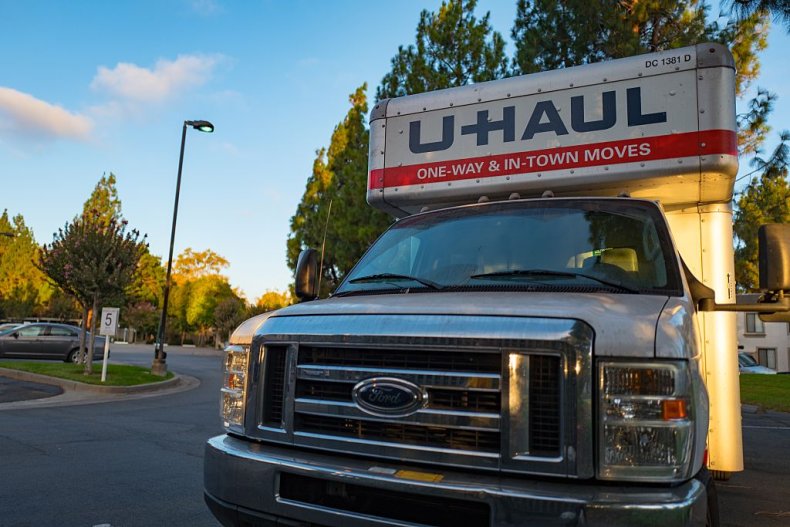 The dramatic moment that police surrounded the lumbering truck was captured on video, in which officers can be seen moving in as the truck comes to a faltering stop. The pursuit ended around 9:50 p.m. near Long Beach Boulevard and 46th street, NBC4 reported.
Using a shield for protection, police move in on the truck in Scherer Park, smashing a window and wrestling a suspect out. A female passenger was also detained.
Newsweek has contacted Buena Park Police Department for an update.