Donald Trump Aide Roger Stone Tried to Get Hillary Clinton Emails From WikiLeaks's Julian Assange
Updated |Self-proclaimed political "trickster" Roger Stone reportedly attempted to reach out to WikiLeaks for potentially damning information on former Democratic presidential candidate Hillary Clinton during the 2016 election.
Stone, who has previously denied seeking such information on Clinton in order to help President Donald Trump's campaign, contacted radio personality Randy Credico via email to try and reach WikiLeaks founder Julian Assange, The Wall Street Journal reported Thursday, citing emails.
"Please ask Assange for any State or HRC e-mail from August 10 to August 30—particularly on August 20, 2011," Stone said in one email to Credico in September 2016, referencing Clinton by her initials.
Stone was specifically seeking information about Clinton's work as secretary of state while a possible Libyan peace deal was underway.
Credico, according to The Journal, suggested in response that WikiLeaks would likely have posted such information already, but Stone shot back: "Why do we assume WikiLeaks has released everything they have ???"
Credico told The Journal that he had tried to fend Stone off when he replied: "That batch probably coming out in the next drop...I can't ask them favors every other day. I asked one of his lawyers...they have major legal headaches riggt [sic] now..relax."
Credico said he never contacted Assange for Stone. Stone told The Journal he received "nothing" from Credico, and that his testimony to the House Intelligence Committee in September was "complete and accurate."
Stone previously told lawmakers during his testimony that he had "merely wanted confirmation" that WikiLeaks had information about Clinton.
"If there is such a document, then it would mean that his testimony was either deliberately incomplete or deliberately false," U.S. Representative Adam Schiff of California told The Journal about the emails and Stone's testimony.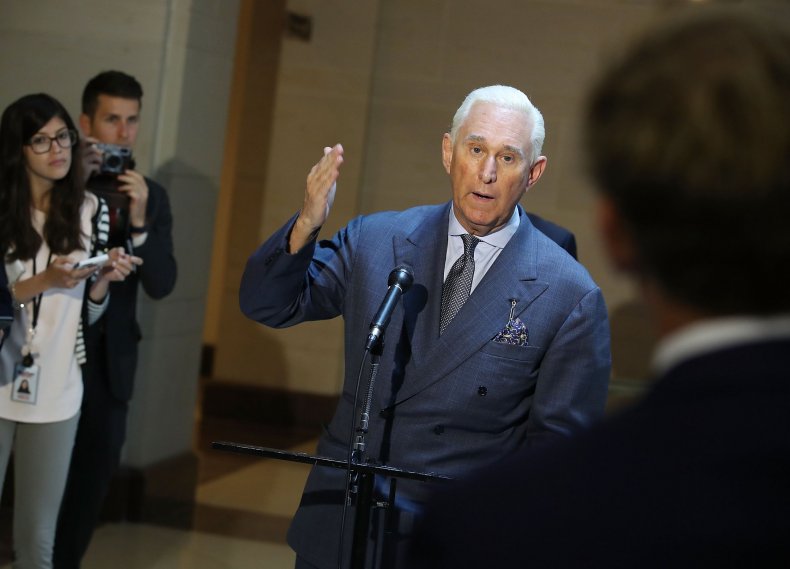 Stone has denied any sort of collusion or previous knowledge of Russia's efforts to interfere in the 2016 election in favor of Trump. Russia has long been accused of attaining emails hacked from the Democratic National Committee and funneling them to WikiLeaks, which released them in 2016. WikiLeaks and Assange have denied Russia was the source of the hack, and any alleged ties to the Kremlin.
"I turned over all emails that met the precise wording of their document request," Stone told Newsweek Thursday about the House committee's request. "I supplied the emails to the WSJ—they fell outside the scope of their request. Any claim to the contrary by the congressman from California is bullschiff"
Russia's interference in the election led to Special Counsel Robert Mueller's appointment and probe a year ago. And while Stone and Credico claim they have not been contacted by Mueller's team, a former Trump campaign adviser and friend of Stone's, Sam Nunberg, claimed Sunday Stone would be indicted by the special counsel over a "financial…matter."
This story has been updated with a comment from Roger Stone.