Steve Austin Looks to Break Expectations of The Undertaker on 'Broken Skull Sessions'
"Stone Cold" Steve Austinis world-renowned for his time in the ring during WWE's Attitude Era, but life outside the squared circle has set the former champion a new path.
Through various platforms, Austin has told many stories from the most interesting people in wrestling. From his "Stone Austin Show," which has more than 1 million subscribers, to his various television shows and appearances, Austin has given fans of professional wrestling a deeper look at the men and women who lace up the boots and entertain the masses.
So when WWE approached Austin about a new WWE Network-exclusive television series, "The Texas Rattlesnake" saw an opportunity to expand his hobby.
"I enjoy working in this business and working and being associated with WWE ever since '95-'96 when I started there," Austin told Newsweek. "The professional wrestling scene, or sports entertainment as we now call it, is one of my favorite things to talk about. So this opportunity to come back around was very easy for me to do."
Austin's new monthly show, titled "Broken Skull Sessions," features longform sitdowns with various WWE superstars and personalities. For his podcast, Austin would oftentimes travel to his guests and talk for hours. This new show will bring talent to Austin's studio in Los Angeles, not far from where he records the "Stone Austin Show."
"Not only do I get to be in my stomping grounds where I do my audio podcast, which is normally just me and my guest across each other from a table and nobody else, but all of a sudden you throw in a couple of cameras and sound guys and things get amped up a little bit, and the adrenaline starts to go up," Austin explained. "It's different. It's much more relaxed."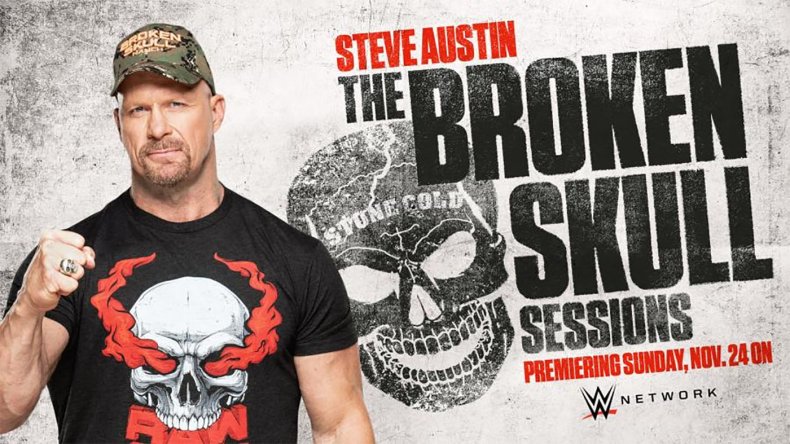 The first episode of "Broken Skull Sessions" will air following the Survivor Series pay-per-view, and "Stone Cold" will have The Undertaker (real name Mark Calaway) on for a rare interview.
"I didn't know The Undertaker very well, I didn't know Mark very well," Austin said. "He's a Houston guy, and I grew up 100 miles from there and we were watching the same stuff. But once you get started it's a whole different animal. Once you get into a groove a great conversation ensues, and I had a wonderful conversation with Undertaker. With a 30-year career you can't cover it all, but we covered a lot of it and only scratched the surface. I wouldn't be surprised to see another one with him down the road."
Undertaker and Austin's careers crossed paths many times in WWE, but, as Austin explained, while they were on the road and working together almost every day, they never really knew each other on a personal level.
"When we were working heading into Summerslam 98 in the Highway to Hell, we were working matches and angles all the time. I worked with him and Kane in a handicap match, all of that stuff," Austin recalls. "I remember the work and I remember dealing with Undertaker, but now listening to Mark, we didn't get into each other's personal lives. I didn't know some of the things he liked whether it was hunting or fishing or whatever. I was doing my thing, and I was very business-oriented. I had my blinders on, and I was trying to stay hot and stay afloat, and he was doing the same thing making those adjustments."
Austin says everything was business back then, and on the first episode of "Broken Skull Sessions," they discuss how The Undertaker navigated his career and life behind the scenes.
Despite the dark, brooding character, the man behind The Undertaker is very different from his on-stage persona.
"You ask [Mark] a question and he's a storyteller. He likes to talk, and you would never know that watching the Undertaker. Most of the time he was choke slamming, giving someone the Last Ride or the Tombstone Piledriver. It was a long story short and usually a bad ending," Austin said with a laugh. "When you sit across from the guy he's not in character. He's smiling and he's laughing. And I've seen him laugh and smile before backstage, but he's a breath of fresh air."
If you've ever listened to one of Austin's podcasts you know he has a knack for getting the most out of his guests, a gift he couldn't explain. He says he's always been interested in people's stories, especially in professional wrestling and sports entertainment.
In the case of The Undertaker, fans will be surprised by what they hear and see from Mark Calaway.
"People say, 'man I can't believe his voice sounds like that,'" Austin said. "You're used to hearing him as The Undertaker. That's one of the biggest things people used to ask is if he was alive or dead. That's how shielded this guy was. People at the airport would ask if he was alive or dead. Well he's alive, and he has a regular voice, and he's a very charismatic and engaging guy. And very down to earth. You'll enjoy the conversation, and [it will] catch a lot of people off guard because of how laid back he is."
Austin is no stranger to breaking people's expectations. He remembers when people had preconceived notions of himself based on the character he played on television. But through his podcast a lot of those barriers have broken down.
"I walked into plenty of meetings in Los Angeles and Beverly Hills and they were like 'man, that's Stone Cold Steve Austin and he could be drunk. He's probably mad, probably going to be mean. He's going to be pissed off about something, and we don't want to make him mad, and he's probably going to be very loud,'" Austin explained. "And I'm actually a very laid back cat. It wasn't hard for me to drop [the character], it was just about breaking people's preconceived notions about who you are based on a character you put 120 percent into on television that was very successful. But that character isn't far from who I really am, it's just turned up to 11. And now I have it turned down to a one or two - or sometimes six or seven."
As for what fans can expect after The Undertaker episode, Austin revealed that there's another talk with a guest already in the can, but he can't announce it yet. However, fans of his podcast can expect a lot of the same vibes in a longer, more relaxed format.
"I don't want to compare myself to Howard Stern, but it could be something like that. Oh hell, I don't have as much talent as Howard Stern," Austin said with a laugh.
Broken Skull Sessions premieres Sunday, November 24 following Survivor Series.