Stonehenge's Summer Solstice event has been canceled and English Heritage will be streaming the sunrise online instead.
Stonehenge director Nichola Tasker told the Salisbury Journal: "Given the sheer number of major events worldwide which have already been canceled across the summer, from Glastonbury to the Olympics to Oktoberfest, I doubt this will come as a huge surprise, but we know how much summer solstice at Stonehenge means to so many people.
"We have consulted widely on whether we could have proceeded safely and we would have dearly liked to host the event as per usual, but sadly, in the end, we feel we have no choice but to cancel."
Stonehenge is an ancient World Heritage site, at which the summer solstice has been celebrated for thousands of years.
The event is typically free and was planned to begin on the evening of June 20 and end on the morning of June 21.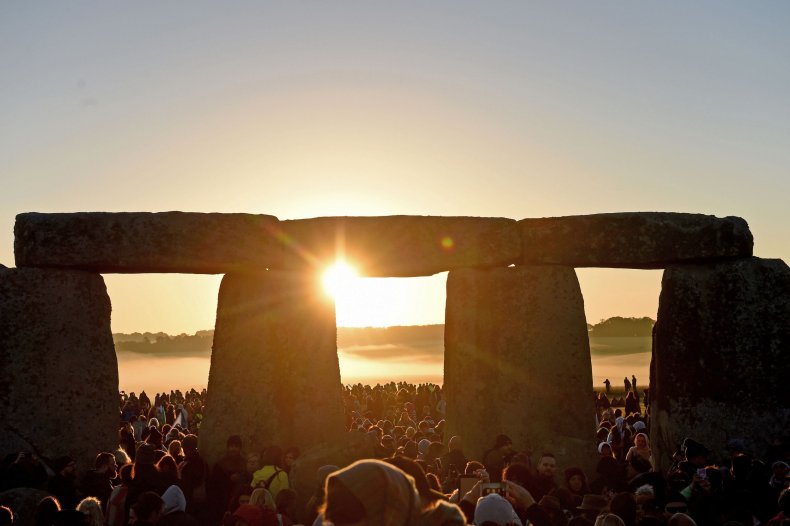 But this year, the tradition will have to be observed virtually. Tasker also told the Salisbury Journal: "We hope that our live stream offers an alternative opportunity for people near and far to connect with this spiritual place at such a special time of year and we look forward to welcoming everyone back next year.
"We know how strong the draw to come is for some people, but I would take this opportunity to say please do not travel to Stonehenge this summer solstice, but watch it online instead."
English Heritage announced the cancellation of the Summer Solstice event at Stonehenge on social media, tweeting: "For everyone's safety and wellbeing, we've had to cancel this year's summer solstice celebrations at Stonehenge.
"We know how special this occasion is to so many of you, and we'll be live streaming it for free online. We spoke with the emergency services, the druid and pagan community and others before making this decision, and look forward to welcoming everyone again next year."
Every English Heritage staffed site is currently closed. The website states: "In line with government guidelines, our staffed sites remain closed in the interests of public health.
"It is now clear that we will not be able to re-open on May 1 as we had originally hoped. Instead, we will re-open as soon as government advice allows and only when we can ensure the safety of our visitors and our staff and volunteers."
In 2019, an estimated 10,000 people celebrated the longest day of the year at Stonehenge.
The summer solstice or festival solstice, which is also known as midsummer, takes place as one of the Earth's poles has its maximum tilt toward the sun and the sun reaches its highest position in the sky.