The winter solstice is celebrated in different ways all over the world. Frequently referred to as the shortest day of the year, because it has so little sunlight, the day is the official start of the winter season in the Northern Hemisphere. In the days following the solstice, there is more and more sunlight each day, as spring and summer get closer.
The solstice is set to happen Friday, December 21 at 5:23 p.m. EST, but will be celebrated at different times around the world. It won't be until Saturday morning that the solstice is celebrated in the United Kingdom at the ancient site of Stonehenge, according to English Heritage.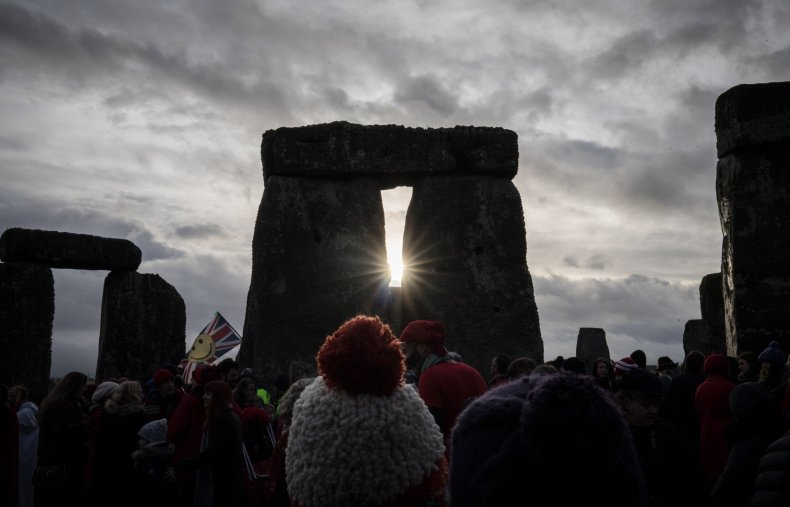 At Stonehenge, in Wiltshire, England, the day is one steeped in tradition. Crowds of people arrive early in the morning and then make their way to the field and across the sprawling green hills in the direction of the Stonehenge monument. On the solstice, the sun is set to rise at 8:09 a.m. local time at Stonehenge, and by then the visitors to the monument will be at the giant circle of mysterious stones.
The sun appears to set framed between the arches of the monument signifying the midwinter sunset, according to English Heritage. An artist's concept of the sunset is available online showing how the sun sets on the day of the solstice around 4 in the afternoon.
The English Heritage group for Stonehenge warned that there was limited parking available for the solstice and visitors should arrive early to get a parking spot. They should also be ready for the 30 minute walk out to the monument. English Heritage posted a live stream of the event in the years past and made it available on YouTube.
During the winter solstice, the Earth's Northern Hemisphere is tilted away from the sun on its axis making for a colder climate and winter weather. The sun is also then at the lowest point in the sky making for colder weather as well.
During the summer solstice there's a celebration as well, marking the first day of summer and in celebration of the longer days to come filled with more sunlight.
After the solstice sunrise was over, English Heritage also posted a time lapse of the sunrise.