Stoneman Douglas Teacher Allegedly Called Student Kyle Kashuv 'the Next Hitler'
The Broward County school district in Florida is investigating allegations that a Marjory Stoneman Douglas High School teacher compared a student who has defended gun rights to Hitler. History teacher Greg Pittman allegedly called conservative student Kyle Kashuv "the next Hitler" to students during class.
The remarks were allegedly made after the high school junior complained he had been questioned by school security and police. Kashuv, an outspoken supporter of gun rights, posted photos of himself holding an AR-15 assault rifle at a gun range, The New York Daily News reported.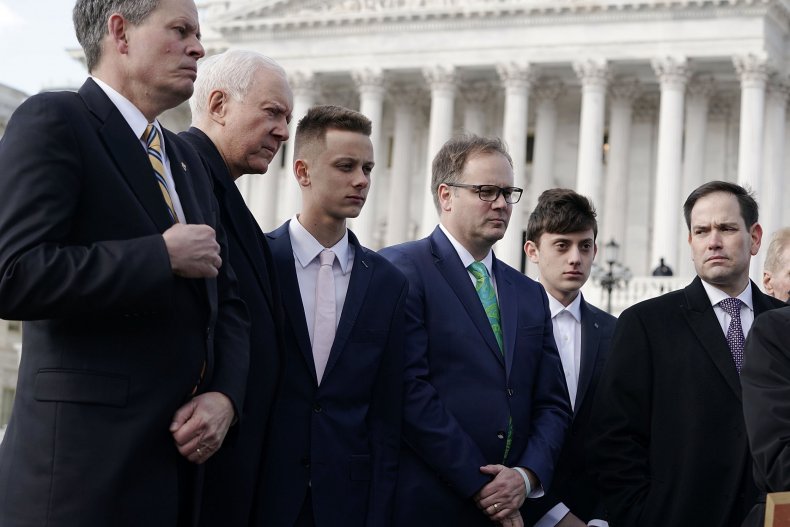 Pittman and Kashuv reportedly got into a lengthy debate on Twitter earlier in the week. After Kashuv complained about being questioned, Pittman defended the district's decision and questioned the teen's judgment.
"After a mass shooting at a school, you don't have to be the sharpest tack in the box to understand when another student posts a photo of an assault weapon why school security personnel and police might ask questions," Pittman tweeted.
The high school junior claimed he was not in the class during Pittman's alleged comments but claimed at least three students told him the teacher referred to him as "the next Hitler."
On Wednesday, Kashuv tweeted: "So... I just got a call from a friend of mine from @GregPittman1957's class and he apparently compared me to Hitler in class and said I am a piece of crap. The rant was about 10-minutes during class time and how he was right and I was wrong with my comments...."
Kashuv told The Sun-Sentinel that one of the students plans to discuss the remarks during an interview Friday with Fox News.
"I find it utterly vile that he'd call a Jew the next Hitler," Kashuv said. The teen's family comes from Israel. "It's also quite telling that he doesn't know that Hitler took the people's weaponry, and I want more law-abiding citizens to have firearms."
Nadine Drew, the school district's spokesperson, told the newspaper that school administrators "take all matters involving students and staff seriously. They are aware of the allegations and are looking into the matter."