Stonewall Inn Designated NYC Landmark During LGBT Pride Week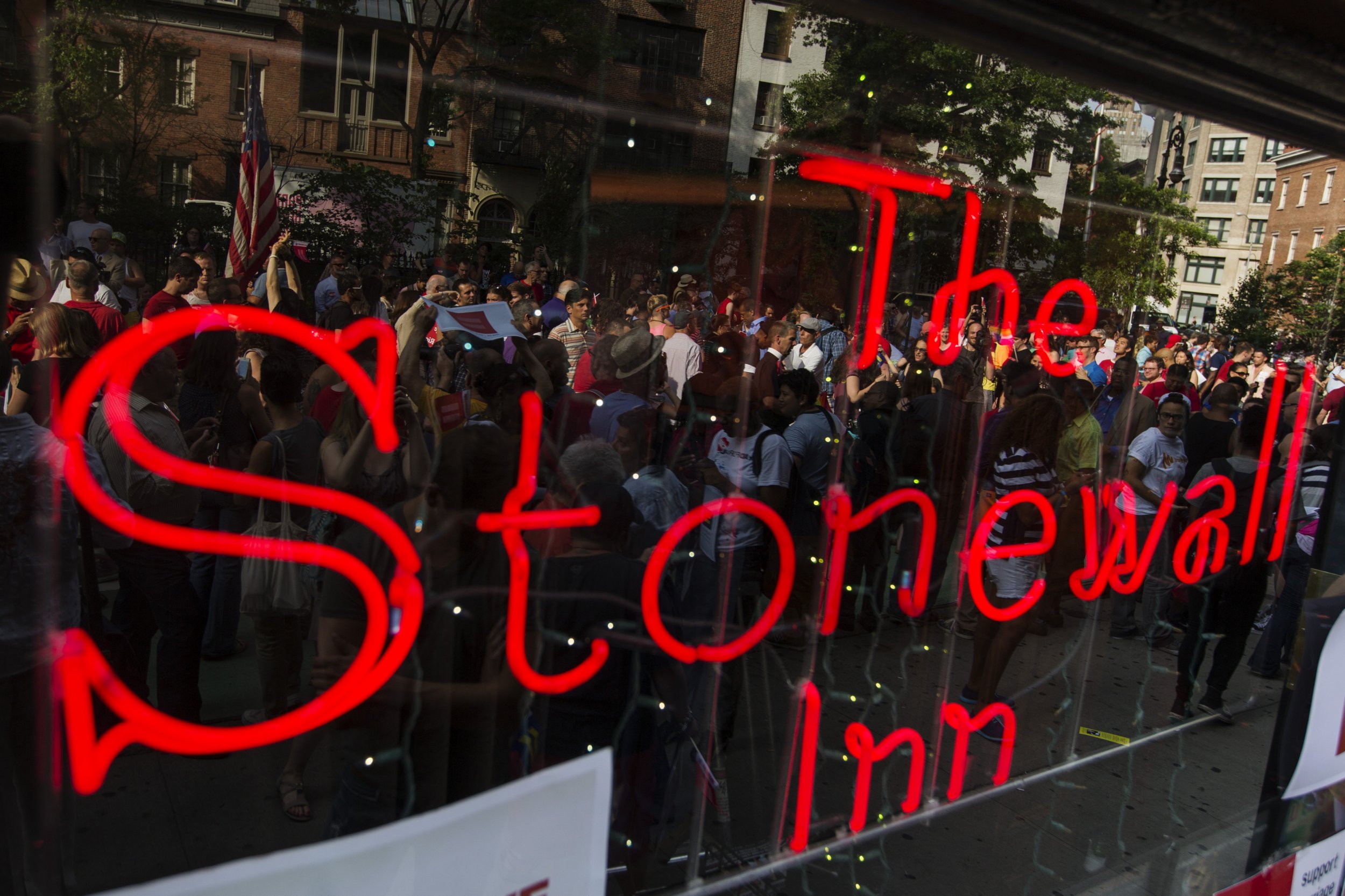 On Tuesday morning, dozens of New Yorkers packed into a public hearing room at 1 Centre Street to witness a historic vote. It was standing room only as numerous speakers presented the case for designating The Stonewall Inn a New York City landmark.
The commission was convinced. Just before noon, the New York City Landmarks Preservation Commission voted unanimously to designate Stonewall, the site of historic LGBT rights protests, a landmark. This announcement comes during the city's LGBT Pride Week.
Each speaker was allotted three minutes to plead their case, but many went over, and applause certainly set it over that barrier. Unlike other city meetings, no one seemed to mind staying in the stuffy roof for well over two hours. There was an air of celebration, as activists shook hands, congratulated one another and passed out rainbow flag stickers, worn by the majority of hearing attendees.
The Stonewall Inn, which is actually a bar, is the birthplace of the gay rights movement. In late June of 1969, pub patrons fought back against a police raid targeting the gay bar—it was illegal to serve alcohol to gay people at the time. The protest went on for three days as New Yorkers demanded gay rights and freedom from oppression. Ever since, Stonewall Inn has been a mainstay in the gay rights movement. It was the site of mass celebration after New York state allowed gay marriage.
"I was a Stonewall rioter. I was arrested on the second and largest night of the demonstration," said Gil Horowitz in his argument for landmark status. The lifelong New Yorker, who fought for his rights as a bisexual, said he could not imagine a world without the Stonewall riots and the changes they brought about. His life was very much defined by the Stonewall.
The youth of David Ehrich, who runs SaveStonewall.Org, was also shaped by visiting the Stonewall Inn. "I grew up gay and alone in Ridgewood, New Jersey. As a young gay man, my only salvation was coming into New York to visit Greenwich Village where I felt safe and accepted," Ehrich said. He advocated for landmark status in honor of Tyler Clementi, a young gay man who killed himself after being videotaped in a sexual act by his roommate and cyberbullied. "We are all Tyler Clementi," Ehrich said of those supporting Stonewall's landmark status.
In her testimony in favor of landmark status, preservationist Christabel Gough said she would like to see the building regain its old neon sign, a fixture in 1969 during the protest. The sign was long broken and the inn was no longer an inn, but it was still a beacon of the Stonewall.
Other speakers focused on the need for this additional protection, at the city level, for Stonewall.
Stonewall is already a National Historic Landmark and a member of the National Register of Historic Places, advocates believe the city's landmark status was necessary for additional protection from development. Stonewall became the first building to be both within a historic district and a landmark—the additional status recognizes its importance to the LGBT movement and offers it further protection.
The timing of the landmarking is notable: It comes during LGBT Pride Week, right before a Supreme Court decision on gay marriage, and on the 46th anniversary of the riots. "Few sites anywhere in New York have the historic importance and resonance of Stonewall," Andrew Berman, the executive director of Greenwich Village Society of Historic Preservation, said. "The reverberations of those events continue to be felt every day."
If the Supreme Court decision sides in favor of gay marriage, many will likely gather at Stonewall just as they did after marriage laws passed in New York. "Stonewall is a national symbol of dignity and defiance, a symbol that things can get better and that a small band of people can make things better," David Saltonstall, assistant comptroller for policy said, testifying in honor of comptroller Scott Stringer. "Nearly a half century [after the Stonewall riots,] this ongoing struggle can be linked back to that little inn."
Just before the vote, Michael Devonshire, a commissioner on the Landmarks Preservation Commission, gave a short but poignant description of Stonewall:
"It ain't a pretty building. It ain't a pretty piece of architecture. But this building represents so many things and in light of the recent events in Charleston, I am continually reminded that someday, we will be all more human. Someday, we will understand that color, race and sexual orientation is something to be applauded and included in our family of man. This fantastic spot represents that period of strength and dignity for the LGBT community that absolutely deserves our resignation and protection."
With that, Stonewall became a New York City landmark.