'Stonewall Outloud,' Narrated by RuPaul, Documents the Uprising In a Way Never Before Seen
It's been 50 years since the police raided the Stonewall Inn, a gay bar located in New York City's Greenwich Village neighborhood. For more than a week LGBTQ+ people rose up in defiance of the hatred, violence and bigotry they were repeatedly subjected to by the police and society at large. Ever since that fateful day in 1969, Stonewall has come to represent the starting point for the modern gay rights movement. To commemorate this milestone, the executive-producers of RuPaul's Drag Race, Randy Barbato and Fenton Bailey, have created a new documentary in partnership with YouTube Originals and StoryCorps called Stonewall Outloud, narrated by RuPaul.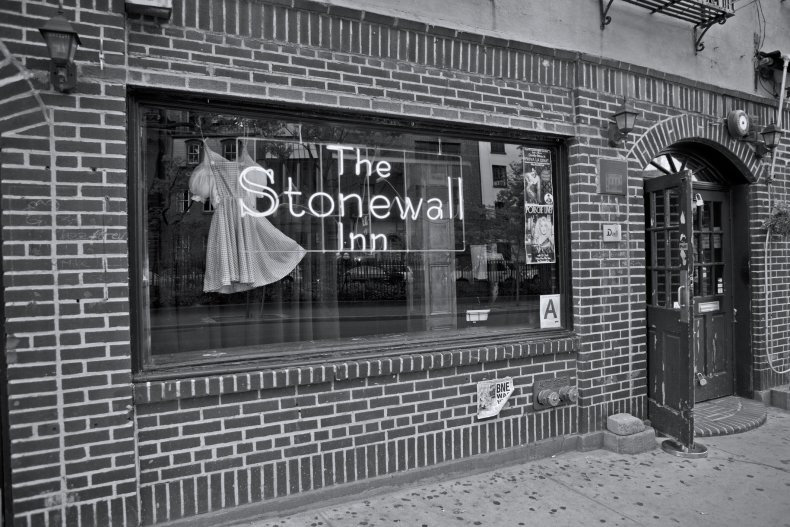 "Who knows if there would be a Drag Race on TV or a DragCon you could go to if it weren't for Stonewall and what they did," Bailey told Newsweek. Stonewall Outloud uses audio originally captured by Dave Isay for Remembering Stonewall, a radio documentary produced for StoryCorps. The film uses artists like Lance Bass, Adam Rippon, Fortune Feimster, and Drag Race winners Raja and Jinkx Monsoon lip-syncing to the audio of recordings of people who were at the Stonewall uprising.
"Stonewall happened largely because of drag queens and trans woman," Barbato said when asked why they decided to use lip syncing as a storytelling device. "There is a historical connection between lip syncs and the community and the art of drag."
The film originally had a limited run at the Laemmle Royal in Los Angeles and will be released on the World of Wonder YouTube channel on June 28 to coincide with the anniversary of the uprising and World Pride in New York City.
Newsweek spoke with Barbato and Bailey, co-producers and directors of the film, about the legacy of Stonewall, why they chose to incorporate lip syncing into the documentary and the impact of Stonewall on Drag Race.
How do you think the stories of Stonewall are being lost?
Bailey: I suppose they would only be lost if they weren't documented or recorded. It was really interesting, Stonewall Outloud is based on an audio documentary by Dave Isay, who is the founder of StoryCorps. He actually started StoryCorps a few years after, but as a radio producer, one of the first projects he ever did—in fact was his first completed work as a radio producer—was a documentary called Remembering Stonewall, which is what our film is based on. What happened was YouTube Originals came to us and said, "Can you make this into a film?" What's shocking to me, and really surprising, not only was that it was Dave Isay's first documentary, it was also the first documentary of any kind, in any medium, made about Stonewall. That wasn't until 20 years after Stonewall. So you already have a 20-year gap... So your question is, "How are the stories being lost?" I feel in a way they've never been told.
Another thing is, we're talking about 1969 and we know everything about the Manson murders and landing on the moon. Stonewall was part of that summer... we just take for granted, of course it was filmed. There's maybe a half a dozen photographs. There's very, very little.
What led to the idea of using lip syncing as a storytelling device?
Bailey: Another challenge YouTube Originals presented us with was, "Can you somehow make something that happened 50 years ago relevant to people today?" How do you connect the past with the present? I think Randy's brilliant idea [to have participants lip sync] in one stroke does that. Because when you see Jeffrey Bowyer-Chapman or Connor Franta or any of the cast when they're lip-syncing, it's almost like they're channeling these other voices, it brings it into the present, you know?
Barbato: There's this little show called RuPaul's Drag Race, and one of the most powerful moments in that show is the lip sync for your life. Particularly the ones that really land. You end up not only being connected to the drag queen who is performing but also the original artist and the music. There is this soulful connection with a good lip sync. It's all about the specificity of focusing on the singularity of a voice. So I think applying that soulful connection to this film just seemed appropriate. Also, let's not forget, Stonewall happened largely because of drag queens and trans woman. There is a historical connection between lip syncs and the community and the art of drag. So many of those people helped our community move forward in a political way. It just seemed appropriate.
What do you hope people take from Stonewall Outloud?
Bailey: One of the things I hope they take from it is the realization that the gains and freedom Stonewall led to were a) hard-won and b) are in a fragile place and that we certainly cannot afford to take for granted. Now is the time to be vigilant, now is the time to resist. Because we could see everything that Stonewall achieved go backward.
I guess the other takeaway is really how we stand on the shoulders of others, particularly drag queens and trans women who were very much on the outer edges of the gay community then, and who were very much disenfranchised and yet they made this amazing contribution and showed incredible courage and valor. And I think Randy and I making the film really had a sense that we owed so much to these people. Who knows if there would be a Drag Race on TV or a DragCon you could go to if it weren't for Stonewall and what they did.
Barbato: I think that so often the freedoms and the rights that we have now, so many of them have to do with the outsiders within our community, the outsiders within our culture, it's those voices on the margins who are our heroes. They will always be our heroes.
In what ways do you think events like Stonewall are still happening today?
Barbato: I think we're in a very scary time right now. There's a culture of fear, there's a bully culture that's being encouraged at the top of our government. The first thing that goes is the rights of marginalized communities. People are dying and people are being bullied and threatened and we still have not arrived at that place that we need to.
Bailey: In making the documentary, one of the things the actors and YouTubers said, what they realized from their own experiences of realizing they're gay, was how it gave them a greater feeling of empathy with outsiders everywhere. So I think what you're seeing, funnily enough, the gay community is coming into focus in complete contrast to the current regime. The current regime is based on building walls. The current regime is based on excluding people, demonizing people, throwing them in cages, ill-treating them, it's white supremacism and toxic masculinity. That's what you've got. On the other hand, the gay community is very much about welcoming one and all, about including outsiders, welcoming people in, not building walls to keep them out.
Stories of Stonewall are often accused of being whitewashed, only told from a white perspective. How do you think your project is different?
Barbato: I think the Stonewall story is a hard story to tell. Our number one goal was in telling a part of the story to focus on memorializing and remembering the original voices of the people who were there, and making a connection with a new generation of LGBTQ community. That was our number one goal. It was all about the connection between the present and the past so that we can be aware as we move into our future. Traditionally the Stonewall story gets bogged down in the details, it also gets bogged down in the need to create some kind of dramatic narrative. We didn't have that baggage, because that wasn't our agenda. Our agenda was just to make the connection.
Bailey: Yeah, it's the original voices of the people who were originally there. And they were a very diverse group of people.
Barbato: I do think we used diverse voices, but I also think those diverse voices reflected the reality of the time.
Was it difficult to get the participants to lip sync?
Barbato: Lip syncing is acting, and the majority of the people who participated were actors. There were some social media people who aren't actors but became actors. It really was an acting exercise more than anything else. It was so exciting to film it, to watch people become the characters, it was transformational and quite emotional. Every person we filmed had an emotional experience with it.
Bailey: It was very emotional. We did a few takes and had a couple of different cameras and there wasn't a huge amount of lines. The more they did it, the more they were connecting with the characters. It really was quite emotional, not just for the people doing it but also the crew, everyone was touched. It was a very interesting, unanticipated experience. Normally when you're making a film your mind is full of problems, takes, and challenges, but I was completely caught up in it.
Barbato: We understood conceptually why it could make a lot of sense and be really powerful, but the reality is we had no idea if it would work. That's a thrilling feeling to have when you're making something.
How do you think Drag Race continues on the legacy of Stonewall?
Bailey: There are other shows like Pose, but before Pose, [Drag Race] was the first entirely gay show on television. I think the whole Stonewall thing is we refuse to be invisible anymore. We refuse to be harassed in bars and hide away in shame. I think it is a continuation of Stonewall because here it is now on television, it's visibility. The thing about drag is no one wakes up like that, the journey and the courage it takes to be a drag queen takes a lot of courage and strength. To create that identity and put it out there. Again, it's about refusing to hide away. So I do think the show continues on the legacy of Stonewall, obviously in a different way.
Barbato: I love the idea that Drag Race, just by its mere existence, continues the legacy. You're right, it's all about visibility. Stonewall happened because people decided we've had enough. Here we are, you have to deal with it. I think Drag Race and other shows like Pose continue to move that conversation forward because it's not just about visibility, it's about the voices, the people, the artistry, it's not just we're here, it's we're here, now get to know us. Drag Race continues the legacy of Stonewall because people are falling in love with the cast, people are getting to know drag queens. People in red states are falling in love with drag queens... Not only does it continue the legacy, it gives it depth. Stonewall was about fighting for our rights, and Drag Race is about inviting us to dinner and getting to know us and connecting with outsiders in a deep and meaningful way.
Stonewall Outloud streams exclusively on World of Wonder's YouTube channel.
This interview has been edited and condensed for publication.