What Were the Stonewall Riots? How the Events of 1969 Shaped LGBT Movement
When cops raided New York gay bar Stonewall Inn more than half a century ago on June 28, 1969 their actions helped trigger an LGBTQ movement that revolutionized the lives of future generations.
Police had already raided the Stonewall Inn on Christopher Street that week, and this second time occurred in the early hours of Saturday morning, when the venue was packed.
While the LGBTQ movement cannot be directly traced to the events of that night, it was certainly energized by what happened in the hours and days after the riot.
David Richards, Edwin D. Webb Professor of Law at New York University, describes Stonewall as having "transformed both our culture and our constitutional law."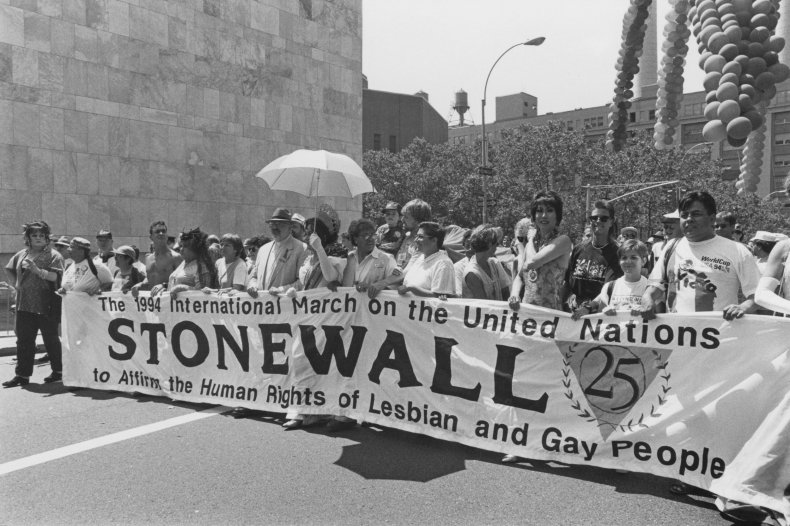 He told Newsweek: "There was a lot going on before Stonewall, but coming at the end of the civil rights movement and its remarkable legal successes [the Civil Rights Act of 1964, the Voting Rights Act of 1965], Stonewall historically marks the remarkable emergence in the U.S. of another such movement—breaking the silence imposed by the historical hegemony in Anglo-American legal culture of "the unspeakable crime against nature not to be spoken among Christians," as [18th century English jurist William] Blackstone put it in his [famous treatise] Commentaries."
What were the Stonewall Riots?
Police raids of gay bars in the 1950s and 1960s used to be routine, involving the threatening and beating of customers and staff alike.
But when police raided the Stonewall Inn in the early hours of June 28, 1969 things did not go to plan, and what followed effectively kick-started the modern LGBTQ civil rights movement.
Marie-Amélie George, an expert in LGBTQ history and an Associate Professor at Wake Forest University School of Law, believes Stonewall has rightly "entered the LGBTQ history books."
She told Newsweek: "Stonewall might have had grimy bathrooms and sold overpriced, watered-down drinks, but it was one of the few establishments that welcomed gay men, lesbians, transgender individuals and other gender nonconformists.
"When law enforcement officers entered that night and began checking IDs, looking to arrest anyone whose gender presentation did not match their official documentation, Stonewall's patrons rebelled.
"They had enough of being harassed, arrested, and prosecuted simply for being who they were. New York's LGBTQ community swarmed to the bar to help with the fight, launching bottles, cans, loose change and other objects at the police."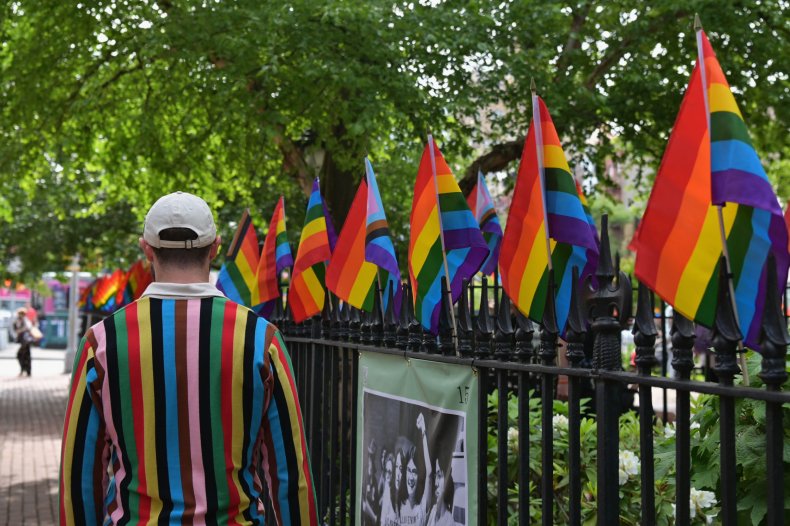 She added: "The Stonewall Riots, as they became known, were not the first or last time that the LGBTQ community had rioted against the police.
"However, Stonewall entered the LGBTQ history books after advocates in New York and Los Angeles began marking the rebellion with an annual march and festival.
"Pride parades quickly spread to most major U.S. cities, drawing tens of thousands of spectators to the vibrant celebrations of same-sex sexuality and gender nonconformity."
Newsweek has reported how versions of the famous rainbow flags now play an important role during Gay Pride marches, as "they represent a variety of different communities, such as trans communities and bisexual people.
LGBTQ people had for many years faced social sanction and legal harassment for their sexual orientation, which had been criminalized on the pretexts of religion and morality.
The 1960s even witnessed homosexuality reclassified as a mental disorder and most municipalities in the U.S. had discriminatory laws banning same-sex relations and denied basic human rights to people suspected of being gay.
Professor George said: "The spectacle of pride parades shocked and dismayed many conservative onlookers but they also helped make the LGBTQ community visible to large swaths of the country.
"Every year, the parades reminded Americans that gays, lesbians, bisexual, transgender, and other queer individuals were part of their lives.
"The events encouraged LGBTQ individuals to come out, spurring a visibility that allowed advocates to secure LGBTQ rights in the 1990s and early 2000s."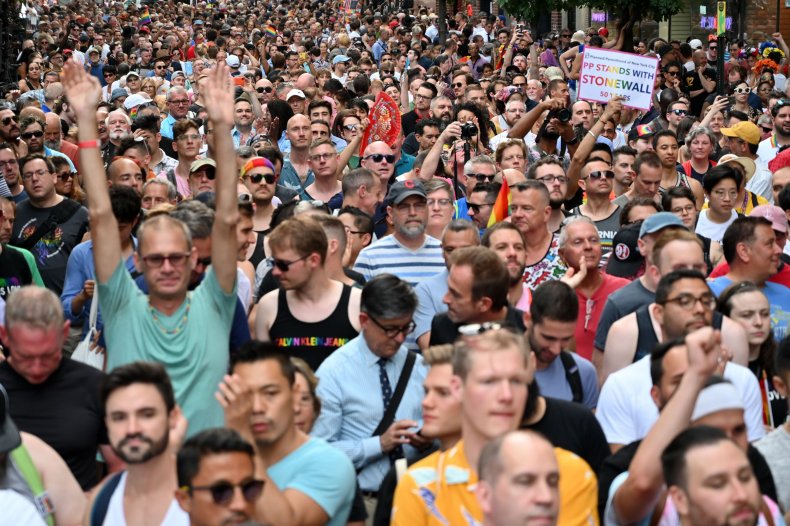 She believes that today, the Stonewall Riots have particular resonance for the LGBTQ community.
The LGBTQ history expert said: "They were a moment when gays, lesbians and trans individuals joined forces against a common foe, with drag queens and self-proclaimed transvestites leading the charge.
"Contemporary opponents of LGBTQ rights have recently focused their energy on combating transgender issues, arguing that these are different from gay and lesbian rights.
"But, as the Stonewall Riots remind us, gender nonconformists have always been an integral part of the LGBTQ community. Like that summer night in 1969, an attack on one is an attack on all."
Aaron Lecklider, Professor and Graduate Program Director of American Studies at the University of Massachusetts Boston believes the events surrounding the Stonewall riots were "as much a reaction to the conservatism of the mid-century gay rights movement as it was a response to the escalated policing of gay spaces."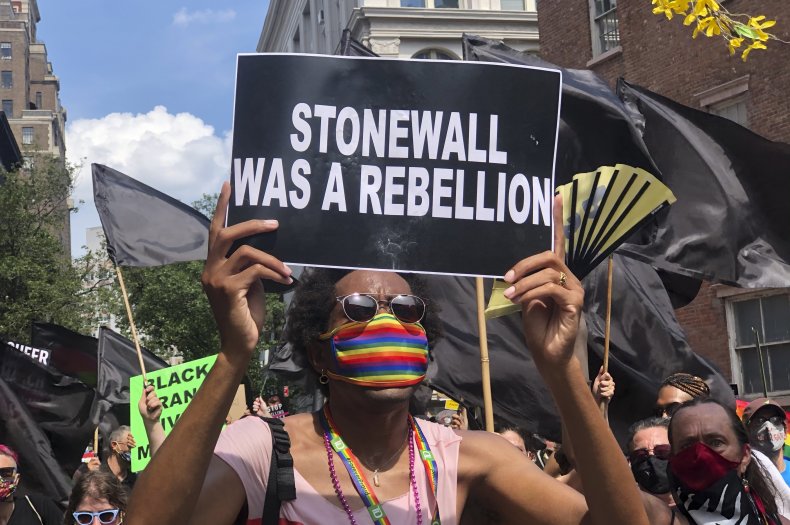 He told Newsweek: "While middle-class white gay men and lesbians had formed organizations in the 1950s that centralized their identities, the majority of queer people—gender-nonconforming, people of color, poor, and working-class—had no place in them.
"The Stonewall uprising provided a catalyst for gay people on the margins to speak for themselves and build a movement on their own terms.
"The grassroots liberation that emerged in and around Stonewall upended earlier efforts to fit in and perform good citizenship, drawing on the energy of a highly public revolt to join with revolutionary feminists, Black nationalists, and working-class revolutionaries in envisioning a better world.
"This was not the first time gay people had thrown in their lot with radicals; many, including some of the architects of the 1950s homophile movement, were highly active in the Depression-era Communist Party.
"But the idea that gay people were better off dismantling the society that rejected them rather than begging for acceptance had finally entered into the mainstream currents of American culture," Lecklider said.