Stop Appropriating Black History to Push an LGBTQ Political Agenda | Opinion
In late January, the Florida Department of Education (DOE), under the leadership of Governor Ron DeSantis, rejected a proposed advanced placement (AP) course in African American Studies. The DeSantis administration said the course, which was designed by College Board, defies state law. In a publicized letter, the Florida DOE noted six areas of course content in the proposed AP course that didn't meet Florida's legal standard of "education not indoctrination."
The DOE objected to multiple "queer" advocacy points, as well as repeated instances of anti-capitalist rhetoric and communist sentiment, and noted that on the subject of reparations, the course did not provide a case against reparations, just one in favor.
The state of Florida invited College Board to revise the course curriculum and submit it for reconsideration, which they did, adding Black conservative voices and removing writers representing critical race theory and "the queer experience."
Outraged liberals accused the College Board of "caving" to DeSantis. Yet Florida's Department of Education is right: We need to stop allowing other interest groups to shoehorn their agendas into Black American history.
It's indefensible, not least because we desperately need unbiased content that helps Americans develop fuller awareness about the experience of Black Americans to cultivate a more robust understanding of this nation's civic obligations to us. A well thought out African American Studies AP course could go a long way toward doing that. Yet the course that DeSantis's administration rejected did something else: It unnecessarily married Black American history with dismantling capitalism and queer theory.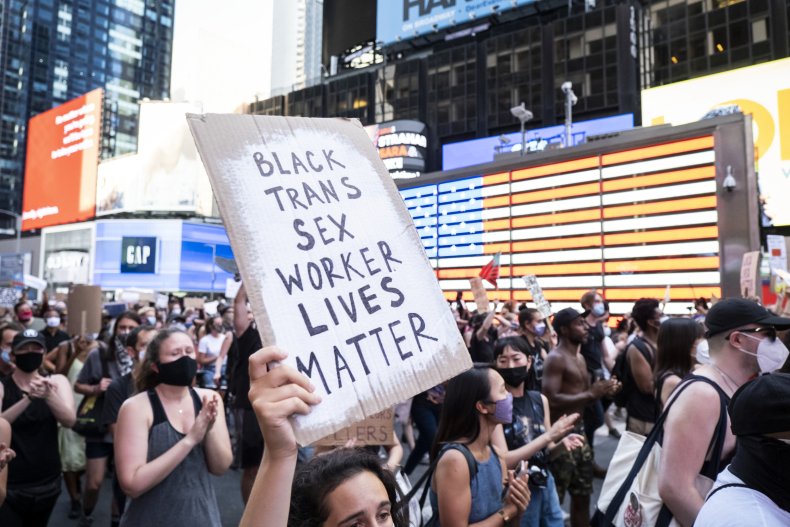 Sadly, this penchant is all too common.
Black LGBTQIA+ activists and their white supporters claim we are erasing them when their sexuality isn't placed in the spotlight. But the reality is, Black LGBTQIA+ activists are Black. The extent to which they are not Black first and foremost is a matter of their own identity priorities, and the descendants of U.S. slaves—the people who are the crux of the "Black" in African American studies—cannot afford to accommodate their emotional needs.
Indeed, it is wrong to ask us to. Recall that "African American" Studies received its name because descendants of U.S. slaves had no way of determining the specific locales from which our Black ancestors originated. Moreover, it is descendants of U.S. slaves upon whom "Black American" history of 1776-1965 is based.
This just isn't the place for discussions of queerness or gender identity.
We have to draw a line in the sand and say we will no longer tolerate pimping out Black American history to advance anything other than delivering on the equity due to multigenerational Black Americans—the descendants of U.S. slaves.
Sadly, both Black and white liberals have no shame in using the legacy of multigenerational Black Americans to accomplish goals for other special interest groups, and I for one am relieved that Governor DeSantis and the state of Florida saw through the facade.
This is a problem across the Diversity, Equity and Inclusion discipline, which has appropriated the valor of the Civil Rights Movement to defend biological men fighting in kickboxing competitions against women, using women's locker rooms to expose themselves before young girls, and being confined in women's prisons where they have been found guilty of rape.
What does all that have to do with the legacy of Black Americans?
Ask this question out loud and activists will accuse you of erasing Black queerness, perhaps even of white supremacy. But they are using Blackness to advocate for a queer agenda, not the other way around. And in so doing, they are using our legacy to normalize white queerness.
In other words, it's blackface.
That is why they disrupted rallies with chants of "Black trans lives matter." That is why they attempt to attach these agenda items to the legacy of Black American history.
The reality is that, for better or worse, Black people are like everybody else. Black folks are straight and gay. Some of us find hope in communism and are also successful capitalists. But the common cause of Black American history is Blackness.
The descendants of U.S. slaves are a founding population in America and our history is sacred to this country. We cannot have it used as blackface.
African American studies should remain a focused resource to support the delivery of a more perfect union for Black Americans. The rest is a diversion. To the would-be appropriators of the African American legacy, I say, tell your own history and sell it as such.
Pamela Denise Long is CEO of Youthcentrix® Therapy Services, a business focused on helping organizations implement trauma-informed practices and diversity, equity, inclusion, and antiracism (DEIA) at the systems level. Connect with Ms. Long online at www.youthcentrix.com or @PDeniseLong on social media.
The views expressed in this article are the writer's own.