Stop Blaming Biden for Afghanistan. He's Cleaning Up Trump's Mess | Opinion
The images coming out of Afghanistan have been disturbing. But let's be clear: The Trump Administration led us straight into this mess. And President Biden is doing everything he can to get us out of it.
In Afghanistan, President Biden got dealt yet another losing hand from the Trump Administration. Their Doha Agreement with the Taliban violated the most basic principles of self-government for the Afghan people. There was no way to enforce it or make sure the Taliban kept its word. There was no denunciation of al-Qaeda terrorists. Worst of all, the deal didn't mandate the Taliban stop attacks against Afghan security forces.
All of this set the stage for the chaotic scenes we're seeing on TV today.
Trump's deal with the Taliban was flawed from the start, which is why Trump's own officials are now scrambling to distance themselves from it. "To have our Generals say that they are depending on diplomacy with the Taliban is an unbelievable scenario. Negotiating with the Taliban is like dealing with the devil," tweeted Trump's ambassador to the United Nations, Nikki Haley, who certainly voiced no such objections while working for Trump. She was not alone. "Our secretary of state signed a surrender agreement with the Taliban," Trump's former national security adviser, H.R. McMaster, told journalist Bari Weiss. "This collapse goes back to the capitulation agreement of 2020. The Taliban didn't defeat us. We defeated ourselves."
Even Mike Pompeo, Trump's Secretary of State and the man who negotiated the deal with the Taliban in the first place, is now denouncing it. He had the audacity to tell Fox News that the "debacle" in Afghanistan "will certainly harm America's credibility with its friends and allies." He certainly didn't seem to think so while he was laying the groundwork for the debacle in the first place.
"We're letting the Taliban run free and wild all around Afghanistan," complained Pompeo, the man who cut the deal to release the Taliban's leader from prison in the first place. Trump ordered the release of 5,000 of the top captured Taliban fighters last year—a decision his own designated "peace envoy" Zalmay Khaliizad said publicly had disturbed him. Those same fighters are now threatening the streets of Kabul.
Republican outrage was also completely absent in the first 45 days of Donald Trump's agreement, when there were over 4,500 Taliban attacks resulting in over 900 Afghan casualties. Where was the Republican outrage about the Afghan army then, when their President handed over Afghanistan to the Taliban? Nonexistent.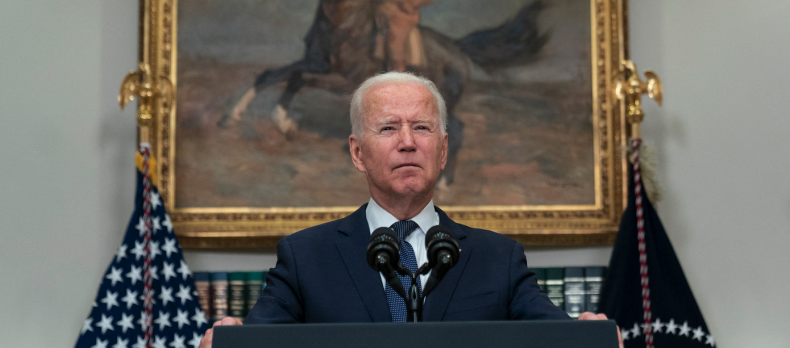 They saved their denunciations for Biden's efforts to clean up Trump's mess—efforts which have as yet cost many fewer lives.
But this hypocrisy is not limited to former Trump officials. Take House Republican firebrand Rep. Jim Jordan (R-OH), for example, who only tweeted once in 2014 about losing an American general in combat in Afghanistan, until discovering it as a partisan issue this summer. Now that he can blame Biden for Trump's mess, he hasn't stopped tweeting about it.
Jordan is one of many Republicans hypocritically denouncing a Biden withdrawal that they championed under Trump. The Republican Party used to brag about Trump's "historic" peace deal in Afghanistan. Now, they went so far as to delete that press release to pave the way for a new, partisan attack on President Biden over the end results of that very agreement.
Twitter is awash in angry Republicans outraged about our allies in Afghanistan who we should have evacuated before we left. And yet, it is Trump—and his advisor Stephen Miller—who are the reason so many Afghan interpreters are stuck in Afghanistan due to stalled special immigrant visa application infrastructure. Former Vice President Mike Pence advisor Olivia Troye wrote on Twitter that folks like Trump and Miller made it "even more challenging" to get allies out, overriding the concerns of others in the administration. "There were cabinet mtgs about this during the Trump Admin where Stephen Miller would peddle his racist hysteria about Iraq & Afghanistan," Troye wrote. "He & his enablers across gov't would undermine anyone who worked on solving the SIV issue by devastating the system at DHS & State."
In fact, at the end of last year, the Trump administration had nearly 11,000 visas authorized for Afghans who helped America during the last 20 years—but only gave out 1,300 while most of the withdrawal took place.
So whose fault is it that so many of those who helped us are stuck in Afghanistan? The burden of that responsibility falls squarely on Trump's shoulders. And it is Biden who is working diligently to get them out.
And it was Trump who bragged just this April that the process of moving the U.S. military out of Afghanistan had progressed to a point that even if President Biden wanted to, he "couldn't stop the process." Trump was right: There was nothing Biden could do to stop what was coming in Afghanistan short of another massive U.S. military deployment. According to the text of the February 29, 2020 agreement Trump signed with the Taliban, within 135 days, America would withdraw from five major bases and agreed to complete the rest of its major withdrawals within nine months. In other words, the Army agreed to pull out of Afghanistan long before Biden's inauguration, which it mostly accomplished.
So to those blaming President Biden for how the Afghanistan war is ending, let's be real: Trump led us into this mess. And he could not get us out of it.
Joe Biden is doing something Trump and two other presidents over two decades never could or would do: President Biden is ending the war in Afghanistan.
For that, he deserves our respect.
Scott Dworkin is an author, and serves as Executive Director of The Democratic Coalition. He was a deputy director for the 2009 Presidential Inaugural Committee and the 2012 Democratic National Convention, and a senior adviser to the Draft Biden and Run Warren Run campaigns. Follow him on Twitter: @funder
The views in this article are the writer's own.