Emergency Responders, Doctors Advocate for Bleeding Control Kits in Schools Following Mass Shootings
Tougher gun laws, improved mental health care services, clear backpacks, metal detectors and armed school staff. These preventative measures are just a few that students, parents and voters are calling for in the wake of the country's recent mass shootings.
But a group of emergency responders and doctors are also focusing on what to do in the crossfire. Their solution: Arm educators with bleeding-control kits of gauze and tourniquets, and spread the kits nationwide. As an additional line of defense, bystanders and teachers would be taught life-saving techniques on how to stop the bleeding from a gunshot wound in an emergency such as an active-shooter situation. Teachers would learn how to help victims from bleeding out before an ambulance arrives: applying pressure, packing a wound and tying a tourniquet.
Stop the Bleed kits and compression techniques that slow severe bleeding can save lives; a recent study shows that patients arriving at a hospital with a tourniquet for an injury to an extremity blood vessel were six times less likely to die compared with those who did not have a tourniquet, according to theJournal of the American College of Surgeons.
Lieutenant Daniel Byrne, a firefighter-paramedic in Burton Fire District in South Carolina, has seen firsthand the way blood loss can increase the number of causalities in a shooting.
"From the time the first bullet rings out, we get on scene, we're able to get in the school and to start getting to these kids, we don't have enough time," Byrne told Newsweek.
Byrne has taken part in multiple Beaufort County active-shooter drills in schools. At times, he vented to his wife, public school teacher Angela Byrne, about the length of time between when a trigger is pulled and an ambulance responds. "We're not going to get to all of them," he said.
"Then the nightmare actually happened in South Carolina with Jacob Hall," Byrne said.
In 2016, a playground shooting shook the small community of Townville when a 14-year-old killed his father with a pistol, then drove to Townville Elementary School and opened fire at recess. A teacher and two students were hit, including first-grader Jacob Hall, who within a minute was unconscious.
Doctors said the 6-year-old lost nearly 75 percent of his blood. Several days later, he died from a major brain injury.
"If Jacob Hall were my student, what can I do to keep him alive until you got there?" Byrne's wife, Angela, asked him.
Byrne created the Jacob Kit in 2017 in honor of the young boy. Each kit contains a combat application tourniquet (or CAT), bandages, trauma shears and medical gloves. Two chest seals are adhesive nonpermeable bandages, and are used to treat a "sucking chest wound," or tension pneumothorax. In that scenario, when a bullet wound to the chest is not sealed, taking a breath pulls air into that hole, filling the chest cavity and placing a devastating amount of pressure on the lungs and heart, which can be rapidly fatal, said Byrne.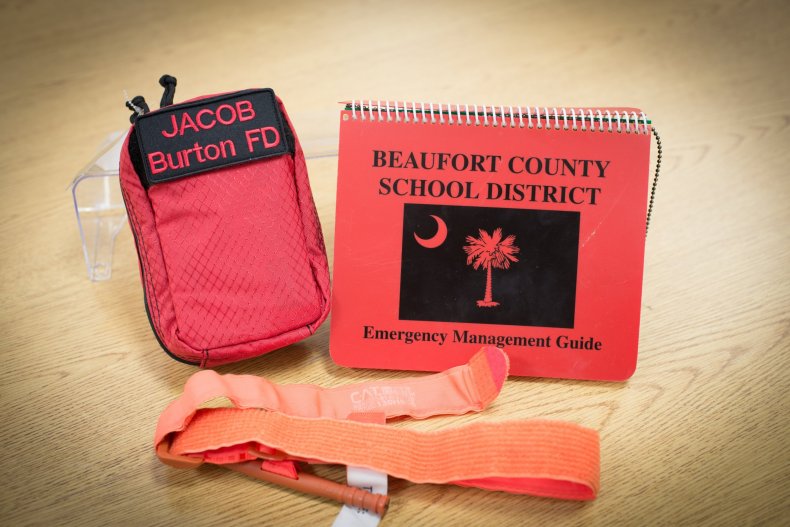 The Jacob Kit was first piloted at his wife's school through donations and grants and has continued to spread beyond his district.
In the wake of the February 14 school shooting at Marjory Stoneman Douglas High School in Parkland, Florida, which left 17 dead, Byrne has been advocating for wider distribution of Jacob Kits in classrooms and areas where large groups gather, like cafeterias and gymnasiums.
Schools in nearly 20 states have requested Jacob Kits, which are more than medical supplies—they're meant to keep people in a constant state of readiness. Together, built into a program with training, they're a foundation for teachers to become first responders, Byrne said.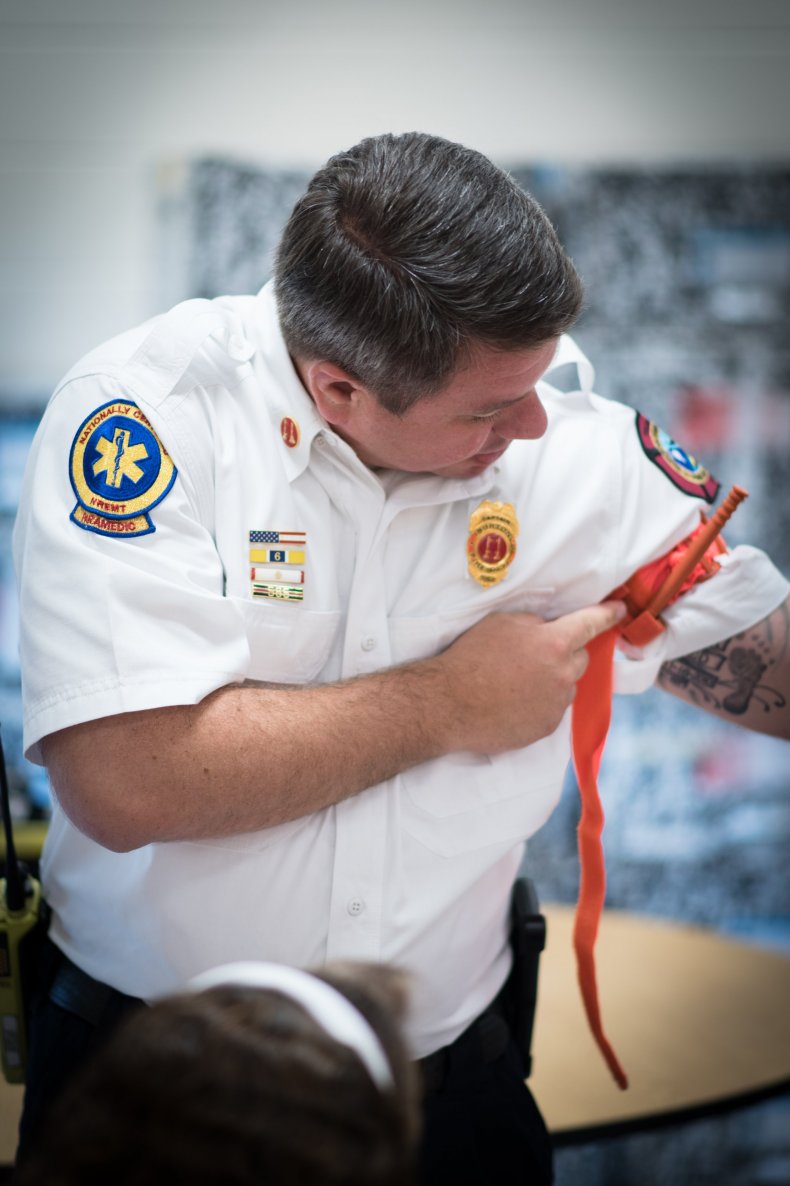 "I think it's even more of a tragedy that we lose a child to an injury that is treatable and survivable if a teacher had the resources and training to do it," Byrne said.
A bill, SC H5003, drafted by South Carolina Representative Jeff Bradley, would require public schools to have bleeding-control kits and train school staff on how to use them. The bill is currently in the House Education and Public Works Committee and many see it as stalled; a March 20 public hearing to discuss the bill has now been postponed indefinitely.
"I fear it is dead," Byrne said.
An initiative backed by the Hartford Consensus—a coalition of the American College of Surgeons, healthcare professionals, FBI and government officials—has called for a mass public training in bleeding-control techniques. Following the deaths of 20 first graders and six adults during a shooting at Sandy Hook Elementary School in 2012, the coalition sought to develop a plan to respond to active-shooter and mass casualty events.
The Hartford Consensus concluded that "uncontrolled bleeding is the most significant preventable cause of death in the pre-hospital environment" and recommended that bystanders learn the skills of first responders. The Hartfort Consensus recommended that life-saving tools such as bleeding-control kits be as accessible as automated external defibrillators (AED) in public areas. This recommendation was followed by a national awareness call when the White House launched the Stop the Bleed campaign in 2015. Since then, the campaign has been led by the American College of Surgeons (ACS).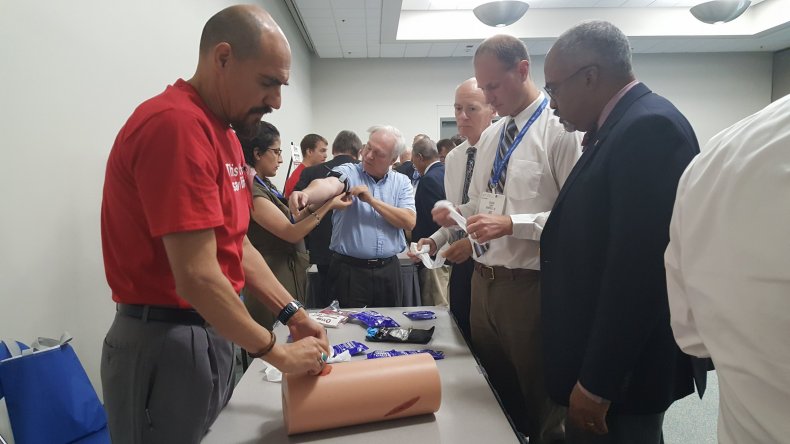 Bystanders to First Responders
On the night of October 1, 2017, a gunman fired more than 1,000 rounds of ammunition into a country music festival from his hotel window at the Las Vegas Mandalay Bay Hotel and Casino.
From his 23-gun arsenal—12 of which had "bump fire" stocks that allowed the guns to fully mimic automatic rifles—58 people were killed and over 500 injured, making it the deadliest mass shooting in modern American history.
"It just activates you to do something. We all realized how vulnerable we are," said Dr. Deborah Kuhls, a medical director of trauma and intensive care at nearby University Medical Center of Southern Nevada (UMC).
Kuhls said gunshot wounds are so lethal that people often don't live long enough to make it to the trauma center. A trauma surgeon for nearly 18 years, she was on duty the night of the Las Vegas shooting; her hospital received 104 injured patients, including three who were already declared dead.
Kuhls said there is one man in particular who stayed with her.
"Initially, a bystander incorrectly applied the makeshift tourniquet below the wound. Another bystander fixed it, tying it above the bullet hole, likely saving his life," Kuhls said. "I'm grateful to two people," the man told the trauma surgeon.
Kuhls—chair of the ACS Committee on Trauma Injury Prevention and Control Committee—advocates for Stop the Bleed kits in public locations, next to defibrillators, legislation that she has plans to propose to the 2019 Nevada Legislative session.
"We want to make all people...we want to make them immediate responders—those that can act right then in the moment and help save a life, or save their own life, until EMS can get there," according to Cassandra Trummel, a nurse and the Trauma Outreach and Injury Prevention Program Coordinator at UMC in Las Vegas, who teaches a Stop the Bleed training course.
Nationwide, over 175,000 Americans have taken the course, according to ACS estimates. Stop the Bleed trainers from UMC have trained 3,387 throughout the Las Vegas Valley since October (3,525 in total, and of those 1,115 were teachers).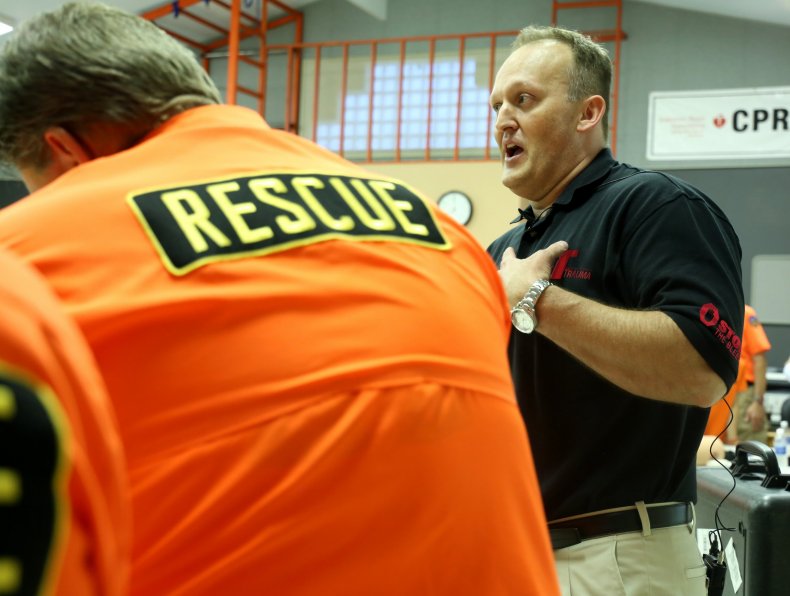 The one-hour class, which is part tutorial, part hands-on training, allows those in the class to tie a tourniquet around a simulated wound on a mannequin and learn about substitutes for tourniquets depending on the environment. Students also learn how to pack a wound with gauze and apply pressure directly on the damaged vessel.
"They get a good idea when they are packing a wound how deep it can be and some of the things you may feel," Trummel said. The training is meant to help individuals feel more confident and to prevent instances of freezing up.
"They hope they never have to use it, but they definitely have a better understanding and better appreciation," the program coordinator said.
Inside Classrooms: The Reality
John Sawchuk, a former assistant principal Columbia High School in East Greenbush, New York, who tackled a student shooter in 2004, advocated for building a community of safety. Sawchuk, who prevented what could have been a mass shooting, said he is in favor of "anything that can save a life" and sees tourniquet kits in classrooms throughout the country as a positive step in an unfortunate reality that schools face today.
"In the backs of our minds, every time we walk into our classrooms, we think about the possibility that [a shooting] could happen," said Lonny Nelson, who teaches health sciences, career and technical education at Hillsboro High School in Nashville, Tennessee.
Just three weeks ago, Nelson heard of the national Stop the Bleed campaign and felt that was it something her students—who are part of the health science academy at the high school—needed. Actual tourniquets and training equipment, such as "wounds in a box," were used in the hour and 15 minute Stop the Bleed course taught by trainers from the local Vanderbilt University Medical Center and Tri-Star Hospital.
"It gives them a sense that they have an ability and knowledge as high school students to save somebody's life," Nelson said. "I think it's really important to give them confidence in case of an emergency, wherever that may happen."
Nelson's Hillsboro High School doesn't have Stop the Bleed kits, but it's something that the teacher wants to offer as a recommendation to administrators as part of its toolkit for emergencies.
"Teachers want to feel as prepared as possible to help minimize the trauma and the fatalities that can occur if there was an active shooter on campus," said Celestine LaVan, a principal at Joseph S. Shanklin Elementary, in Beaufort, South Carolina.
Two weeks ago, her school's teachers received 80-minute training by Byrne that she said went beyond Band-Aid and gauze and was an introduction into emergency response.
"I was very anxious, and I didn't know how teachers would respond because we don't like to think or talk about these issues, and it could put people on edge, but the teachers left the training with confidence," LaVan said.
On Monday, 40 Jacob Kits were placed inside classrooms at LaVan's school for the first time.
Everyone is still in the "'It can happen to us' mode," and the kits are more timely than ever, the principal said.
"One of my fears is that Parkland falls away, people start losing priority on school shootings, and it's not going to be a topic anymore," Byrne said, adding, "but these—the bleed kits, the Jacob Kit—is going to be in the school hopefully forever."