Stop Calling AOC a Hypocrite. She's a Politician—a Good One | Opinion
At the 2001 MTV VMA awards, the R&B artist Macy Gray wore a dress emblazoned with a message on it in big silver lettering. Across the front, it read, "My new album drops September 18, 2001," and when she turned around, "BUY IT" was written across her butt.
Twenty years later, Congresswoman Alexandria Ocasio-Cortez, the progressive firebrand and democratic socialist representing New York, wore a white gown to the Met Gala with her own message written across the back in red: "Tax the Rich." But though the words were different, the effect was the same: an act of shameless self-promotion and literal branding.
Of course, AOC's act of branding was a bit more controversial, starting with the venue she chose. With outlandish costumes that would put the aristocrats at the famed Devonshire House Ball of 1897 to shame, the Met Gala is the pinnacle of celebrity spectacle, where the rich and famous parade their wealth in front of the world wearing getups worth more than most people I know make in a month and jewelry worth more than the house I call home. The whole thing is a grotesque display of privilege where excess is the point; the more excessive, the better.
So it's not surprising that the Congresswoman's dress caused a bit of a stir. Many like Republican Florida Lieutenant Governor Jeanette Nunez called AOC a "champagne socialist," while the actress and activist Jameela Jamil defended AOC by pointing out that "she was invited for free in a free dress." This is true; as the Congresswoman herself explained on Instagram, "NYC elected officials are regularly invited to and attend the Met due to our responsibilities in overseeing our city's cultural institutions that serve the public."
This is technically true: The Met Gala is a charity benefit to raise money for the Metropolitan Museum of Art's Costume Institute. And yet, I'm sure the Congresswoman turns down many invitations to events throughout her district (which does not include the Met).
Worse, like her subsequent social media posts responding defensively to the criticism, the signage on her dress suggests that the Congresswoman views her attendance as some kind of revolutionary act. "We really started having a conversation about what it means to be a working class woman of color at the Met," she said in an interview.
That is where she lost me, sitting here in the mountains of East Tennessee where more than 20 percent of the population lives in poverty. The only working-class people at that event were the ones wearing masks and serving celebrities like the Congresswoman.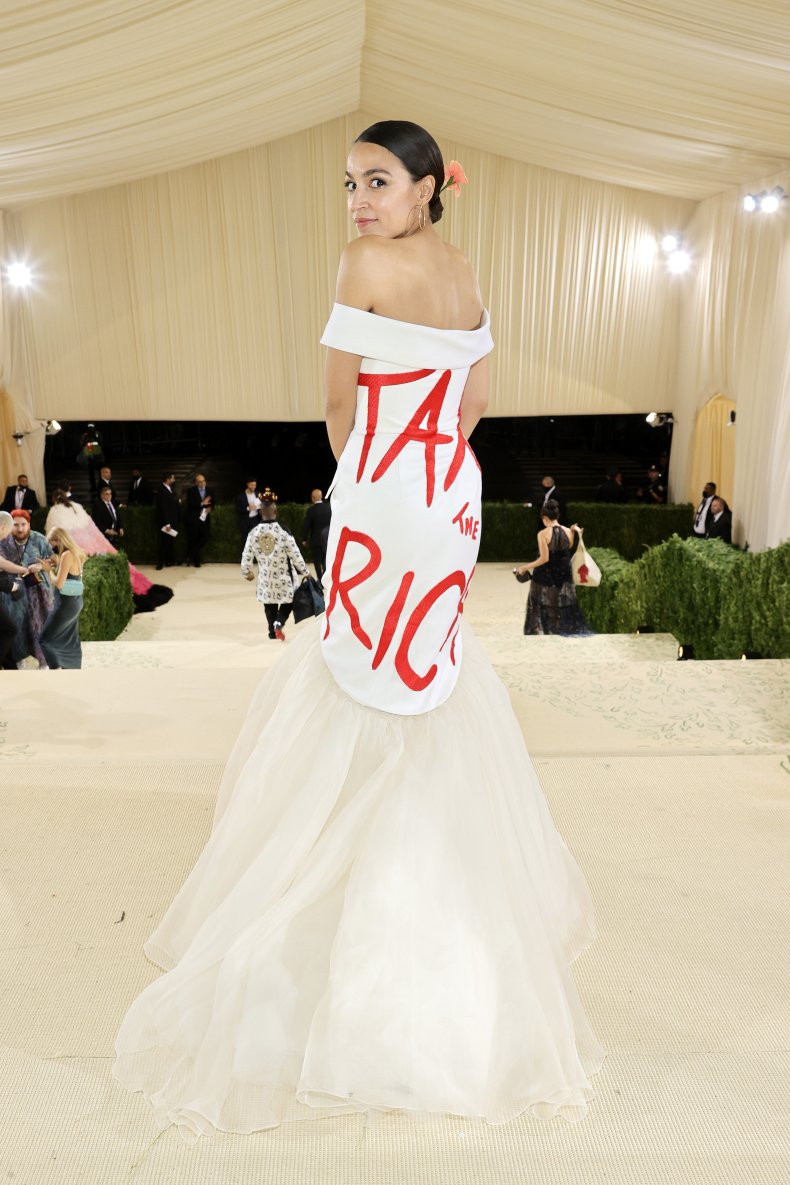 AOC attending the Met in a designer dress was no revolutionary act, no breaking down of class barriers. It was proof that you can ascend the ladder to America's elite with the right branding—including branding that makes liberals feel good about themselves, like "Tax the Rich." AOC wasn't being a socialist at this fete of conspicuous consumption; she was branding herself as one, selling the spectacle of socialism to people eager to consume it.
That might seem like a dig, but it isn't meant to be. I like AOC. I like that people are opening up to her messaging. AOC is no hypocrite for taking her branding to the Met Gala; she is is a politician, and a very savvy one at that.
And frankly, I don't mind people enjoying themselves—even leftists, even congresswomen, and even if it's at an event I find obscene. That's why I can recognize that her dress was a stunt without condemning her for it. Just like Macy Gray's 2001 ensemble, it was designed to market the idea of what AOC is selling as much as it is about marketing her as the salesperson. And I like what she's selling.
But I'm also not about to give her cookies for a clever bit of branding. Messaging "Tax the Rich" to a bunch of cultural liberals who agree with her is hardly revolutionary.
This whole episode at the end of the day is a distraction from more pressing issues. AOC's dress is being celebrated as transgressive, but it is rather banal–something I reckon even she would accept—and it does nothing to help advance the cause of the working class. The debate over her presence at the Met Gala obscures the more relevant question, which is whether events that serve to celebrate and entrench the cultural and economic interests of the elite are something that should exist at all.
But stop calling Congesswoman Ocasio-Cortez a hypocrite. What she is is a politician, and a very good one at that.
Skylar Baker-Jordan writes about the intersection of identity, politics, and public policy based. He lives in Tennessee.
The views in this article are the writer's own.