When it comes to environmental protection, U.S. government officials seem to consider no lifestyle change too dramatic or costly. The Biden administration wants more electric cars and meat substitutes, an end to gas stoves and petroleum use, and climate reparations in the form of taxpayer-funded payouts to developing nations. Environmentalists celebrated President Joe Biden's recent enhancements of the Clean Water Act, saying they "restored needed clean water protections so that our nation's waters are guarded against pollution."
In almost every case, the Biden administration pursues these changes with no regard for corporate objections. Yet there is one industry that can enjoy government-sanctioned dumping of a potential hazard—and is often spared the requirements of state laws as "a judicially favored industry." That industry is corporate abortion, and the potential hazard is the chemically tainted blood, placenta tissue, and human remains resulting from the use of abortion pills that have been flushed into America's wastewater system for more than 20 years.
First approved for use in the U.S. through negotiations brokered by then-president Bill Clinton in 2000, chemical abortion utilizes two pills to end preborn life. The process can expose women to heightened risks of injury, infertility, and even death. Abusers have slipped women the drugs without their knowledge or consent—a scenario made all the more possible under the no-test online distribution standards enabled by the Biden administration.
The first pill, mifepristone, blocks pregnancy-supporting hormones, while the second pill, misoprostol, starts contractions. They have "a higher incidence of adverse events" than surgical abortion, including a four-times-higher risk of injury and a risk of death that "appears to be 10 times greater," according to NIH-published studies.
Some of these risks could be mitigated by prescreening with an ultrasound, which would detect life-threatening ectopic pregnancies that can't be ended with pills or determine that a pregnancy is too late-term for a chemical abortion. And for the 15 percent of women who have an Rh-negative blood type, a simple blood test can indicate whether further treatment is needed to prevent the formation of antibodies that will attack future pregnancies. These in-person treatment steps ensure informed consent, protect women from abusers, sex traffickers, and coercion.
Showing little regard for women, Biden's team at the FDA ended requirements for all these precautions. Today, Planned Parenthood's sponsored think tank, the Guttmacher Institute, reports more than half of all abortions are committed with chemical abortion pills, always intended to end life on a mass scale.
These abortions jeopardize more than the health of women who take the pills alone at home. The potential endocrine-disrupting properties of the drugs makes the practice of flushing the chemically tainted blood, tissue, and human remains that result from a chemical abortion an environmental hazard.
Endocrine disruptors are substances known to interfere with a body's hormones; exposure to them is "linked with developmental, reproductive, brain, immune, and other problems," according to the NIH. As may be expected, a drug that disrupts the reproductive life of human beings can do the same to aquatic, animal, and even plant life.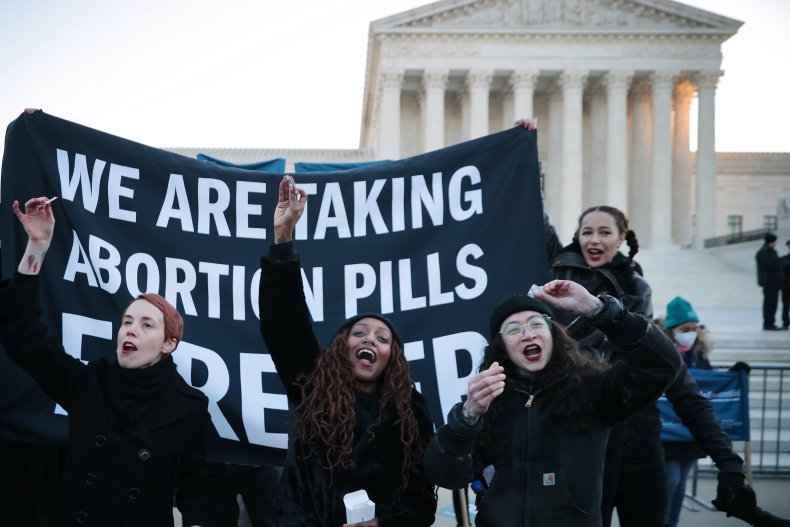 What's more, the impairment of "the development and fertility of non-human animals and humans" can impact the food supply.
Given the necessity of protecting the nation's water from harmful pollutants, Students for Life of America has been filing a series of Citizen Petitions with the FDA, including calling for red bag medical waste disposal of the human remains, which can be an issue when flushed away. That protocol requires that potentially harmful materials be collected and returned for disposal in accordance with state laws.
"Home based health care can create medical waste which can be hazardous if not disposed properly. Inappropriate medical waste disposal can pose harmful environmental concerns and significant health risks to the public," says the American Academy of Family Physicians. "The importance of routine medical waste disposal and destruction practices should be stressed at all city and county levels of collection."
In West Virginia, Sen. Rucker introduced legislation that would require generators of medical waste—the seller of the chemical abortion pills—to dispose properly of the human remains and tainted tissue, which are fundamentally different from the remains of a spontaneous miscarriage not chemically caused or tainted. In Idaho, Sen. Nichols has drafted similar legislation.
At the federal level, legislators are also looking at the potential environmental harms of chemical abortion pills. Congress should demand a long-overdue environmental assessment of the impact of these drugs by the EPA or FDA.
When Clinton's team brought the deadly pills onto the market, it accepted a 1996 report from the abortion-supporting Population Council, which claimed almost no environmental harm would result from their use. But no one ever checked.
The EPA warns Americans against flushing drugs, chemicals, and even goldfish. Hospitals dispose of placentas carefully as medical waste, and brick-and-mortar abortion vendors are supposed to follow state laws with human remains. Meanwhile, abortion pill mills send women away to bleed and to flush tainted blood, tissue, and human remains into the sewer system—and the environment.
Abortion advocates will complain that anything slowing down a sale is unacceptable—even unconstitutional. But even if you support abortion, that's not an argument in favor of polluting our waterways with medical waste.
Kristan Hawkins is president of Students for Life of America & Students for Life Action with more than 1,300 groups on educational campuses in all 50 states. Follow her @KristanHawkins or subscribe to her podcast, Explicitly Pro-Life.  Sen. Patricia Rucker serves in the West Virginia legislature, and Sen. Tammy Nichols serves in the Idaho legislature.
The views expressed in this article are the writers' own.