Stop Funding Palestinian Jew-Hatred | Opinion
American tax dollars are funding terrorist attacks on Israel and the United States.
As crazy as that statement sounds, it could not be more true.
In 2021, the Biden administration resumed American funding of the United Nations Relief and Works Agency for Palestine Refugees in the Near East (UNRWA) after President Donald Trump had suspended the practice during his administration.
Then, on his whirlwind Middle East tour last week, President Joe Biden announced that the United States would be increasing American aid to UNRWA by $200 million.
Operating under the guise of supporting the relief and human development of Palestinian refugees, UNRWA is, in fact, a hotbed of indoctrination into an ideology of Jew-hatred and violent Islamist extremism. For years, this "neutral" United Nations agency has led the charge in training the next and the next (and the next) generation of Palestinian terrorists and suicide bombers. The group's materials and school curricula are an endless parade of Jew-hatred and poisonous invective aimed at the oldest punching bag in history: the Jewish people.
Graduates of UNRWA schools have no hope of helping their people shed the yoke of the downtrodden foisted upon them by their own corrupt leadership. Under UNRWA, students' only dreams for the future are of hate and murder.
America proudly funds nearly one-third of UNRWA's annual budget.
In a video exposé co-produced by The Lawfare Project and the Center for Near East Policy Research, several years ago, a teacher at a UNRWA school is heard teaching a lesson about martyrdom to young children—a lesson, that is, rooted in the ideology that all of Israel belongs to the Arabs. The ugly call and repeat is designed for one thing only: to shape impressionable young minds with a mantra of ugliness that tattoos Jew-hatred into their psyche.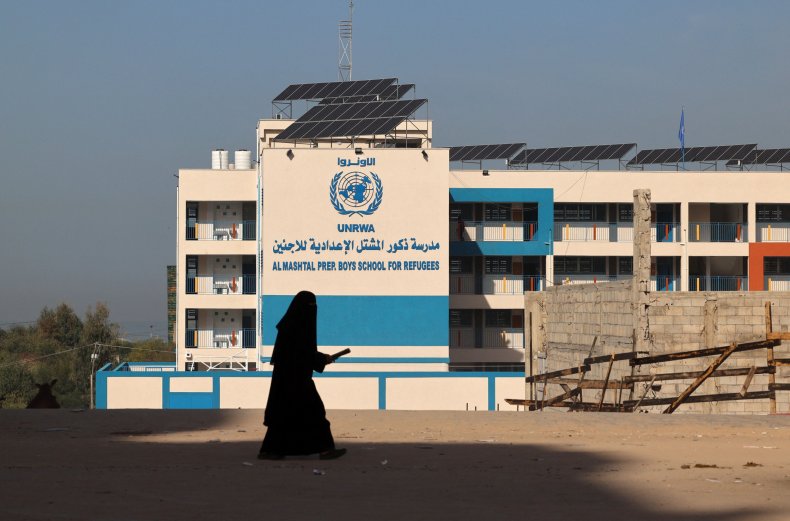 The social media accounts of UNRWA teachers are littered with posts that express support for terrorist groups and incite violence against Jews and Israelis. UN Watch, a Geneva-based NGO, has widely reported on these postings, including in a presentation to the U.S. Congress. Watchdog groups the world over have been shouting this same message for years.
UNRWA textbooks use terrorists to illustrate lessons the way American textbooks use Jack and Jill. "Martyrs" from the First Intifada are used in mathematical word problems. Students are encouraged to "defend the motherland with blood." Lessons are peppered with blatant lies, such as one about Israel dumping radioactive waste in the West Bank. Dalal Mughrabi, a terrorist who killed 38 civilians while hijacking a bus, is hailed in UNRWA textbooks as a role model of female empowerment.
Phillipe Lazzarini, commissioner-general of UNRWA, has claimed that content of this nature was published in UNWRA textbooks by accident. He has vowed to correct the oversight, and he claims that all UNRWA textbooks have now been scrubbed clean of "inappropriate pages."
However, in a report published just this month, the London-based Institute for Monitoring Peace and Cultural Tolerance in School Education (IMPACT-se) found that new materials created and distributed by UNRWA during the COVID-19 pandemic to facilitate distance learning continue to promote terrorism, while also denying Israel's right to exist.
It doesn't end in the classroom. UNRWA school buildings are also used by Hamas to store weapons and missiles.
All while America continues to foot UNRWA's bills.
At what point will this administration say enough is enough? What will make President Biden realize that he has aligned America with the wrong "ally?" Does a terrorist have to be wearing a UNRWA T-shirt while shooting up an American subway? Do UNRWA textbooks have to refer to America as an illicit "occupier?"
How close to home does the outrage need to hit before America turns off the spigot?
Brooke Goldstein is a New York City-based human rights attorney, author and award-winning filmmaker. She serves as executive director of The Lawfare Project, a nonprofit organization dedicated to raising awareness about and facilitating a response to the abuse of Western legal systems and human rights law.
The views expressed in this article are the writer's own.