5 Ways To Reduce Food Waste This Holiday Season, According to the Experts
For many, holiday celebrations mean large meals shared with family and friends, but such feasts can generate huge amounts of food waste, harming the environment and straining natural resources—unless mindful merrymakers take steps to rein in the excess, that is.
The United States Department of Agriculture estimates that between 30 and 40 percent of the food supply goes to waste each year, with the heaviest losses occuring during the winter holidays. The World Wildlife Fund (WWF) maintains that "preventing and reducing food waste is one of the best things [people] can do to conserve natural resources and wildlife."
"When we throw away food, we're also throwing away the land, water, and energy used to produce that food," Pete Pearson, WWF director of food waste, wrote on the organization's website.
For tips on how to reduce food waste during the holidays and throughout the year, Newsweek reached out to Bea Johnson, author of Zero Waste Home.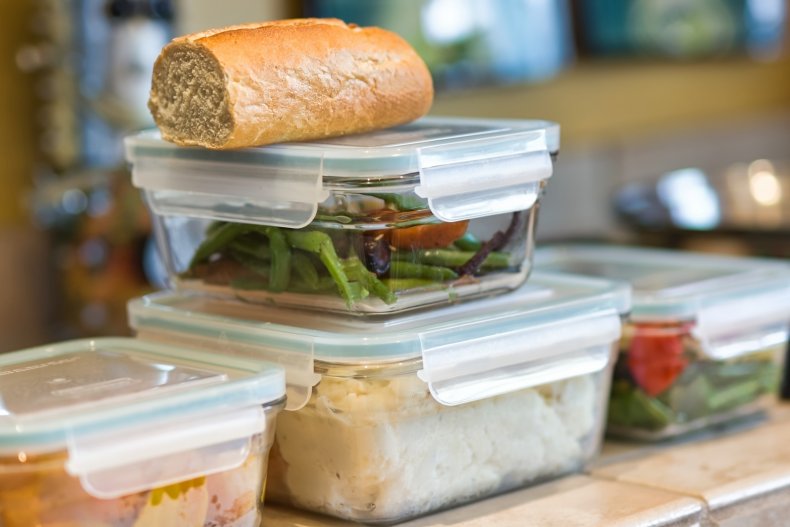 Be mindful of what you already have
Try keeping food in glass jars, Johnson suggested. Using this method, all the food in your kitchen becomes visible and will be easily remembered and consumed.
"In our pantry, we organize our dry food on one row and we have refrigerator drawers (instead of a typical refrigerator). Nothing gets lost in the back of a shelf," the lifestyle expert wrote in a statement to Newsweek.
Shop smart
Most anti-food waste experts agree that planning a holiday menu before heading to the grocery store—and sticking to it—is one of the best ways to start off a less wasteful holiday. Starting with an idea of who will be gathered and exactly how much food to prepare will save a lot of tossing out later.
Johnson takes this idea a step further by being mindful not just of how much she purchases, but the items themselves. "We refuse to buy packaged bulk as those found in big-box stores because it encourages food waste," she told Newsweek.
Use leftovers wisely
It may be impossible to get everyone into the clean plate club, but that doesn't leftover food has to go waste. Freeze and repurpose leftovers by using them as base ingredients for other recipes or send extras home with guests.
"We eat and reinvent all our leftovers," wrote Johnson, pointing to the "Holidays" section of her book. "I share a recipe to make a tasty soup, using your turkey's bones."
Keep track of the scraps
Along with turkey bones, Johnson and her family use holiday remnants such as vegetables, meat and fish bones to make stock. For pet-safe dishes, they allow their dog to clean plates before putting them in the dishwasher.
The Food Network recommended conducting a food waste audit ahead of the holidays:
"The first week, eat and throw away food as you would normally. Put a chart by the garbage bin and mark down how much food you threw away and approximately how much it cost. The next week, try to minimize your waste and repeat the exercise. Once you see how much food and money you are saving, you may be more likely to try and reduce the waste at the holidays—a time when you can really use the extra cash."
Consider composting
Johnson told Newsweek that she and her family compost as "a last resort," though it might be something more people should think about when it comes to disposing of uneaten food.
According to the Environmental Protection Agency, food scraps and yard waste make up more than 28 percent of waste in the United States. These materials can be composted (or turned into nourishment for soil and plants), which will keep keep them out of landfills "where they take up space and release methane, a potent greenhouse gas."
Beyond the dinner table, cities from New York to Seattle offer Christmas tree composting programs that provide a fitting way to round out the season of renewal and rebirth. Check local listings for program dates and instructions.