Stop Kavanaugh: Alyssa Milano Dons 'Handmaid's Tale' Outfit to Protest Trump's SCOTUS Pick
Actor and activist Alyssa Milano spent her Sunday protesting Brett Kavanaugh, President Donald Trump's pick for the Supreme Court, wearing a Handmaid's Tale–style red and white outfit to make her point.
Milano posted a photo to social media of herself wearing the signature red cloak and white bonnet worn by handmaids in the popular novel turned TV series, while carrying a sign that read "Never Kavanaugh, never Gilead" at a protest in Phoenix.
Gilead refers to the fictitious Republic of Gilead regime that rises to power in the U.S. and forces fertile women, called "handmaids," into becoming child-bearers for the infertile elite.
The Handmaid's Tale costume has become a favorite among anti-Trump activists, who have accused the current administration of trying to enforce Gilead-esque policies around women's reproductive rights. Earlier this year, Margaret Atwood, author of The Handmaid's Tale, said she believed the U.S. had become more "Gilead-like" under Trump.
Milano's stunt was part of the Rise Up for Roe tour, which has been making its way across 10 U.S. cities, to protest Kavanaugh's nomination.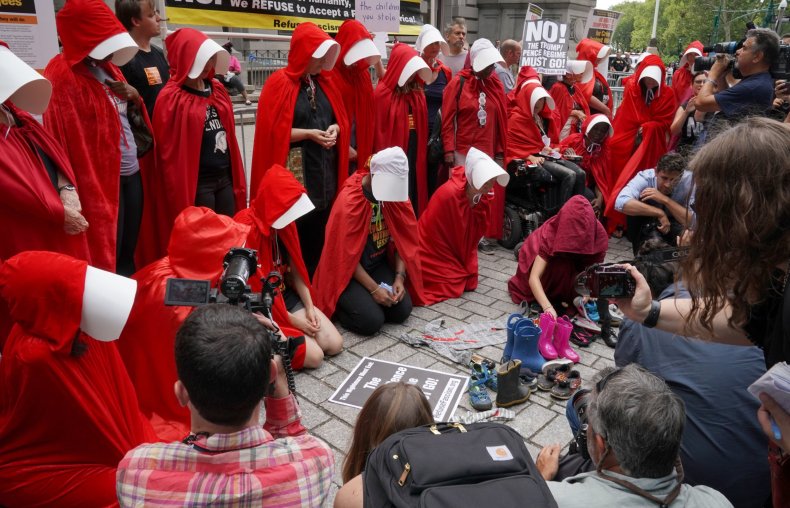 Activists alleged that Kavanaugh's nomination would see the Supreme Court overturn Roe v. Wade, the 1973 landmark decision that found certain laws criminalizing or restricting access to abortions unconstitutional.
"Kavanaugh will literally affect every single aspect of our lives for generations to come as American people, and the things that we hold to be our ideals of what it means to be Americans," Milano said at Sunday's Rise Up for Roe event.
"This is crazy. It's crazy that we have to have a tour to talk about this. This [Roe v. Wade] has been a law of the land for 45 years, and we're still having this f***ing conversation?" the actor and activist said.
"How do we let this man [Trump] appoint a lifetime nominee to our Supreme Court when he can't even figure out someone that can be the Secretary of Education that can answer one f***ing question about education?" Milano said, adding, "To me, it's just so mind-blowing."
Would Kavanaugh see Roe v. Wade overturned?
Trump nominated Kavanaugh to become Associate Justice of the Supreme Court in July to replace Justice Anthony Kennedy, who retired that month.
The Supreme Court nominee has a history of supporting critics of the landmark Roe v. Wade decision, and will have the backing of an administration that has vowed to see the ruling overturned.
Even before the Trump administration took power, now Vice President Mike Pence said that an election victory for Trump would "see Roe v. Wade consigned to the ash heap of history, where it belongs."
"I'm pro-life and I don't apologize for it," the then GOP vice presidential nominee said.
During the 2016 presidential election campaign, Trump also made clear that he planned on "putting pro-life justices on the court."
Asked during an interview with Fox News's Chris Wallace about whether the then presidential candidate wanted to see the Supreme Court overturn Roe v. Wade, Trump responded, "Well, if we put another two or perhaps three justices on, that's really what's going to be—that will happen, and that will happen automatically, in my opinion, because I am putting pro-life justices on the court."
Speculation that Kavanaugh's confirmation could lead to a 5-4 majority on a vote to overturn Roe v. Wade is not unfounded.
While the SCOTUS pick has been careful to avoid voicing his own opinion on abortion throughout his career, he has spoken approvingly of former Chief Justice William Rehnquist's opinions and dissent on the Roe v. Wade case.
Rehnquist argued that the prevalence of abortion regulations in the U.S. made it difficult for him to argue that access to abortion should become an "unenumerated right," an opinion that Kavanaugh appeared to agree with.
Asked for his opinion on the 1973 ruling by Senator Chuck Schumer during his confirmation hearing in 2006, Kavanaugh appeared to skirt the question in video published by C-SPAN, saying only that he would "follow Roe v. Wade faithfully and fully" as a "binding precedent of the Court."
"I asked you your own opinion," Schumer insisted.
Kavanaugh demurred, saying it would not "be appropriate for me to give a personal view of that case."
More recently, in October 2017, the Supreme Court pick took part in a high-profile case involving a pregnant undocumented teenager seeking an abortion.
As the appeals court ruled that the teenager could temporarily leave government custody to have an abortion, Kavanaugh said in his dissent that the Trump administration had acknowledged the teen's right to the procedure, but that the court was wrong to decide she had a right to an "immediate abortion on demand."
He suggested delaying the teenager's access to an abortion until she could be released to a U.S. sponsor, despite the time pressures associated with the procedure.