Stop Playing Politics With School Reopenings | Opinion
As in many other areas of public policy, America's political leaders are regularly exhorted to "follow the science" regarding the coronavirus. But they aren't heeding this advice when it comes to reopening the nation's K-12 schools.
Education policymakers should consider public health indicators like the number of COVID cases, deaths and the acuteness of the pandemic's spread in a given community when deciding when and how much to reopen schools. But such factors have not driven decision-making. Instead, it is partisanship and the power of the teachers' unions that have largely determined which schools opened and how much they opened.
In short, after carefully crunching the numbers and analyzing a variety of factors that influenced K-12 school reopenings this fall, my collaborator and I found that politics, not science, mattered most.
We examined the decisions of nearly 10,000 school districts about whether to bring students back for in-person classes and whether to allow them to participate in extracurriculars like athletic activities. We considered an array of demographic, socioeconomic, public health and geographic factors. But the data pointed in an all-too-familiar direction: politics drove most of the decision-making.
Even when comparing schools in counties that experienced very similar case rates, partisanship best predicted whether schools opened. For example, counties that voted 60 percent for Hillary Clinton in 2016 were nearly 20 percentage points less likely to hold in-person classes than counties that backed Donald Trump to the same degree.
Beyond partisan politics, the power of special interests also mattered more than the intensity of the pandemic. Larger school districts—where teachers' unions have more members—and districts that engage in collective bargaining with school employees have been far less likely to bring students back into the classroom, irrespective of how hard COVID hit their communities.
Despite the clear disconnect between science and school reopenings, there was one promising ray of hope in the data. Where public schools faced more competition from private schools, they were less likely to rely on remote-only learning.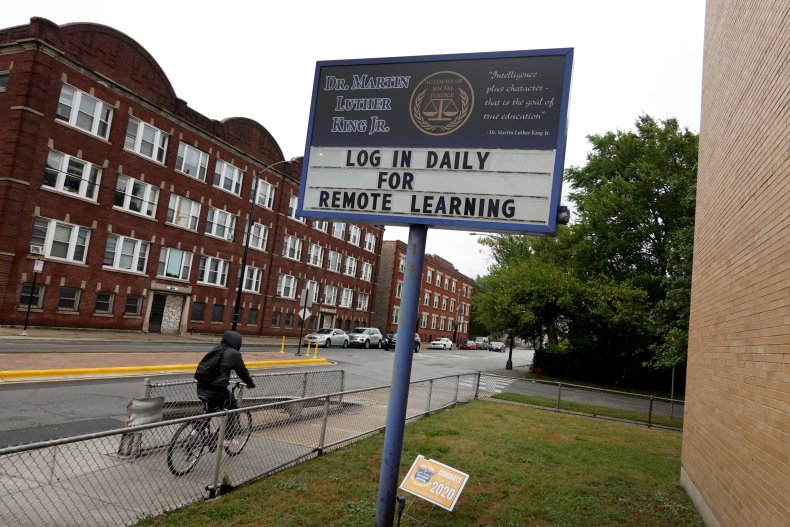 Public schools were more likely to reopen if they were located in counties with a larger number of Catholic schools per capita (typically the most affordable form of private schooling). Evidently, the threat of student "exit" led public schools to make closing their doors a last resort—enacting full closures only when public health circumstances were truly prohibitive.
Yet some public officials still elected to play politics.
Consider the events that played out in Montgomery County, Maryland, this summer. Unable to reach an agreement with the union and hedging that a politically liberal electorate would support an extra cautious approach, Montgomery County Public Schools (MCPS) announced that they wouldn't bring students back until 2021.
What local officials forgot was that while Montgomery County is very liberal, it is also very rich. With more than 100 private school alternatives in the area, district leaders soon realized that they stood to lose students. The county swiftly ordered that all private schools close their doors, no matter how safely they pledged to operate.
District officials weren't wrong to fear that their public schools would lose students. Shortly after Maryland governor Larry Hogan intervened to end the blanket private school shutdown, MCPS's superintendent conceded that the 25 percent increase in private school enrollments and the whopping 1,800 percent increase in homeschooling were the results of parent displeasure with district's remote-only learning plan.
At the start of October, MCPS had still not released a detailed plan for bringing students back to school—despite the fact that the county's COVID test positivity rate was below 3 percent—the level at which Harvard's Global Health Institute has suggested that schools can begin holding in-person classes.
The lessons here are clear. We need more elected officials to make decisions based on sound science, public health and what is best for families and students, not co-partisans or special interests.
Finally, the pandemic has illustrated the benefits of providing more education options to all families, but especially to the most disadvantaged, whose children—due to a lack of resources—suffer disproportionately when they are kept out of the classroom.
Michael Hartney is a national fellow at the Hoover Institution, Stanford University, and an assistant professor of political science at Boston College.
The views expressed in this article are the writer's own.