'Stop Protecting Joe Biden': Trump Campaign Presses Commission to Allow In-Person Debate
President Donald Trump's campaign manager demanded that the planned second debate between Trump and Democratic presidential nominee Joe Biden move forward in person after the president refused to participate in a virtual debate on Thursday.
Trump and Biden were scheduled to face off in a town hall format debate in Miami, Florida on October 15. However, the Commission on Presidential Debates (CPD) announced Thursday that the debate would be held virtually instead due to Trump's COVID-19 diagnosis last Thursday night.
Biden agreed to participate after the commission announced the debate would be held virtually, a decision made by CPD without consulting either campaign. However, Trump said during a Fox Business interview shortly after the announcement that he would not participate, saying he was "not going to waste my time on a virtual debate" where "they cut you off whenever they want."
"President Trump's physician, Dr. Sean Conley, says the President will be medically cleared for 'safe return to public engagements' by Saturday, five full days before the originally scheduled debate in Miami on October 15," Trump campaign manager Bill Stepien, who tested positive for COVID-19 last Friday, said in a statement.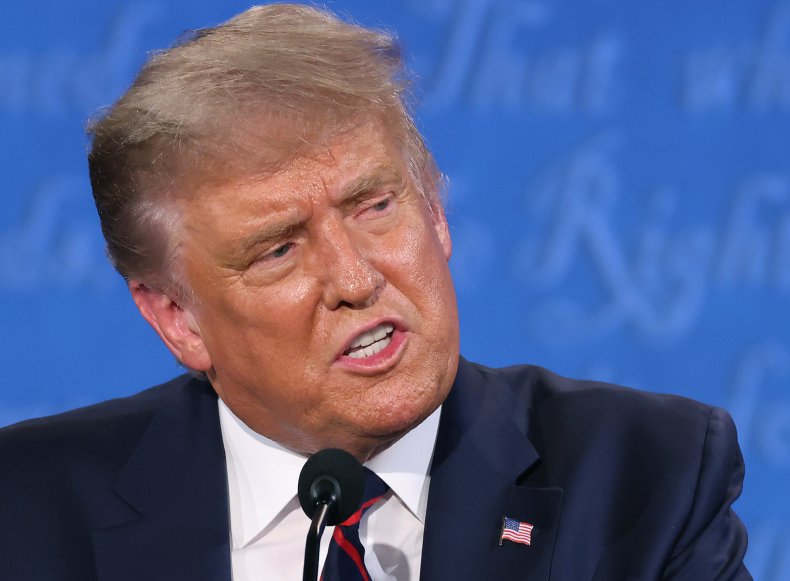 Stepien cited a memorandum released by the White House doctor on Thursday, stating that "based on the trajectory of advanced diagnostics" being conducted, Conley would "fully anticipate" Trump will be ready for a "safe return to public engagements" by Saturday.
Although Stepien claimed that Trump "will be medically cleared" on Saturday, the wording of Conley's memo indicates that his clearance would depend "on the trajectory" of his illness, which is unclear.
"There is therefore no medical reason why the Commission on Presidential Debates should shift the debate to a virtual setting, postpone it, or otherwise alter it in any way," Stepien's statement continued. "CPD Chairman Frank Fahrenkopf admits that they consulted with no one before unilaterally changing the format of a debate, well in advance of any knowledge of what the President's condition would be on debate night."
Stepien demanded that the event be allowed "to proceed as it was agreed to months ago," while claiming that it will be safe for Trump to participate without infecting others. It is not clear that would be the case, especially since the timeline of Trump's full recovery cannot be known in advance.
The Centers for Disease Control and Prevention says that those infected with the virus should remain isolated for 10 days after the onset of symptoms. Safe contact with others is only possible after 24 hours has passed without fever, unaided by medication that might be used to suppress fever.
Other experts believe that COVID-19 patients could remain contagious 10-14 days after their symptoms subside.
Stepien also suggested that the CPD's choice to make the debate virtual was part of a conspiracy against Trump, insisting they "must stop protecting Joe Biden from this in-person debate." He claimed that "the American people can see through this obvious attempt to shield Biden from another shellacking like he got two weeks ago in Cleveland."
Polling suggests that more Americans believe Biden won the first debate than Trump. Recent surveys also indicate that the share of those who intend to vote for the former vice president over Trump has grown since the debate and the president's COVID-19 diagnosis.
Trump and some of his allies have cited favorable results from certain online surveys as evidence that his performance was well received.
Regardless of whether the second debate moves forward in person or virtually, or does not happen at all, opportunities for Trump to improve on his sagging poll numbers before Election Day on November 3 are rapidly diminishing. The third and final debate is planned to take place in person in Nashville, Tennessee on October 22.
Newsweek reached out to the CPD for comment.