Stop & Shop Strike: What Politicians Are Saying and Key Facts About Massive Employee Action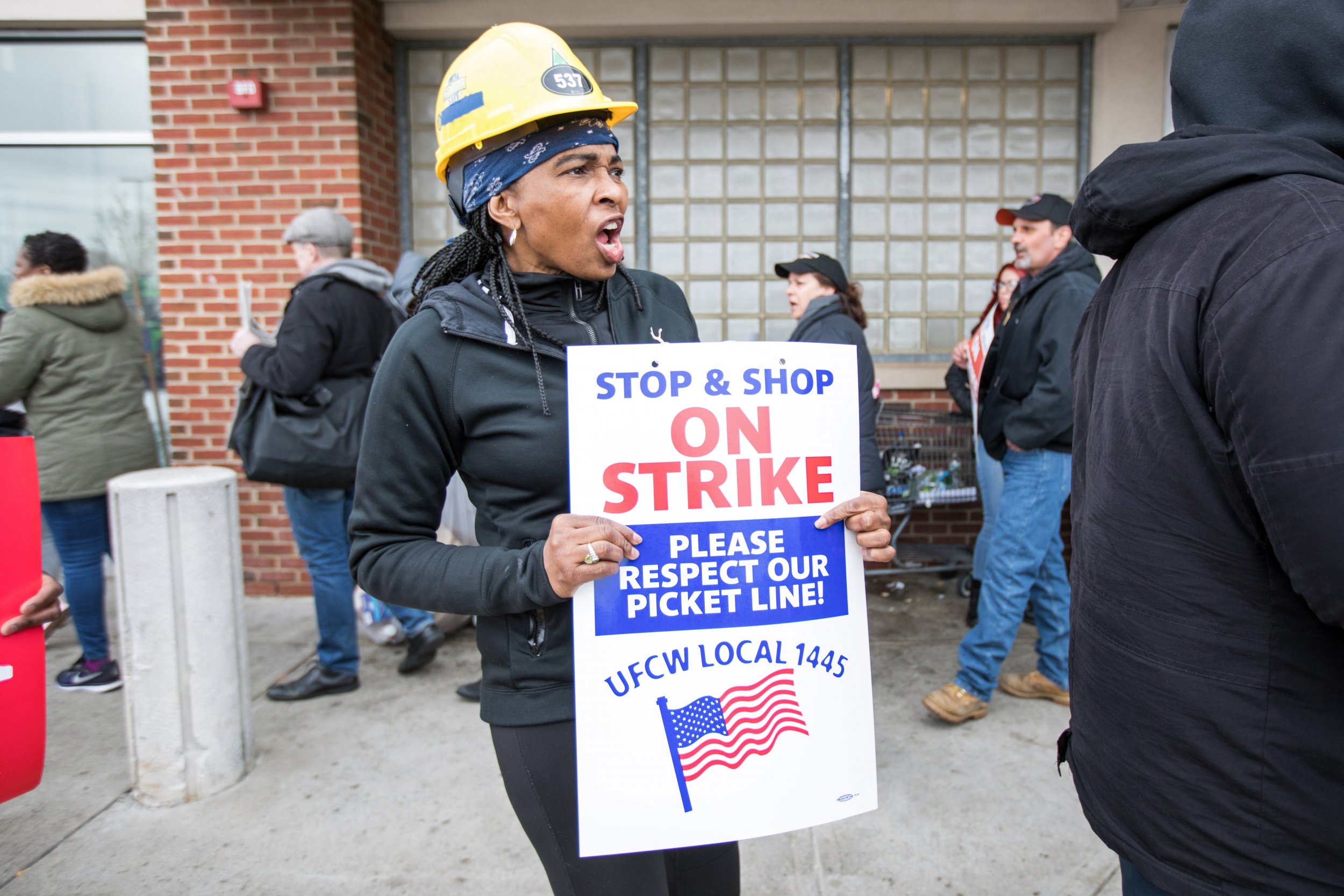 More than 31,000 workers from grocery chain Stop & Shop walked off the job at more than 200 stores on April 11 after negotiations between union leaders and company management failed to produce a new contract.
The massive strike, which has been developing behind closed doors since February, placed the New England-based chain under a national spotlight and added fuel to ongoing debates about how corporations treat blue-collar workers.
Store closures have been reported in several cities, while the remaining stock has dwindled in Stop & Shops that have managed to stay open with the assistance of temporary workers.
Below, we've rounded up a few key details about the strike and its national implications.
Pension and Healthcare Concerns
Healthcare:
Stop & Shop, a subsidiary of Dutch conglomerate Ahold Delhaize (owner of Food Lion, Hannaford, Martin's, among others), proposed sweeping changes to the wages and benefits plan it offers employees. The United Food & Commercial Workers union, which represents the workers, believe those changes are unfair.
The proposal includes raising employee contributions to the company's healthcare plan from $2 to $4 per week. That increase would still place contributions under the national average, according to the Kaiser Family Foundation's 2018 Employer Health Benefit Survey.
The company has also proposed adding a "spousal exclusion" to its family health plan, which would disqualify spouses who are offered health insurance under a contract with their own employer. According to the union, that would affect some 1,000 workers.
Pensions:
The chain still offers a pension program and spends an average between $1,926 and $2,644 per associate, per year on the plan. Stop & Shop now wants to freeze its monthly contribution for full-time workers and stop increases for part-time workers hired after February 23, 2014.
While the company is offering its employees a small raise, union leaders argue that this pay increase would do little to offset the rising costs contained elsewhere in the proposal. Also at issue are matters involving bonuses paid to employees who work Sundays and a reduction in sick days offered to new hires.
"Our 31,000 members who work at Stop & Shop work incredibly hard to provide the great customer service that has made the company billions of dollars in profit and the top grocery store in New England," the union said in a statement. "Instead of a contract that recognizes the value and hard work that our members provide every day, Stop & Shop has only proposed drastic and unreasonable cuts to health care benefits and take-home pay, while replacing real customer service with more serve-yourself checkout machines."
In response, the company has argued that it pays its full-time workers higher hourly rates than the industry average—full-time associates make an average of $21.30 per hour—and that it must make the changes in order to compete in a mostly non-unionized grocery market that contends with Walmart and Amazon, which recently acquired the Whole Foods chain.
"Our overall labor costs are not competitive," the company said in its final bargaining position. "The company's proposals seek to modernize the health benefit plans and adapt to market conditions on Sunday premiums while continuing to provide industry-leading wages to full-time associates and competitive wages to part-time associates."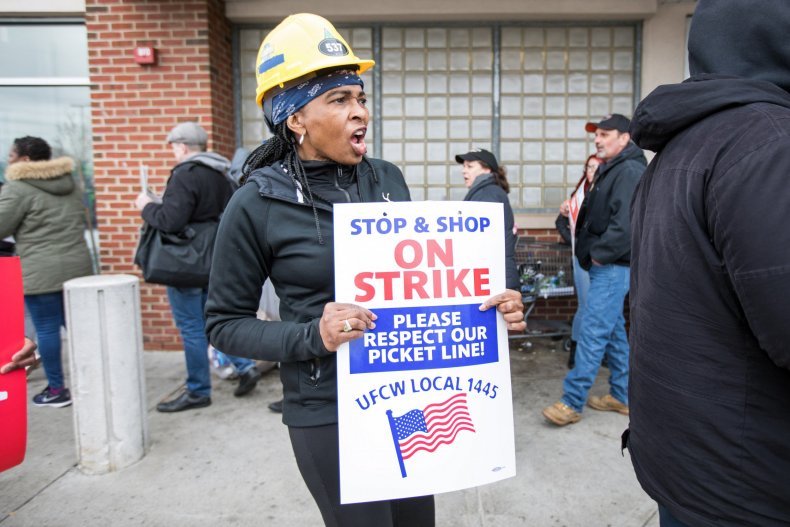 A National Political Issue
Although Stop & Shop currently operates only in the East Coast, the strike has become a hot-button issue for politicians, particularly those vying for a spot on the Democratic ticket.
Armed with donuts, Sen. Elizabeth Warren visited picketers in her home state of Massachusetts earlier this month and encouraged them to continue fighting for their pay and the pay of future Stop & Shop workers.
"These giant companies think they can knock unions back," she said an April 12 rally. "Unions are here to stay because when you're fighting for your family, you stay in the fight until you win.
On Thursday, former Vice President Joe Biden — who is expected to officially announce his 2020 candicacy in the coming week — traveled to the picket line and issued words of encouragement that echoed his April 12 declaration of solidarity.
Mayor Pete Buttigieg of South Bend, Indiana, who officially kicked off his campaign last week, came to strikers' defense on Friday and said the employee action had far-reaching implications.
"This largest private sector labor action strike in three years is sending a message that is going to ripple out far beyond New England," he said, speaking to picketers in Malden, Massachusetts. "And the message is that companies have to do right by their workers,"
What Happens Next
The company and union leaders are continuing to negotiate during the strike. In a Thursday statement, the company said it was working toward an agreement.
"Negotiations are continuing with the five UFCW local unions," the company said. "Our primary goal remains to get our associates back to work with a contract that has pay increases for all associates, continued health benefits for eligible associates and increased pension contributions. We remain focused on getting back to fully serving our customers every day."
The union also said it hoped a resolution could be hammered out and thanked community members for supporting their efforts.
"The flood of support, both in person as customers stop by picket signs to drop off bottles of water, offer hugs or messages of strength and encouragement, or online on social media, shows New England is a place that values hard-working union families and believes workers have earned the right to build a better life and community," the union said.
For more on the strike, visit The Boston Globe.
Stop & Shop Strike: What Politicians Are Saying and Key Facts About Massive Employee Action | U.S.