The United States aims to distribute nearly 800,000 doses of the monkeypox vaccine to state and local health departments this summer to combat the growing monkeypox epidemic. Illinois Governor J.B. Pritzker recently issued a proclamation declaring monkeypox a public health emergency and the state of Illinois a disaster area as a result of rising cases.
Illinois and California join New York in declaring states of emergency for monkeypox. Collectively, these three states account for 46 percent of confirmed cases in the United States.
But virologists have been warning about monkeypox for decades.
In a 2020 publication in the journal, Viruses, Malachy Ifeanyi Okeke from the American University of Nigeria described monkeypox as a serious re-emerging pathogen with a global reach. Worse was the concern that monkeypox could fill the niche of a variola virus. Variola virus is the causative agent of smallpox, which caused an estimated 300 million deaths since 1900 before it was declared eradicated in 1980 following a massive global vaccination campaign.
Current data from the Centers for Disease Control and Prevention confirmed more than 6,600 cases of monkeypox in the United States across 48 states, the District of Columbia, and Puerto Rico. Globally, more than 26,000 cases have been confirmed from 87 countries.
The overwhelming majority of cases—98 percent—have been identified in countries that have historically not reported cases of monkeypox. The Indiana Department of Health recently announced that monkeypox had been detected in two children, bringing the total number of pediatric cases to five in the country.
Despite failing to classify the ongoing monkeypox virus outbreak as a public health emergency in June, the World Health Organization Director-General Tedros Ghebreyesus did so following the second convening of the International Health Regulations Emergency Committee late in July.
In a systematic review published earlier this year in PLOS Neglected Tropical Diseases, Robert Steffen and colleagues noted a more than 10-fold increase in confirmed, probable, and/or possible monkeypox cases over the previous five decades.
There are multiple theories as to why cases of monkeypox are increasing, including climate change and deforestation. A leading hypothesis on this increase of monkeypox cases is vaccine-related. People vaccinated against smallpox had approximately 85 percent protection against monkeypox. However, routine vaccination against smallpox in the general public ended in 1972 in the United States, so there are fewer people today with immune protection.
Scientists have not identified the natural reservoir for monkeypox virus, but it is thought to be small rodent mammals. Monkeypox virus was first identified in 1958 as a cause of infections in a group of laboratory monkeys, but it wasn't until 1970 that the first human case was identified in the Democratic Republic of the Congo, and the vast majority of cases occurred in Central and West Africa. Until now, cases identified outside of Africa were associated with travel.
This is not the first outbreak of monkeypox outside of Africa, however. A multi-state outbreak in 2003 was associated with 47 confirmed and probable infections. Public health officials and epidemiologists traced the origin of the outbreak to prairie dogs that were housed in an animal facility in Illinois that was also housing imported animals from Ghana. In that outbreak, laboratory-confirmed cases all had exposure to a prairie dog.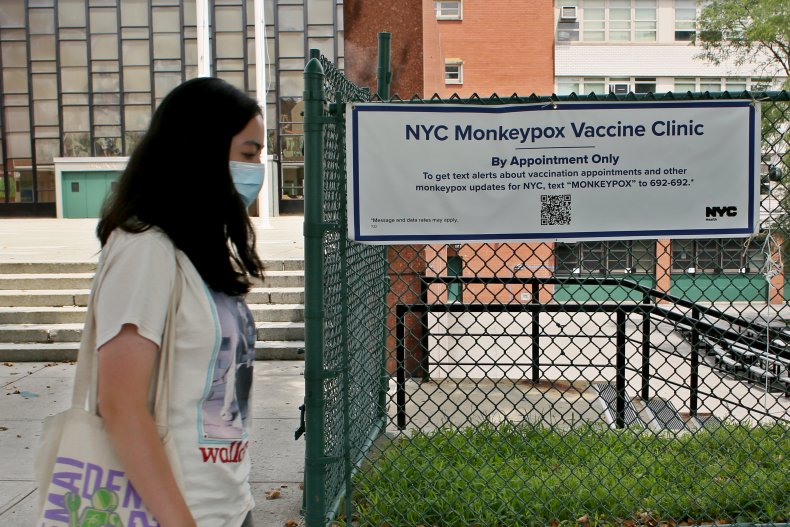 Monkeypox is here, and it is not going away. Much of the emphasis on monkeypox is being directed toward the LGBTQ+ community.
It's hard not to see parallels similar to the early days of the HIV epidemic. However, monkeypox is not a "gay disease." While it is true that a disproportionate number of cases are being reported in men who have sex with men, monkeypox is a virus that will infect anyone, including children. Animals and pets can also become infected with monkeypox.
Monkeypox is spread directly from skin-to-skin contact. Transmission can occur from touching the rash or scabs of monkeypox lesions or through oral-respiratory secretions. It can also be spread from shared clothing, towels, and bedding. There are reports of patients having internal lesions on mucous membranes in the mouth and in the rectum. These lesions are not always visible, which can allow the virus to be transmitted during intimate activities, like kissing or anal sex.
To be sure, targeting the most at-risk communities with focused educational messages about prevention and strategies to reduce risk of contracting a pathogen is a crucial role for public health experts, but it cannot be the only component to combat the growing monkeypox epidemic.
Public health experts assert monkeypox can be contained, but the window is closing fast. To effectively reduce the spread and get this epidemic under control, it is vital to ensure that health care providers are considering monkeypox when seeing patients in clinics.
It is imperative that access to laboratory testing is expanded beyond public health and large commercial reference laboratories to reduce testing bottlenecks as seen early in the COVID-19 pandemic. Federal officials and state health departments need to distribute large quantities of vaccines and vaccinate at-risk individuals. This path was successful in preventing smallpox from spreading in 1947 in New York City.
Most importantly, there needs to be a broader look at pandemic preparedness to avoid repeating some of the early mistakes of COVID-19.
Nicholas Moore, PhD, is an associate professor of medical laboratory science, infectious disease, and pathology at Rush University Medical Center, and a Public Voices Fellow of The OpEd Project.
The views expressed in this article are the writer's own.