'Stop the Steal' Organizer Suspended From Twitter, Now in Hiding After Capitol Riot
One of the organizers of the "Stop the Steal" rally has been suspended from Twitter and is now in hiding after last week's riot at the U.S. Capitol.
Ali Alexander has been a popular figure at many rallies in support of President Donald Trump and has described himself as one of the "official originators" of the January 6 "Stop the Steal" rally that led to the violent assault on the Capitol.
On December 19, he spoke at a rally in Phoenix, where he used yet as a code word for violence that could occur if Congress certified President-elect Joe Biden's victory.
"We're going to convince them to not certify the vote on January 6 by marching hundreds of thousands, if not millions, of patriots, to sit their butts in D.C. and close that city down, right?" Alexander said. "And if we have to explore options after that...yet. Yet!"
Alexander also spoke at several other rallies before the January 6 riot, where he threatened to "1776" those who objected to Trump's reelection, referencing the year that the American Revolution began.
According to the Daily Beast, Alexander also said "1776" in several tweets, including one that said the choice for the president was "45"—Trump's reelection—"or 1776." During a rally on January 5 in D.C., he chanted "victory or death" and said "1776 is always an option.... These degenerates in the deep state are going to give us what we want, or we are going to shut this country down."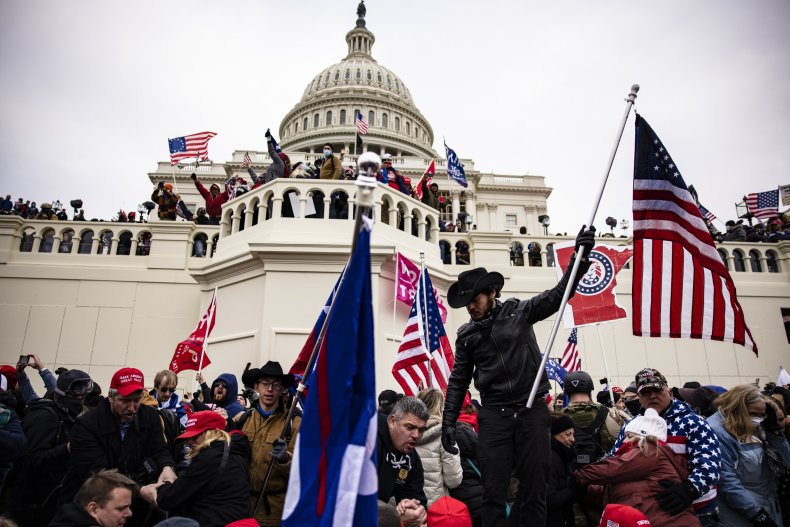 Additionally, Alexander claimed that he received help organizing the January 6 Capitol riot from three pro-Trump GOP congressmen: Paul Gosar and Andy Biggs of Arizona and Mo Brooks of Alabama.
In an email sent to Newsweek, Biggs' spokesperson denied the connection and said, "Congressman Biggs is not aware of hearing of or meeting Mr. Alexander at any point—let alone working with him to organize some part of a planned protest on January 6."
"He did not have any contact with protestors or rioters, nor did he ever encourage or foster the rally or protests on January 6," the email said.
Newsweek reached out to Gosar and Brooks for comment but did not hear back before publication.
As the Capitol riot was occurring, Alexander posted a video to Twitter where he refused to condemn the siege and said the protesting "completely peaceful."
"I do not denounce this. This is completely peaceful, looks like so far," he said in a video.
On Sunday, Alexander's Twitter account was suspended. A spokesperson for the platform confirmed to Newsweek that his account was permanently suspended for violating rules on banning evasion, and an account for "Stop the Steal" was also suspended.
On Tuesday, Facebook spokesman Andy Stone told Politico that Alexander's Facebook and Instagram accounts were also permanently banned.
"We removed this account on both Facebook and Instagram for violating our Coordinating Harm policy," Stone said in a statement sent to Politico.
Newsweek reached out to Facebook for comment.
This past Friday, before being banned from Twitter, Alexander posted a video in which he claimed to be in hiding, and he asked his supporters for donations to pay for his security, according to the Daily Beast.
In the video, Alexander said that the "rally never turned violent" but also noted that "I think people should be rowdy, I think people should be messy," according to the Daily Beast.
"I do believe that we own that U.S. Capitol. So I'm not apologizing for nothing," he said in the video.
Updated January 12, 3:59 p.m. ET, to include a statement from Facebook.