Florida's notoriously anti-mask Republican Governor Ron DeSantis was caught on camera chastising a group of students who wore masks onstage right before he began his public remarks on Wednesday.
DeSantis had arrived at the University of South Florida to announce the approval of $20 million in funding for cybersecurity education and jobs training. Seven students from Middleton High School in Tampa stood behind DeSantis' lectern onstage. Most of the students wore masks.
As DeSantis stepped onstage to deliver his remarks, he turned to the students and said, "You do not have to wear those masks. I mean, please take them off. Honestly, it's not doing anything and we've gotta stop with this COVID theater. So if you want to wear it, fine, but this is ridiculous."
DeSantis then sighed and shook his head as he prepared to begin speaking. Most of the students behind him removed their masks before he began.
Video of DeSantis chastising the students was shared on Twitter by Democratic California Representative Eric Swalwell.
"I don't understand this," Swalwell wrote on his post. "Why be an a**hole to kids? I hate masks and stopped wearing it as soon as the restriction was lifted. But who cares if someone else wants to wear one for their own reason? Isn't that freedom?"
Newsweek contacted DeSantis' office for comment.
DeSantis' press secretary Christina Pushaw told WFLA, "As the governor said, 'you can wear them if you want' but there's 'no evidence' masks make any difference. That has been clear for a long time, and the data informed our state's official guidance."
However, Pushaw's comment is incorrect, according to the U.S. Centers for Disease Control and Prevention. A March 21, 2021 study from the CDC found that mask mandates led to "statistically significant decreases in county-level daily COVID-19 case and death growth rates."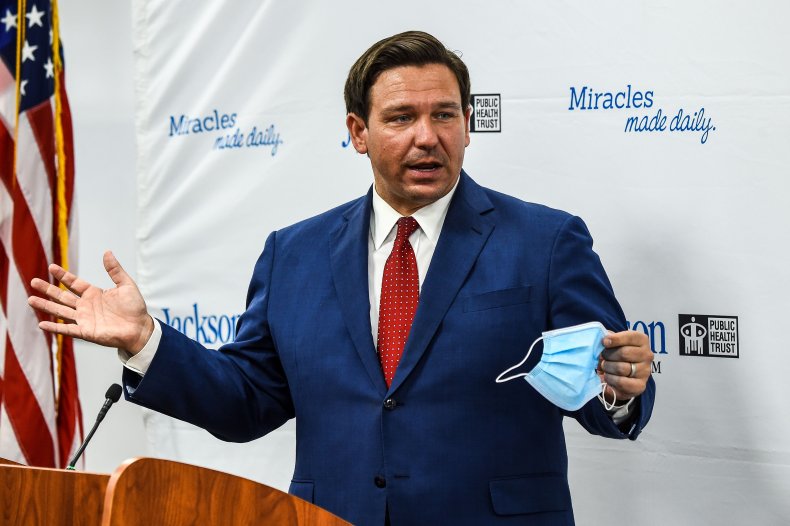 Pushaw noted that the CDC recently stopped recommending mask-wearing for most Americans. But the CDC's shift occurred nearly two years into the pandemic and only after COVID-19 vaccines and boosters became widely available, helping lessen the coronavirus' more severe symptoms in vaccinated people.
"After two years of mixed messages from health authorities and the media, the governor wants to make sure everyone is aware of the facts and data now, so they can feel free and comfortable without a mask," Pushaw concluded.
Hillsborough Schools Superintendent Addison Davis said in a statement to the Herald-Tribune, "As always, our students should be valued and celebrated. It is a student and parents' choice to protect their health in a way they feel most appropriate. We are proud of the manner in which our students represented themselves and our school district."
DeSantis has long opposed mask mandates in his state and across the nation. On July 30, 2021, DeSantis signed an executive order banning schools from issuing mask mandates.
He said on August 6, 2021, that schools in violation of his order could face monetary sanctions. The state's Board of Education later threatened to withhold pay from superintendents and school boards that didn't abide by the order. Numerous school districts defied his ban by instating mask mandates anyway.