'Stop Trump from Firing Fauci' Petition Hits 320K Signatures: President 'Doesn't Care How Many More People Get Sick or Die'
A petition calling for support against steps President Donald Trump could take in the future to remove Dr. Anthony Fauci from discussions on the federal coronavirus pandemic response is quickly gaining traction online.
The "Stop Trump from Firing Dr. Fauci" petition reached more than 322,000 signatures by Thursday afternoon, about two weeks after it launched on Change.org.
Fauci, the director of the National Institute of Allergy and Infectious Diseases, joined the White House's coronavirus task force at Trump's invitation in January. Fauci emerged in the months since as a cautionary voice warning Americans of the threats the virus poses to the country, a perspective that is often at odds with the president's own view that the virus will disappear as quickly as it emerged.
"Dr. Fauci cares about one thing—keeping us safe," petition creator David Paine wrote on Change.org. Paine said that while Fauci shared facts with the American people, Trump "wants to hear none of it." The president's motives are in part tied to his bid for reelection, Paine said.
"He doesn't care how many more people get sick or die. Even school children," Paine wrote. Trump "wants him gone" because Fauci "is refusing to go along with Donald Trump's lies," he wrote.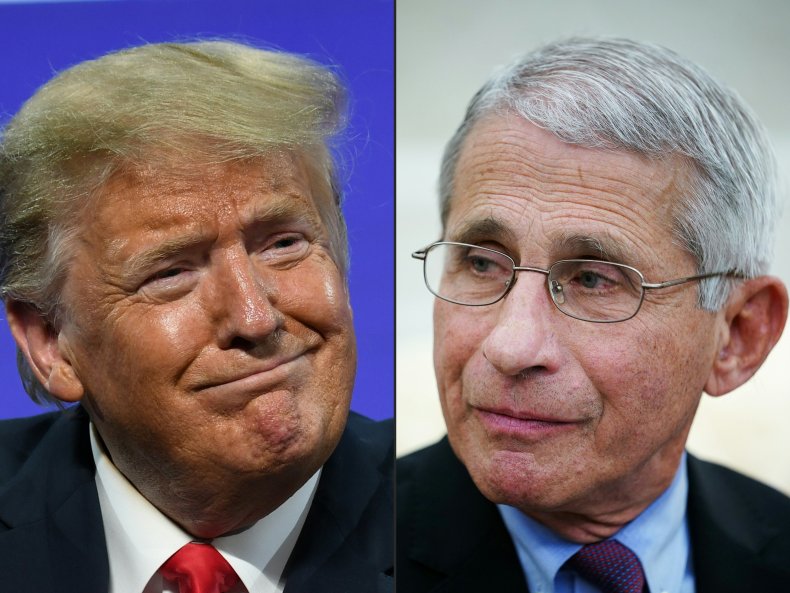 Trump and members of his task force held daily briefings through much of the spring to update the public on the fight against the pandemic, but the briefings came to a halt before the summer began. Earlier this month, Fauci told the Financial Times he had not briefed Trump in "at least two months." Though the task force's public briefings did not occur, the number of new COVID-19 cases continued ticking upward throughout the U.S., with health officials reporting totals exceeding 4 million cases and 143,000 deaths nationwide by Thursday, July 23, according to data compiled by researchers at Johns Hopkins University.
The task force revived its public briefings earlier this week, but Fauci was not in attendance.
Trump publicly criticized Fauci earlier this month for making "a lot of mistakes," and Trump administration officials told The Washington Post the White House was concerned about the number of times Fauci criticized the task force. Despite their criticism, recent polling showed Fauci held significantly more support among Americans for his response to the pandemic than Trump did.
White House Press Secretary Kayleigh McEnany said earlier this month Trump and Fauci have a "very good working relationship," and the White House has repeatedly denied that Fauci's role with the task force may be in limbo.
Rumors that Trump was considering firing Fauci began swirling in April as the pandemic triggered economic shutdowns throughout the country. But Trump cannot legally fire Fauci the way he might a member of his cabinet, President and CEO of Partnership for Public Service Max Stier told CNN. What Trump can do is prevent Fauci from attending public meetings of the coronavirus task force, like the one held earlier this week.
Paine wrote in his petition's description that Trump was "laying the groundwork" to remove Fauci, whom he called a "national hero."
"We need to keep Dr. Fauci on the job," he wrote.
Newsweek reached out to the White House for comment but did not receive a response in time for publication.