Stop Trump Protest During UK State Visit: Huge Protests Including Return of Trump Baby Blimp Will Greet President Next Week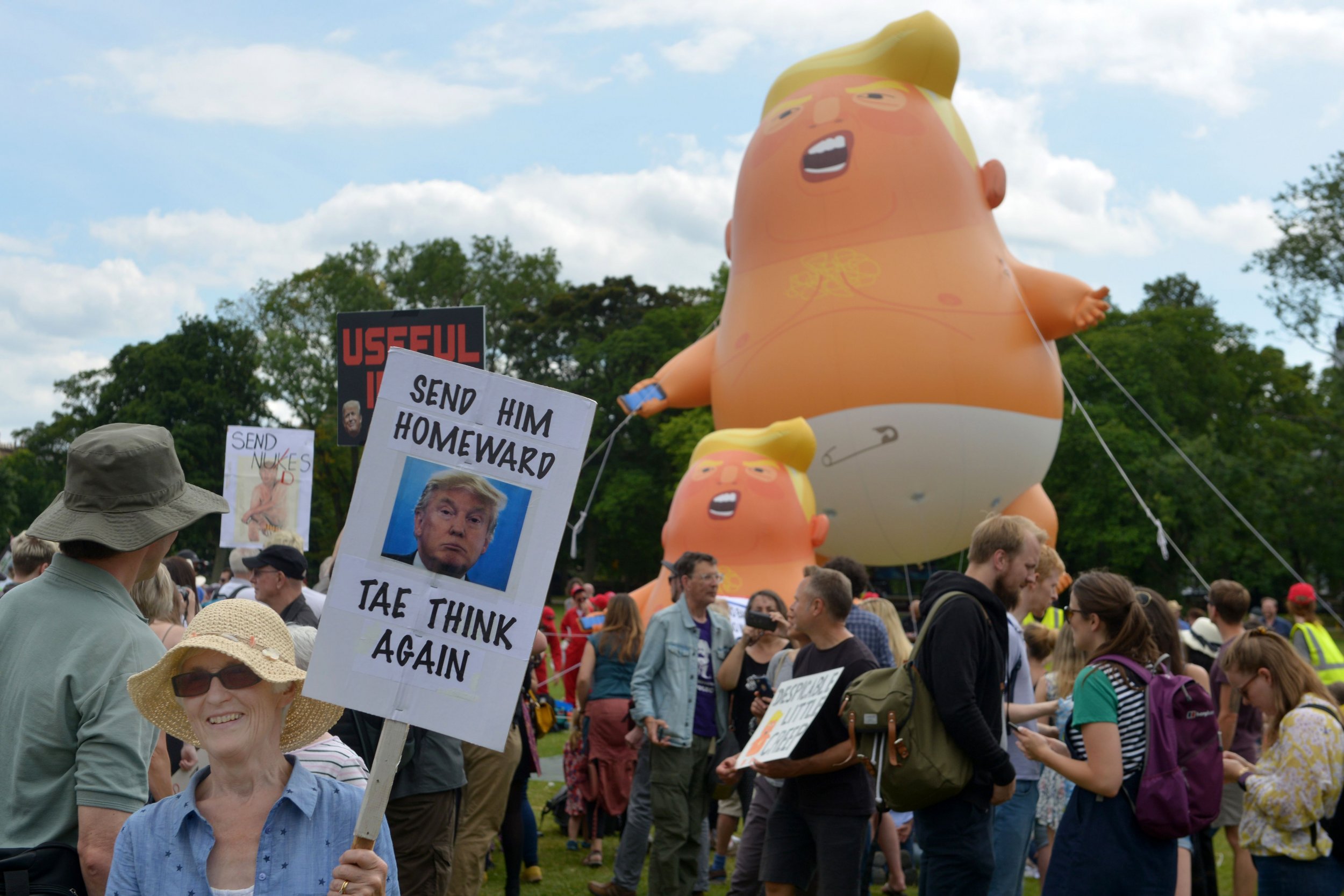 Up to a quarter of a million people are expected to take to the streets of London and other cities around the country to oppose the visit of President Donald Trump when he visits the U.K. next week, protest organizers have said.
His will be one of the least popular visits by a U.S. president with a YouGov poll showing that over half of Londoners (54%) oppose the visit and less than a quarter approve.
Trump and the first lady will be greeted by the Queen when he arrives on Monday. He will also meet Prince Charles, his wife Camilla, Duchess of Cornwall, as well as Prince William and Catherine, Duchess of Cambridge, London's Evening Standard reported.
Trump and the first lady will go to Westminster Abbey with Prince Andrew to lay a wreath at the grave of the Unknown Warrior, The Express reported.
However, there will be a less warm welcome from those opposing his visit.
The campaign group Stop Trump said in a statement: "Trump is coming back for a state visit and we have to get out there again in a diverse Carnival of Resistance that shows we reject Trump's divisive politics and policies of bigotry, hate and greed."
The campaign added: "We will make it clear to the British government that it's not OK to normalize Trump's agenda and fear it has sparked."
There will be a main protest called "Together Against Trump", that will take place in London on Tuesday leaving from Trafalgar Square from 11 a.m. Its route will depend on Trump's schedule for the day.
There are also smaller protests planned elsewhere throughout the country on Monday.
Meanwhile, the 20-foot-tall baby depicting president Trump as a baby in a diaper, which was a feature of protests that marked the president's working visit to the UK last June, is expected to make a comeback.
Organizers have applied for permission to fly the blimp at Parliament Square, which is being reviewed by the Greater London Authority.
Leo Murray, one of its creators, told CNN: "The original Trump baby blimp will definitely be back. We are looking at other creative interventions we could make.
"We'd looked into commissioning a bigger balloon, including getting quotes for hot air balloons–but decided against it as it's so expensive."
Trump was kept away from London during his last visit, but will be in the capital for his first official state visit, raising the prospect that he could see the blimp while he is carrying out his engagements.
"If he is going to address Parliament ... then flying him from Parliament Square again would be perfect. Trump Baby destroys his fantasy about how the world sees him," Murray said.