Stop Willow Project Petition Signed by 50k as Alaska Oil Plan Sparks Anger
A petition to stop the approval of an oil project in Alaska had gained over 50,000 signatures as of 8:45 a.m. ET on Thursday, as climate activists lobby the Biden administration not to give it a green light.
The plea follows the release of a government study in February that recommended allowing the major development on the North Slope, the northernmost part of the state.
Supporters say that the project could boost U.S. energy security at a time when global oil markets are volatile due to the Russian invasion of Ukraine. However, environmentalists have viewed it as a betrayal of Joe Biden's pledges to push America toward lower carbon emissions and clean energy.
ConocoPhillips, Alaska's largest crude oil producer, proposed five drilling sites as part of its Willow Project, though the U.S. Bureau of Land Management (BLM), which issued the recommendation, did so on the proviso of just three sites initially.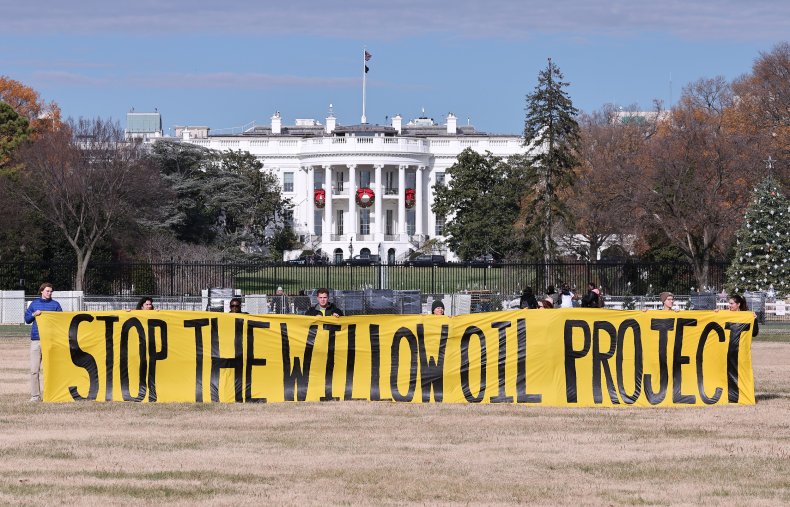 The U.S. Interior Department said in a separate statement that it has "substantial concerns" about the project, including "direct and indirect greenhouse gas emissions and impacts to wildlife and Alaska Native subsistence."
U.S. President Joe Biden now has to weigh up the economic benefits and environmental costs of the project as he considers whether to approve it. According to the Associated Press, a decision is expected imminently.
"Joe Biden is so selfish he doesn't even care for the earth," Angel Rejas, one of the petition's signatories, claimed. "How dare that nasty president do such a thing," Reasha William commented.
Newsweek has contacted the White House for comment.
The proposed project arose after ConocoPhillips made a "significant" new oil discovery in the remote region in January 2017, the company said. It estimates that the project would create 2,000 construction jobs and 300 permanent roles.
The BLM, meanwhile, thinks it could generate between $8 billion and $17 billion in revenue.
The company says the Willow Project could produce up to 180,000 barrels of oil a day—roughly 1.5 percent of total U.S. production—out of an estimated recoverable oil reserve of 450-800 million barrels. It would represent the biggest oil field in the state in decades.
The economic benefits of the project have been welcomed by local lawmakers and representatives of native Americans in the region. On Monday, the Alaskan legislature passed a resolution supporting the approval of the project.
"For the good of our families, our workers, our economy, our environment, and our national security—approve Willow now!" Dan Sullivan, a Republican U.S. senator for Alaska, said in a statement following the vote.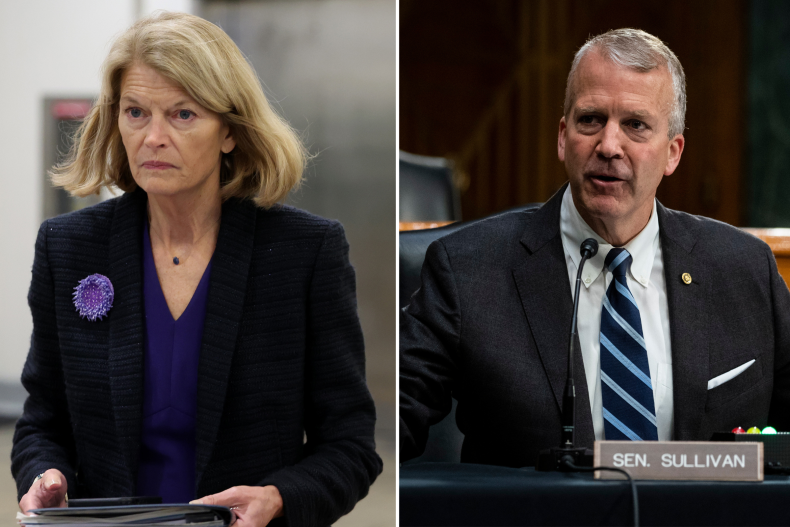 "The message from Alaska is crystal clear: we urge the Biden administration to listen to our voices, as well as BLM career scientists, and re-approve Willow to allow an economically viable project to advance," added Lisa Murkowski, Alaska's other GOP senator.
U.S. Representative for Alaska Mary Peltola, a Democrat who is Yup'ik, also voiced her support for the project, calling on Biden to approve it.
However, even three drilling sites, as recommended by the BLM, would lead to the production of over 278 million tons of greenhouse gases over the project's 30-year span—the equivalent emissions of 60 million gas cars in a year, according to the Environmental Protection Agency.
While state lawmakers appear unanimous in their support for the project, local officials are concerned.
"We want to feel safe in our homes and our daily lives and to be able to continue to be Inupiat in our lands and waters, and eat our foods," Rosemary Ahtuangaruak, mayor of Nuiqsut, the community closest to the proposed site, told Alaska Public Radio. "And that they're healthy for our families."
"I'm scared," said one of the petition's signatories on their reason for signing. "I'm only 15 and I'm scared about my future. I want to live my life not having to worry about the world ending."
"When are we all going to realize the consequences of our actions?" said Tamra Donohue. "We need to be more diligent in saving our planet and the environmental habitats that support it."
When asked to comment, Dennis Nuss, a spokesperson for ConocoPhillips, said: "We believe this project fits with the Biden administration's priorities on environmental and social justice, facilitating the energy transition and enhancing our energy security—all while creating good union jobs and providing benefits to Alaska Native communities."
Update 03/02/23, 12:00 p.m. ET: This article was updated to include comment from ConocoPhillips.