Storage Wars is back on A&E after a two-year break—and there's been a big change since the reality show's last season. When Season 13 started in April, fans learned that long-term partners and popular castmates Brandi Passante and Jarrod Schulz had broken up.
What happened to Brandi and Jarrod from Storage Wars?
Although these new episodes provide the first on-screen confirmation of Brandi and Jarrod's split, the couple actually broke up in 2018—after Season 12 was filmed but before it aired.
The pair also starred together in the 2014 spin-off Brandi & Jarrod: Married to the Job, which focused in part on their planned wedding. The ceremony never actually took place, however.
In June 2020, Brandi revealed on The Dad Diary YouTube channel that she and Jarrod had not been together for two years and that she was a single mother of their two children.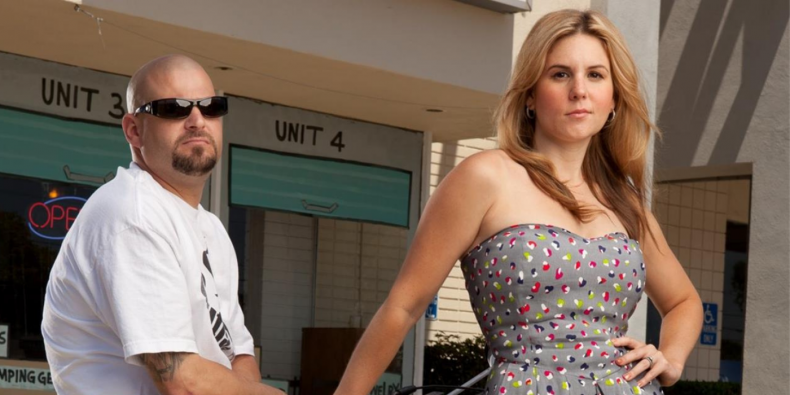 Asked by host Danny Jordan how being a single mom had affected her life, she said: "I did a lot of it on my own anyway, but it's the scary dad voice in the background that we're missing."
She later added: "I have them all the time, 24/7 they're here with me, so I have to navigate that."
Season 13 of the A&E series shows Brandi and Jarrod running into each other at storage locker auctions. In an interview with the website Pop Culture, she called these meetings "not comfortable."
According to his social media, Jarrod has moved into a new relationship with a woman named Rochel Beckman. As of February 2021 Passante is not seeing anyone seriously. She described her dating status on the Spirit Talk YouTube show as "just going with the flow right now."
She later said: "I wasn't really allowed to have an identity for many, many years. And so these last couple of years I'm kind of coming into my own and figuring out who I am. I just don't have an attachment to anyone."
Jarrod has not publicly commented on the couple's split in interviews or on social media.
Brandi, however, has taken some digs at her former partner on Twitter. Sharing the promo image for Season 13 on March 25, she obscured Jarrod's face with a demon emoji. In an April post of a similar image, she cropped him out completely.
Storage Wars Season 13 airs on A&E on Tuesdays at 9 p.m. ET / 8 p.m. CT. Selected episodes are streaming on Peacock, Amazon Prime Video and Hulu.