Store Shelves Bare, Supplies Hard to Get After 4 Mountain Passes Close in Washington
Retailers in Spokane, Washington, were hit with supply chain issues when four Cascade Range mountain passes shut down at the same time.
Dan Gwynne, a Fred Meyer store manager, told local Spokane newspaper The Spokesman-Review that the Stevens, Blewett, White and Snoqualmie pass closures caused the "perfect storm" for the area's stores.
Most of the transportation issues stemmed from a snowstorm last week that caused a 90-hour closure of Snoqualmie Pass. The closure stopped trucks from coming from western areas of the state, instead forcing them to head south toward Portland, Oregon, and take Interstate 84 through the Columbia Gorge, then head back north toward Spokane.
"I think everybody is struggling because we all pull from the West Side," Gwynne said. "There is nothing more frustrating than not being able to get trucks in."
Juliann and Jim Colbert visited Gwynne's Fred Meyer store on Sunday to go grocery shopping only to find empty shelves where products like chicken and salad should have been.
According to The Spokesman-Review, the shelves at Gwynne's Fred Meyer store were restocked to about 50 percent the day after the Colberts visited the location and took pictures of the empty shelves.
Juliann Colbert noted that most of the items missing from the shelves were "healthy things" like produce, with plenty of "chips or soda and junk" still available.
Gwynne said this was because produce needs to maintain its freshness, so stores do not usually keep emergency supplies.
"To have the freshest produce, you have to have supply," he told the newspaper. "It's not like we keep a lot of backup stock. People are buying produce for three days from now."
He also told the newspaper he has heard from other store managers in the area that they were also having supply issues. However, with it being the "perfect storm" of road closures, he said he "can't anticipate" something like this happening again.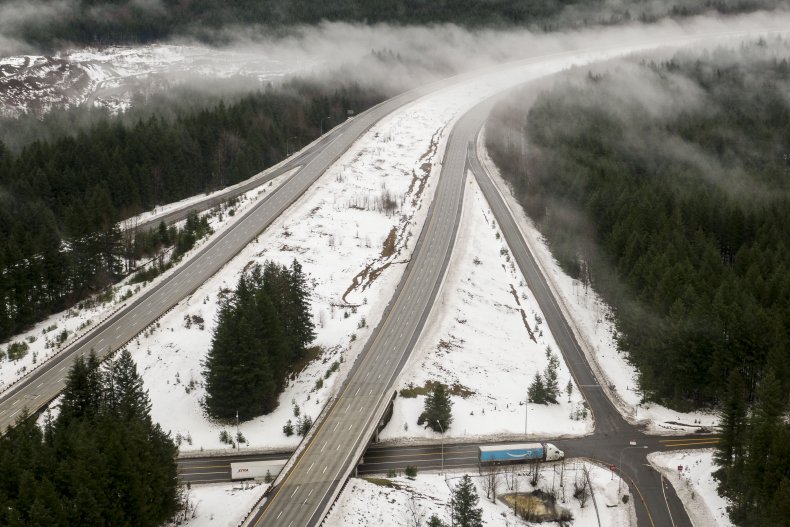 The empty shelves this weekend rekindled memories of the hoarding that took hold as soon as the coronavirus pandemic began in early 2020.
Colette Taylor, assistant general manager at an area Costco, said her receiving department was 20 trucks behind in getting freight.
"It will take us a while to catch back up," she said. "Everybody has been pretty good. People very much understand what is going on."
The Associated Press contributed to this report.