Which Stores Will No Longer Require Masks After CDC Updates Guidance?
The Centers for Disease Control and Prevention (CDC) released new mask guidelines on Thursday that said fully-vaccinated people no longer need to wear masks in most indoor settings. However, many shoppers may be wondering if they still need those masks when they enter stores.
The short answer is: Most likely, yes.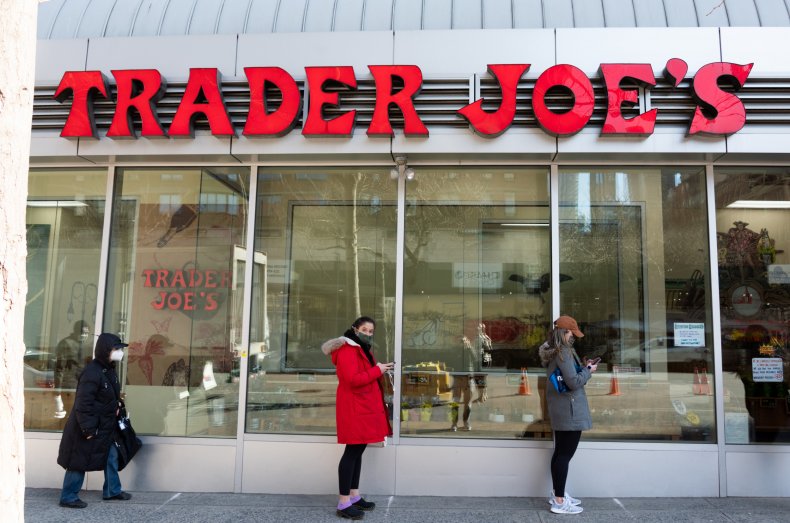 Trader Joe's announced Friday that it updated its mask policy and said fully-vaccinated customers will not be required to wear masks in their stores anymore. However, they are the exception—so far—and believed to be the only company to drop mask mandates at this time.
Some businesses have indicated they are on the fence, though.
"Target will continue to require all of our coronavirus safety measures in all stores, including masks and social distancing, while we review updated guidance from the CDC and re-evaluate the guidance we offer our team and guests," a Target spokesperson told USA Today on Friday.
Add Walmart, CVS and Kroger to the same list of companies reevaluating their mask policies based on the CDC's latest guidance.
Like CVS, Walgreens and other pharmacies will also likely keep the mask rule in effect, given these stores are often sites for COVID vaccinations and testing.
Some stores have fully stated that mask mandates will remain in place, at least for now. Starbucks told CNN that shoppers and workers are still required to wear masks in stores, despite the new CDC recommendations. Count Macy's among those still enforcing a mask rule, as the company confirmed to Business Insider that face coverings will remain mandatory in its locations.
Others, like Home Depot and Gap, have made no indication about whether or not they are looking into their policies at this time.
Disney may be one of the other huge businesses to drop mask requirements, as least in regards to visitors at Disney theme parks. The company's CEO, Bob Chapek, called the new CDC guidelines "very big news" during an earnings call and hinted a change might soon come regarding mask requirements at Disney parks.
"Particularly, if anybody's been in Florida in the middle of summer with a mask on—that could be quite daunting," Chapek said. "So, we think that's going to make for an even more pleasant experience."
Following the CDC's announcement, the states of Kansas, Kentucky, Michigan, Minnesota, Nevada, Oregon, Pennsylvania and Washington announced plans to follow the CDC guidance either immediately or in the upcoming weeks. Massachusetts, Maine, and Rhode Island have all also announced they would make decisions on the matter soon.
The CDC guidance still calls for masks in crowded indoor settings such as airports, planes, stations, buses, trains, hospitals, prisons and homeless shelters.