The Stories He Told: A Personal Remembrance Of Christopher Dickey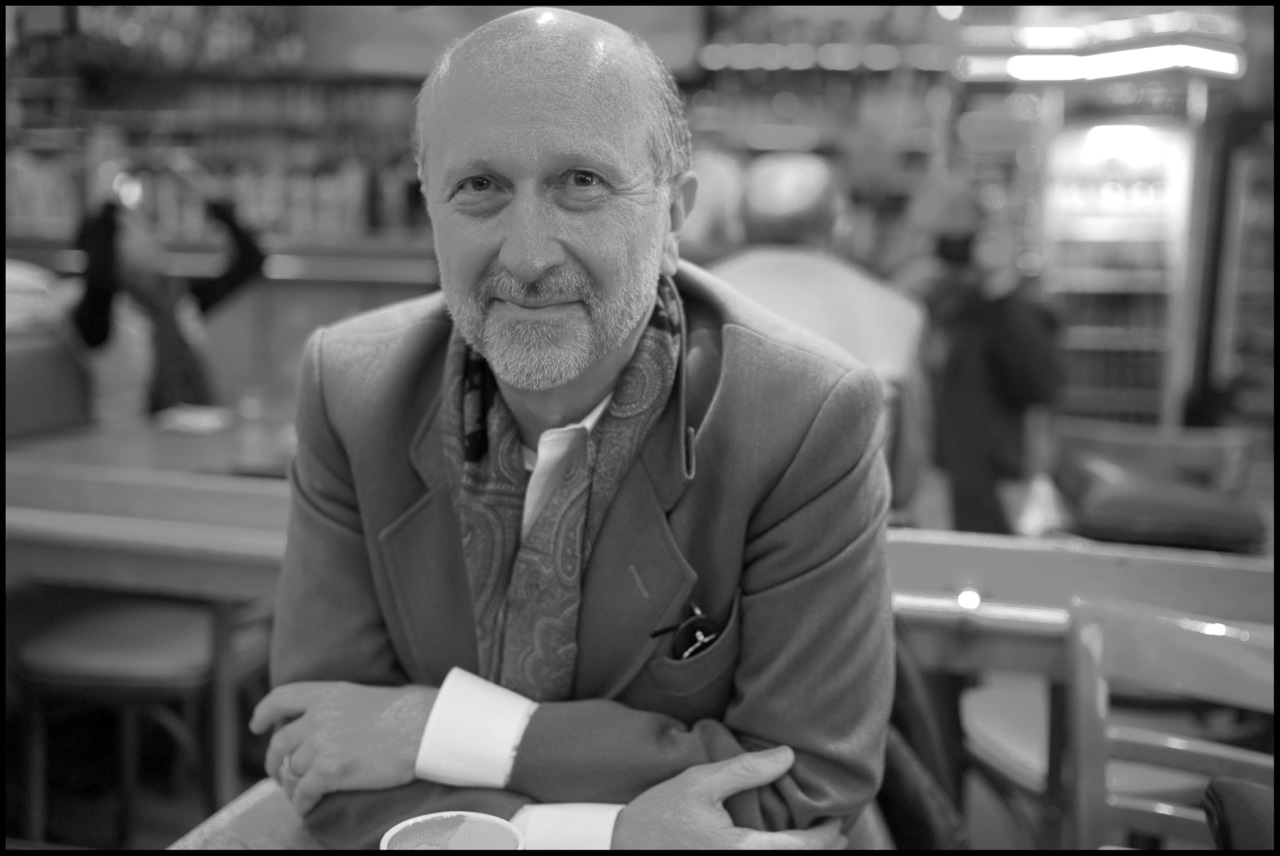 Christopher Dickey led a life that many can only dream of—that of an intrepid foreign correspondent who makes the world, in all its horror and beauty and wonder, his home. In his final hours last Thursday, he was in the place he loved best—with his wife Carol in their Paris apartment—when his heart gave out and he slumped into his computer for the last time.
He was writing a book, which would have been his eighth, concerning the American Civil War. The working title was Our Man in Paris, a follow-up to his previous book, Our Man in Charleston, about a British diplomat-spy working in the Civil War South.
Chris loved investigating the world of espionage: the blurred lines of truth and lies, idealism and treachery all became fodder for compelling stories about the conflicts dividing the world. He'd write those stories for publication, and also recount them to colleagues over glasses of fine wine or strong coffee in well-lighted cafes—in Paris or Rome, Jerusalem or Baghdad.
Chris and I both spent more than two decades as correspondents and editors at Newsweek. But when I first met him in 1985, he had just arrived in Cairo as bureau chief for The Washington Post, and he enlisted me to be a stringer—someone to help him out and back him up when he was on the road. He had come from a reporting stint in Latin America, by way of a fellowship in New York, and had never covered the Middle East before. Yet he very quickly came to understand the culture and politics of a region that could confound others for a lifetime.
"I found him more than once rehearsing aloud a chronology of Syria's internal conflicts or the arc of Yasser Arafat's political career as the Palestinian leader," recalls Patrick Tyler, who became The Washington Post's bureau chief in Cairo after Chris moved over to Newsweek. "He put enormous pressure on himself to command the history he was trying to relate to readers."
Chris taught me many things over the years, but the importance of both history and reading aloud are perhaps foremost. From our first days together, he counseled me to read my own drafts aloud—to hear the music of language and listen for discordant notes.
The son of James Dickey, the former U.S. poet laureate and author of the novel Deliverance, Chris had a natural eloquence and erudition. Sparkling sentences seemed to flow through him and his word processor effortlessly—when we first met we still used typewriters and word processors, and often sent our copy via telex. In conversation, he would cite Graham Greene or George Orwell as easily as he would summon up statements by George W. Bush or Saddam Hussein.
His father loomed large, a dark and disturbing presence for decades. In Chris's powerful memoir about their relationship, titled Summer of Deliverance, he recalls how he had become a foreign correspondent in large part to escape his father's alcoholism and mid-life boorishness, as well as the disappointment he projected on his son, which "was impossible to endure." "It was a cold knot of anger that I lived with," he wrote, "and that helped drive me to do the things I wanted and needed to do in my own life. I became a foreign correspondent—as far from him as I could be."
At his wife Carol's urging, however, Chris eventually returned to what was then the Dickey home, in South Carolina, to do what he could to patch the broken relationship back together. He needed to better understand his father in order to exorcise the old man's haunting presence from his life. But the quest became more than just that: his family included a stepmother and a half-sister, Bronwen, just a teen then, who Chris came to adore and mentor. She would later become an accomplished journalist and author herself.
"In Central America, the Middle East, Europe—in guerrilla wars and Gulf conflicts—I thought I was getting on with my life," Chris wrote. "But blood doesn't let go of you."
In the end, Chris did not just reconcile with his father, who was terribly weak and emaciated in his final years; father and son came to love each other again. After the publication of Summer of Deliverance, Carol recalls a book reading Chris gave. A woman there, who identified herself as a psychologist, remarked how impressed she was that Chris had made something of himself despite the chaos of his upbringing and then asked him to identify an idol or mentor. "You have understood nothing," Chris quietly replied. "My father was my idol and mentor."
Chris covered wars but did not tout himself as a war correspondent. He had none of the bravado—the roguish derring-do—favored by others. He preferred nuance over firepower. His sources were diplomats and spymasters, royalty and refugees, soldiers and the occasional jihadist, but also poets, artists, and historians. At times, he could seem a little out of place in his tailored suits, Christian Dior ties, and shoes of European leather, yet he embraced the dust and chaos and resilient humor of Cairo and other Middle Eastern cities. He was as happy at a camel market as he was at a diplomatic soiree.
Tyler recalls that he had a quirky sense for the metaphor in geopolitics. "He once dragged me to the ski resorts of Mount Lebanon above Beirut during the very week that Syria was invading the country in 1987," he says. "He was sure he would find a story among the wealthy Lebanese who were masters at maneuvering around the national catastrophes they had done so much to create. Chris parked himself on a veranda with a glass of wine to observe their defiant sense of invulnerability while I tarried on one of the ski slopes, tumbling down the mountain and limping back to the lodge to catch up with him. Chris merely looked up from his notebook where he had been scribbling about the scene and, in an admonishing tone, eyed my gimp and said, 'Pat, in the Middle East, you've got to know your limits'."
Chris adjusted quickly to the new digital journalism of Twitter and Instagram, but he was still an old-school reporter, someone who believed in the need for objective observers, or at least in the need for journalists who bore witness with an aim toward objectivity. He knew that bigwigs in Washington salons or war rooms—or New York editorial offices—could not be relied on to understand cultures distant from their own, or the ramifications of actions taken thousands of miles away, much less to allow for transparency once they messed up. Independent eyes and ears were needed to keep them honest.
We stayed in touch off and on throughout the decades. When I was stationed in Tokyo, I lined up a U.S. military intelligence briefing in South Korea to find that my briefer was James Dickey, Chris's son from an early first marriage, whom I had known as "Tuck" when he was a child visiting Cairo. He had apparently picked up Chris's passion for knowing things that others didn't, and piecing that information together in a way that helps us understand what makes the world tick.
There wasn't much downtime in our jobs, but Chris knew how to make the most of it. Together with our wives in 1992, we went camping in Tanzania's Ngorongoro Crater, where a lone elephant came to rub its back on a few trees in our campsite, and we rode a tall ferris wheel over Paris one glorious evening months later. The last time I saw Chris in action was in Cairo, back where we first got acquainted, covering the 2011 Tahrir uprising that overthrew Hosni Mubarak.
Cairo then was like a tribal reunion of veteran correspondents. Among several old friends there at the time was the piratical Marie Colvin, who wore an eye patch to cover a shrapnel wound she got in Sri Lanka. She was later killed by Syrian government artillery fire while chronicling the savagery rained upon civilians in Homs. Chris wrote a moving remembrance of her, mentioning how he had pulled back from covering combat, and she had not.
He had avoided on-scene war reporting for some time by then, but now had an added reason: he was a grandfather and had come to embrace the role wholeheartedly.
Chris wrote, "it will be Marie's work that should endure: the stories that she told, not the anecdotes that are told about her." Chris's work had an impact on the world, in the small but significant ways that journalism can. But he also had great personal influence on a generation of younger journalists he mentored—the sort of impact that can ripple into the future for a long time to come.
Jeffrey Bartholet is a former Newsweek editor and foreign correspondent.