In preparation for possibly thousands of visitors coming to "Storm Area 51" related events, a small county in Nevada has signed a declaration of emergency. The elected board of Lincoln County has taken the preemptive measure in anticipation of an overwhelming number of visitors coming to the county that is home to 5,200 residents.
Citing possible threats to the town's resources and inadequate services, the commission has sought help from neighboring areas as it prepares for two alien-related events. The County Commission gave two conditional permits on Monday: One went to Ufology Expo, which is slated to be held on September 20 and 21, while the second went to Alienstock, scheduled to take place from September 20 to September 22.
"We don't have enough resources for medical emergencies, waste management and sanitary facilities. The declaration will bring outside resources," Varlin Higbee, Lincoln County Commission Chairman told Newsweek. "The towns won't be able handle the influx of people and we don't want to wait till there is a crisis."
The declaration will help bring law enforcement from neighboring areas, and provide funding needed to manage the massive crowds that are expected to come in September. According to Higbee, an emergency team visited the county on Tuesday to facilitate a plan.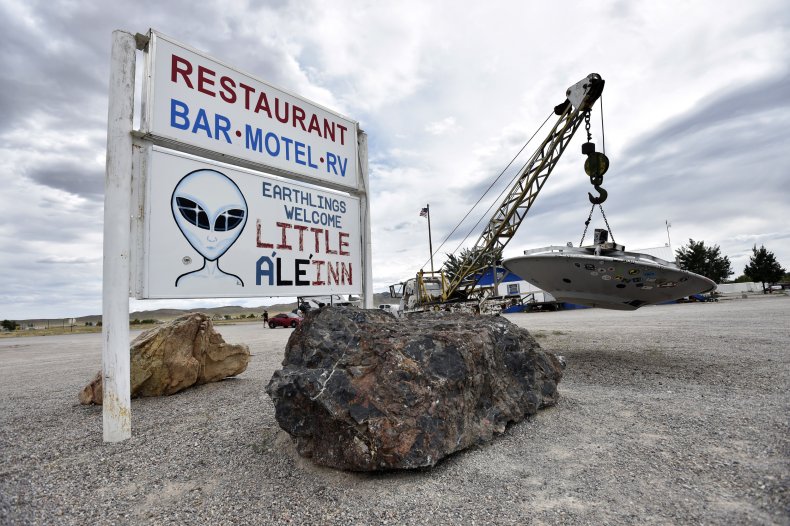 With five small towns, Lincoln County is concerned about the chaos that could ensue in light of the music festival. Rachel, with a population of around 60 residents, is concerned its rudimentary infrastructure will crumble.
"People are not excited about this. It will be tough to handle, they are preparing for the crowds and amping up their security. Sure the businesses will make more money but they will be so overwhelmed," Higbee said.
Rachel is along the "extraterrestrial highway" and is the closest to Area 51, being 27 miles away. A warning on the website run by Rachel states, "Other than the Little A'Le'Inn, a small bar and motel there are no services in Rachel. There is no gas and no store. The Inn is booked for that weekend"
An event that started out as a joke on Facebook, "Storm Area 51" quickly snowballed into a phenomenon with millions agreeing to descend upon Area 51, a military facility in Nevada that has been the source of many rumors and conspiracy theories. Although, the number of attendees aren't expected to be as high, officials are preparing for thousands of people to attend the alien-related festivities.
The county has estimated a crowd between 10,000 to 200,000. Officials are trying to spread the word to visitors to be prepared to handle harsh weather conditions if they camp in the desert around the military site.
Area 51, roughly the size of Connecticut, remains a classified test and training site. Officials have warned visitors to not attempt breaching its premises.
"It's a military base - they aren't screwing around, they will use lethal force," Higbee told Newsweek. "It's not a joke. You don't just storm a facility."