Area 51 Storm Is 'Fyre Fest 2.0', Town of Rachel, Nevada Says
The Area 51 "storm" is turning out to be a disaster, according to the town of Rachel, Nevada. Some Americans showed up to the classified military base on Friday morning after a viral Facebook event joked about raiding the military base in search for alien life. On Friday morning, the town called the event "Fyre Fest 2.0."
The town's website updated to include a play-by-play of the tourist event's progression. It said there is no organized event apparent at the site.
"So far we see a couple of hundred people in Rachel for the botched Alienstock event," the town's website read. "Law enforcement clearly outnumbers visitors. There are no vendors and not much of an infrastructure. A makeshift stage was set up on a dusty dirt lot and a few campers are parked around the area."
The town continued to comment on some alleged internal drama, which could be a reason for the crumbling event. "This has very clearly become Fyre Fest 2.0 after the creator of the Storm Area 51 movement pulled out and the organizers started suing each other."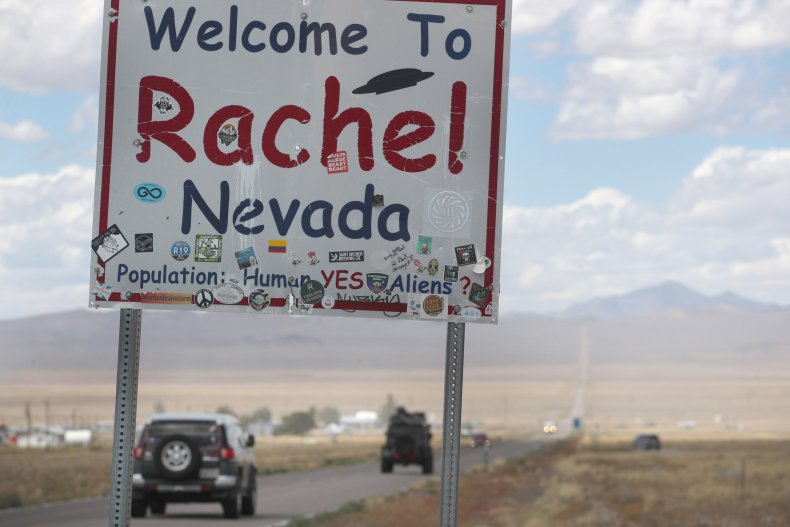 The scheduled event started to gain traction in July, due to a Facebook joke by internet user Matty Roberts. Since then, there has been concerned about what might unfold. Twitter users laughed about the raid and referred to it as the next Fyre Fest. Rachel, Nevada, confirmed those feelings on Friday.
Fyre Fest was pitched as a luxurious, exclusive music festival in the Bahamas. It took place in 2017. When visitors arrived, they were stranded with little food and housing, and no transportation back to America. Organizer Billy McFarland is currently in prison for fraud surrounding the fest.
The event under scrutiny is not a formally organized gathering. While the comment referred to the raid as "Alienstock," which was founded by Roberts, the organizer actually hosted the Alienstock event in Las Vegas Thursday night. It appears those arriving at Area 51 are simply following the Facebook event instructions, which were intended as a joke, according to Roberts.
Roberts clarified the Facebook event's comedic intention to Newsweek in July. "I have been concerned about people taking it too literal since my post reach cracked 200,000 people," he said. "Just by watching the discussion on the event page, I've personally seen an insane amount of people that cannot read the satire what-so-ever."
Meanwhile, another desert event is successfully organized, according to Rachel.
"We understand that the Area 51 Basecamp event in Hiko on the other hand is quite successful and people are having a great time."
The Area 51 Basecamp is an educational event that will screen documentaries and host conversations by extraterrestrial experts.