A Storm Brewing in the Atlantic Could Exhaust 2020 Atlantic Hurricane Season Names
With more than two months left of the Atlantic Hurricane Season, a storm could take the last name on the list, Wilfred, and break yet another record.
A disturbance in the Gulf of Mexico has a 90 percent chance of turning into a cyclone within the next 48 hours, according to the National Hurricane Center (NHC). Dennis Feltgen, a public affairs officer for the NHC, told Newsweek the thunderstorm activity has continued to increase and become better organized and it's possible it could become a tropical storm on Thursday.
If its winds reach at least 39 miles per hour and it's defined enough to earn a name, the storm will take on the moniker Wilfred, the last name on the list of 21 issued by the World Meteorological Organization (WMO). It has the potential to break the record for the earliest "W" storm by about a month.
The last time there were enough storms during the Atlantic Hurricane Season to warrant using a "W" name was in 2005. Hurricane Wilma hit Florida on October 24, 2005, after forming off the coast of Jamaica on October 14 and receiving its name on October 17.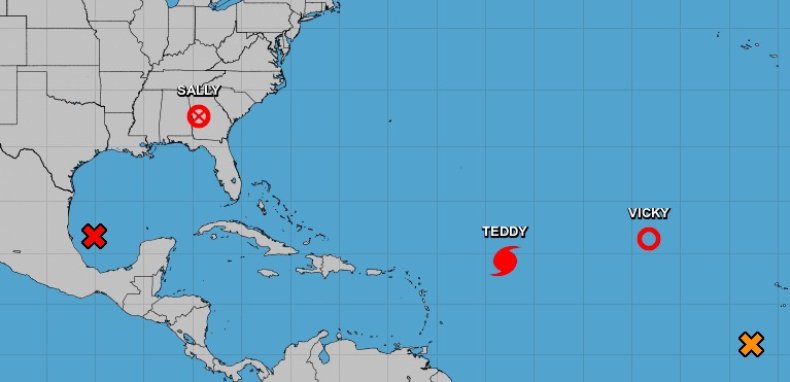 In August, Dan Kottlowski, lead hurricane expert at AccuWeather, predicted there would be 24 storms and he told Newsweek he may have to up that prediction.
"My question is going to be 'what do we see for the rest of the season?'" Kottlowski said he will ask his team. "I'm not surprised we're having all of these storms and the question is how long will the season last?"
Once all of the names on the WMO's list are exhausted, storms are named in accordance with the Greek alphabet. In 2005, there were enough storms to yield a Tropical Storm Zeta, which formed in December. Kottlowski said it's "very possible" there could be a Zeta storm in 2020 and it's possible there could be another December storm, as well.
While climate patterns between 2005 and 2020 are very similar, Kottlowski noted that the "big difference" between the two is that in 2005, the storms were much more intense. At the same point in the 2004 season, four major hurricanes formed, including two category 5 storms—Hurricane Emily, which hit Mexico twice in July 2005, and Hurricane Katrina. A third category 5, Hurricane Rita, made landfall on September 24.
This year, there has only been one major hurricane, Hurricane Laura.
It's unclear what path the disturbance could take and the NHC has yet to issue a forecast for it yet. Feltgen told Newsweek they'll know more about the disturbance in the Gulf Coast once an Air Force Reserve reconnaissance aircraft investigates it this afternoon.