Tropical Storm Cristobal Strengthens, Storm Surge Warnings Issued for Gulf Coast on Saturday
A state of emergency has been declared in Louisiana with the state's coastline expected to be hit by Tropical Storm Cristobal which has been churning over the Gulf of Mexico.
Ahead of landfall which is expected on Sunday, evacuations have been ordered for parts of Lafourche Parish including Port Fourchon, about 100 miles south of New Orleans. Residents in Grand Isle were ordered to evacuate from Saturday morning.
In a statement, Governor John Bel Edwards said: "Now is the time to make your plans, which should include the traditional emergency items along with masks and hand sanitizer as we continue to battle the coronavirus pandemic.
"A flash flood watch has already been issued for a large part of the state, and heavy rain is expected. It is critically important for the people of Louisiana to be aware of this tropical threat."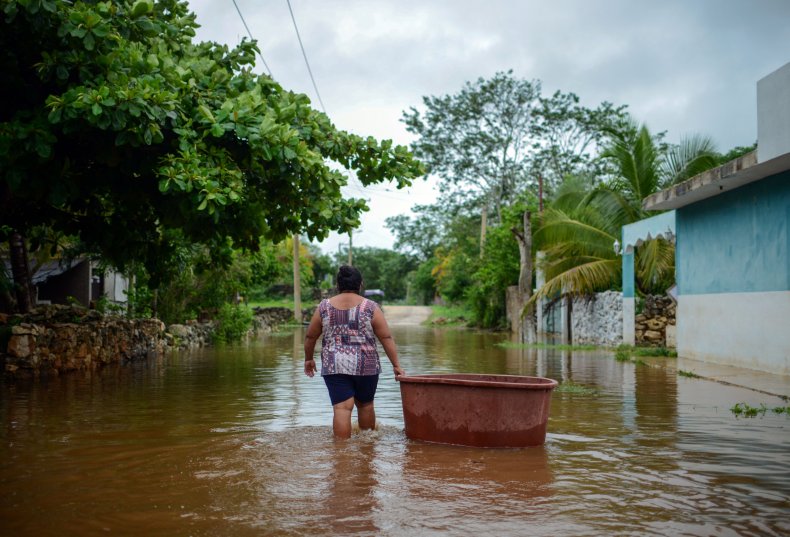 Meanwhile around New Orleans, voluntary evacuation orders are in place for the towns of Jean Lafitte, Lower Lafitte, Crown Point and Barataria, with 32,000 sandbags and 38 local pumps at the ready, Jefferson Parish officials tweeted.
Cristobal is the third named storm of what is expected to be an active hurricane season. It has sustained winds of 50 mph which are expected to get stronger as it heads north through the warm waters of the Gulf of Mexico on Saturday.
The storm which the National Hurricane Center said was centered about 360 miles south of the mouth of the Mississippi River, is expected to make landfall between Marsh Island and Slidell, Louisiana. Other areas could also be impacted and a tropical storm watch has been issued from Intracoastal City, Louisiana, to the Alabama-Florida border.
"The highest winds, greatest storm surge and heaviest rain may occur east of where Cristobal makes landfall, so not only is the Louisiana coast at risk, but also Mississippi, Alabama and well into the Florida Panhandle," CNN meteorologist Dave Hennen said.
Heavy rainfall was expected to spread from east Texas to Florida over the weekend with possible flooding in parts of the Mid-South and Gulf Coast.
Last month, the National Oceanic and Atmospheric Administration predicted there could be up to 19 named storms and as many as 10 hurricanes this season.
"This could be a very active season. The more active the season, the more likely we'll have at least one, two or three major events," AccuWeather meteorologist Dan Kottlowski said, according to USA Today.