Tropical Storm Erick Latest Path Map, Forecast for Hawaii as Potential Hurricane Tracked
A storm in the northeast Pacific is threatening to become a hurricane today, according to the National Hurricane Center (NHC).
Storm Erick is located in the far southwestern part of the basin and is moving toward the west at 16 miles per hour (26 kilometers per hour). It is expected to continue along this motion throughout today. According to the NHC, a turn to the west-north-west and a slower forward speed is expected to start on Tuesday and last through Wednesday.
There are no coastal watches or warnings in effect. However, advisories are in place as the NHC predicts the storm could turn into a hurricane. Below is the latest path map for Storm Erick.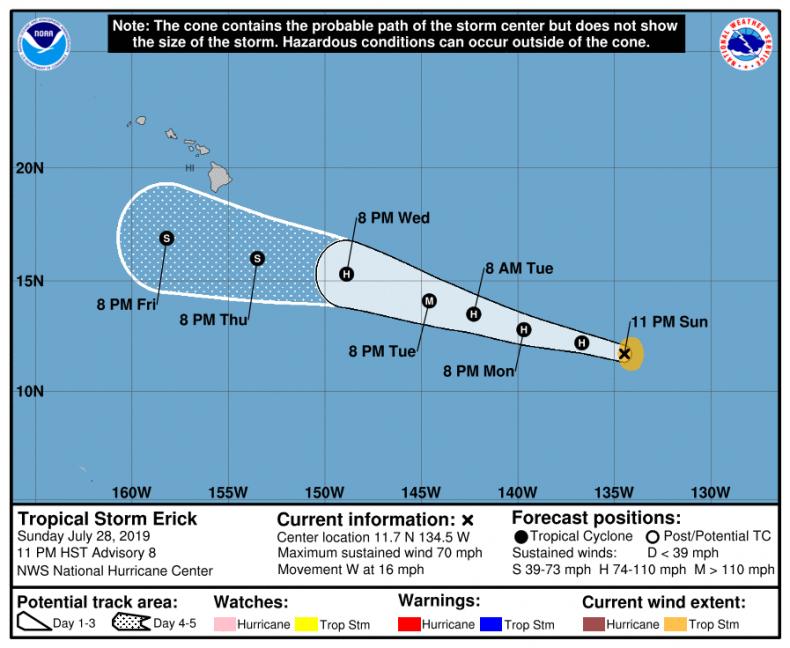 NHC reports that maximum sustained winds have increased to nearly 65mph with higher gusts, and it expects rapid strengthening during the next 48 hours. This may result in Erick becoming a hurricane on Monday, if not Tuesday.
While hazards are not expected to hit land, the hurricane is expected to pass through Hawaii this week. The National Weather Service (NWS) has not issued any active alerts on the hurricane at the time of publishing.
NWS Honolulu's forecast for the island this week is "typical moderate to breezy trade wind." On Thursday the weather looks to change, as Storm Erick moves into the local area, bringing with it high humidity levels, increasing cloud and showers statewide into the weekend.
A hurricane is a wind of force 12 on the Beaufort scale, which is equal to or exceeding 64 knots or 74mph. The term itself is often used exclusively for tropical cyclones in the Caribbean. According to the NHC, on average 12 tropical storms, six of which becomes hurricanes, form over the Atlantic Ocean, Caribbean Sea, or the Gulf of Mexico during the hurricane season, which runs from June 1 to November 30 each year.
Hurricanes can bring the following hazards, meaning people should prepare ahead of time in case Storm Erick intensifies:
Storm surges and large battering waves can result in a large loss of life and cause massive destruction along the coast, as well as traveling several miles inland.
Flooding from heavy rains is the second leading cause of fatalities from landfalling tropical cyclones.
Winds from a hurricane can destroy buildings and manufactured homes.
Tornadoes can accompany landfalling tropical cyclones.
Dangerous waves produced by a tropical cyclone's strong winds can pose a significant hazard to coastal residents and mariners, even if the storm is more than 1,000 miles offshore.
"The storm's cloud pattern is becoming better organized and has taken on a comma shape, with very cold cloud tops to at least -80 C," the NHC's last discussion alert on the storm said. "An eye is not yet evident in the imagery, however.
"Additionally, the SHIPS Rapid Intensification Index continues to show a high probability, near 70 percent, of rapid strengthening," it continued. "Thus the official wind speed forecast shows a significant increase during the next one to two days, with the system predicted to attain major hurricane status within that time frame. This is in agreement with the corrected consensus, HCCA, and the FSU Superensemble guidance, FSSE, along with the HWRF model simulation."
The 48-hour forecast advises that wind speeds will reach 115 mph. A major hurricane is classed as a hurricane topping wind speeds of 110 mph.
This article was updated to include the latest Storm Erick tracking data from NWS/NOAA.