Most eastern U.S. states can expect some degree of inclement weather attributed to tropical storm Isaias later this week.
Forecasters expect Isaias to travel quickly up the East Coast over the next few days, weakening gradually as it moves further north. Areas closer to the Mason-Dixon line, such as Virginia, Maryland and Washington, D.C., are preparing for potential flooding upon the storm's arrival.
Northernmost states, like New York, New Jersey and parts of New England, are anticipating between 2 to 4 inches of heavy rainfall near midweek. Some northeast regions, including New York City, could see isolated pockets of rain totaling up to 6 inches, the National Hurricane Center (NHC) said in an advisory notice.
Previously labeled a Category 1 hurricane, forecasters downgraded Isaias' designation as the storm approached southeast Florida from the Bahamas late Saturday. As it tracked off Florida's eastern shore throughout Sunday morning and early afternoon, the NHC issued an updated storm advisory with warnings for a number of nearby states.
The NHC acknowledged a possible storm surge notice to come for the majority of South Carolina's coastal regions, extending into the southern part of North Carolina. Isaias could cause water to rise between 2 and 4 feet above ground level in coastal areas of both Carolinas and Virginia. The NHC said this could incite flooding throughout the week, "some of which may be significant."
A National Weather Services (NWS) branch based in Virginia released a regional flood watch advisory Sunday morning, with specific projections for the surrounding areas. It warned residents of Washington, D.C., and Baltimore to prepare for potentially damaging wind gusts during a thunderstorm Sunday afternoon and evening.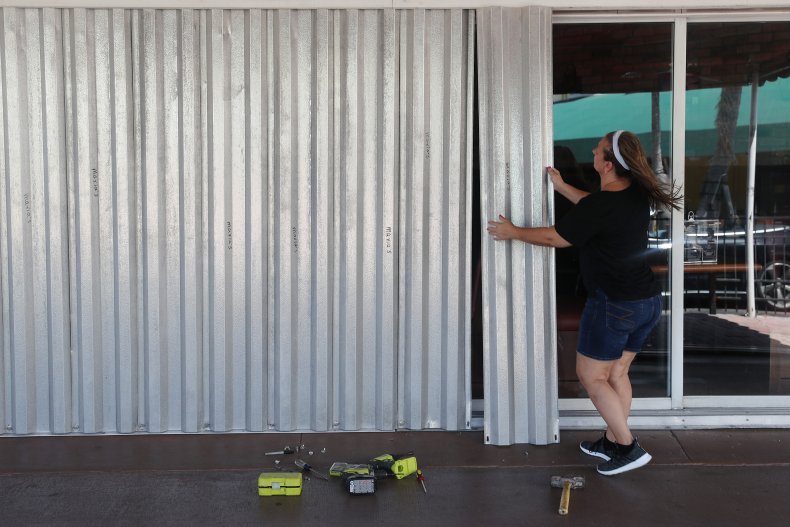 "Localized flooding is possible as well," the advisory read. The region's forecast projects scattered thunderstorms throughout Monday, with isolated threats of flash flooding through Tuesday night.
The New York division of NWS issued several forecast advisories for the area throughout Saturday and Sunday in light of Isaias' impending arrival. Following the hurricane center's latest update, the weather service released possible flood notices for eastern sections of the tri-state area.
In a subsequent tweet, NWS New York estimated a 30 to 40 percent chance of tropical storm force winds blowing through most of the state's eastern regions beginning Tuesday evening. Areas closest to the coast, like New York City, will most likely be hit hardest by the impending weather. Tropical storm force wind speeds exceed 39 mph, according to NWS New York.
Newsweek reached out to the National Hurricane Center for additional comments, but did not receive a reply in time for publication.