Tropical Storm Laura Leaves 800,000 Without Power in Texas and Louisiana
Tropical storm Laura damaged power lines across the south central U.S. as it blew through west Texas and Louisiana on Thursday, leaving more than 800,000 service locations without electricity well into the afternoon.
The storm, which made landfall about 12 hours earlier as a Category 4 hurricane, one of the most severe in Louisiana's history, gradually weakened as it neared the state's northern border on its expected path toward Arkansas before traveling east.
During his latest news briefing to share updates about the storm's impact in Louisiana, Governor John Bel Edwards said that while the storm's impacts were not as "catastrophic" as some forecasts suggested, it continued to "cause damage and life-threatening conditions" across the state at midday Thursday. He confirmed four deaths statewide as a result of storm conditions.
Widespread power outages were just one element of Laura's ongoing community threats, Edwards continued. At the time of his afternoon conference, the governor said at least half a million personal and commercial locations across Louisiana were without electricity.
Data published by national tracking resource PowerOutage.US confirmed the statistic, showing close to 608,000 service losses in Louisiana at 2:15 p.m., CT. The vast majority of outages were concentrated in the western and northern regions of the state, consistent with the storm's trajectory. It confirmed an additional 232,000 outages along the western border of Texas at 2:40 p.m., CT. Data showed close to 40,000 locations lost power in southern Arkansas around the same time, as the storm crossed over state lines.
Power company Entergy, which serves more than 1.2 million Louisiana customers, 260,000 of whom lost electricity, said its storm team was in the process of restoring service to areas based on safety conditions Thursday afternoon.
Of those areas impacted by the storm, Louisiana's coastal regions were hardest hit. The hurricane arrived with sustained wind speeds of 150 miles per hour, shattering windows, toppling trees and destroying some structures entirely. In the southeastern city of Lake Charles, photos showed significant flooding that forecasters warned might not recede for days. Nearby, a chemical plant caught fire in an incident that its parent company attributed to damages caused by the storm.
A storm surge warning, issued by the National Hurricane Center, remained in effect for the majority of Louisiana's coastal communities on Thursday afternoon.
Authorities in Texas and Louisiana placed roughly 1.5 million people under evacuation orders earlier this week, although reports that dozens of Louisiana families disregarded the mandate surfaced later on Thursday. Governor Edwards ordered residents of the chemical plant's surrounding areas to shelter in place, and switch off air conditioning units if electricity remained functional, as emergency personnel worked to extinguish the flames.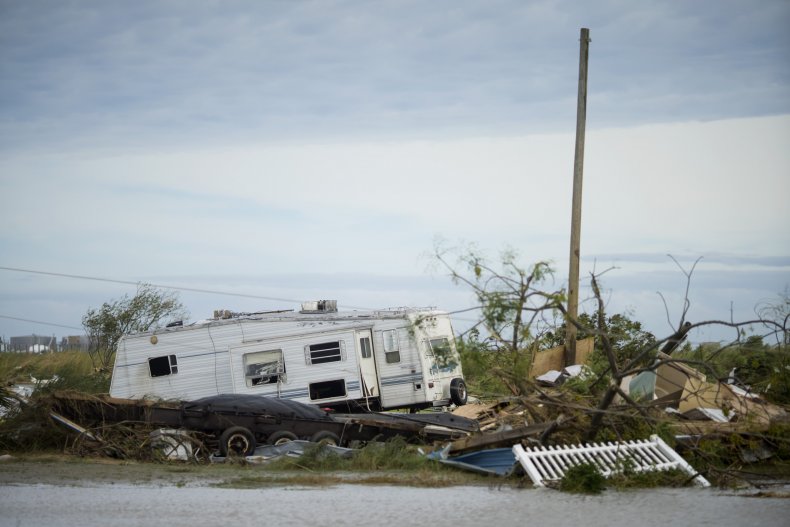 Newsweek reached out to the National Hurricane Center for additional updates regarding Laura, but did not receive a reply in time for publication.