Storm Leaves Thousands of People Without Power in Phoenix Area
Thousands of people in the Phoenix metro area remained without power on Tuesday morning after a monsoon caused outages on Monday night.
Arizona Public Service (APS), the largest electric utility in Arizona, reported 40 outages in Metro Phoenix and Southeastern Arizona with over 10,000 customers still without power on Tuesday, according to the website. Over 3,000 customers whose electric service is powered by the Salt River Project were also without power. Half the lights at Chase Field, where the Arizona Diamondbacks and Texas Rangers were playing, went out during the storm, causing a delay in play.
APS explained on Twitter that at the height of the storm, 80,000 customers lost power and that crews will continue to work hard to restore power to everyone. Customers who lost power were allowed to purchase 40 pounds of wet ice or 20 pounds of dry ice to help preserve perishables and submit the receipt to APS for reimbursement.
The storm began around 6 p.m. MT and by 7:15 p.m. MT the National Weather Service (NWS) in Phoenix issued a significant weather advisory because of wind gusts between 50 and 55 miles per hour and hail. APS tweeted that the monsoon brought 70 miles per hour winds, which caused major damage, including downed power lines.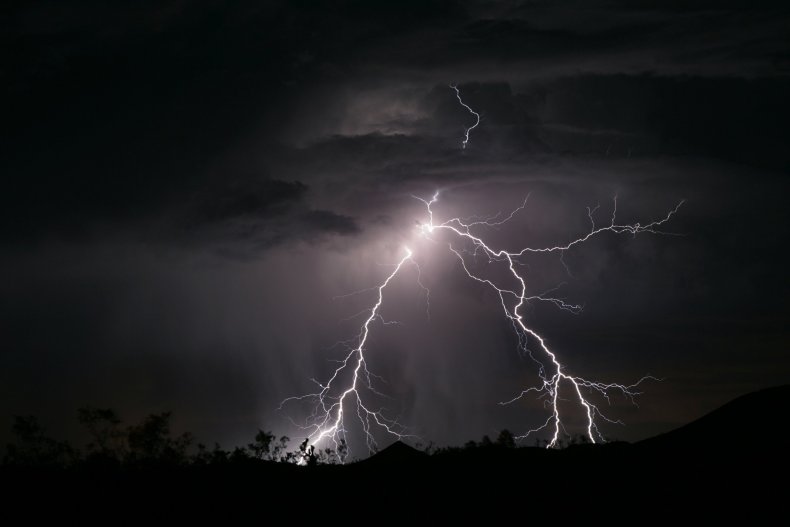 The storm broke palm trees, which are known for being able to withstand storms, in half, tore others out of the ground, and even caused a power outage on I-10 West. KPHO anchor Preston Phillips shared a video on Twitter of the storm and said, "I've never seen a palm tree snap in half like this." Phillips added that the tree smashed through a family's home when it broke.
"This was a monster storm," Suzanne Trevino with APS told Arizona Family. Along with strong wind, there was a severe thunderstorm warning and some areas experienced rainfall of one to two inches per hour. In Peoria, Arizona, located about 13 miles from Phoenix, Arizona Family reported parts of a roof were even blown off. The NWS tweeted that during the course of the storm, there were 4,000 lightning strikes and over 35,000 lightning flashes across Gila, Maricopa and Pinal counties.
Arizona's monsoon season runs from the middle of June through the end of September and the moisture, combined with the extreme summer heat, creates the perfect conditions for heavy rain, high winds, lightning, dust storms, flash floods and wildfires, according to the Arizona Emergency Information Network.
The NWS didn't rule out the possibility of another round of storms in the Phoenix area but shared on Twitter that the activity of the storms should be less than the "intense round of convection" that occurred on Monday. It's unclear when power will be fully restored to the area.