Storm Ophelia: Latest Path and Forecast as Ex-Hurricane Slams Into Ireland and Threatens U.K.
A week after it formed in the Atlantic Ocean, Storm Ophelia is barreling towards Ireland and the U.K., threatening the islands with the most destructive weather event in decades.
The ex-hurricane is forecast to bring destructive winds and potential storm surges that pose a risk to life across Ireland and in parts of the U.K.
Ireland has deployed its army and put schools and other public institutions on lockdown, as the government warns people to stay inside until the storm has passed. The U.K. has issued a weather warning, stating that Ophelia poses "potential danger to life" to those in its path, particularly in Northern Ireland.
Where is Storm Ophelia?
Ophelia has not yet made landfall, but the storm's effects have already begun to be felt in southern Ireland. Hurricane-force winds have begun battering parts of Ireland, bringing down trees and cutting power to hundreds of households.
Ireland's national weather office, Met Eireann, has issued a status red warning across the whole country on Monday, warning of wind speeds of up to 93 mph. The storm is forecast to batter the southwest province of Munster and southern parts of Leinster on Monday morning before hitting the rest of the country later on Monday.
A forecast by the National Hurricane Center in the United States has Ophelia moving across Ireland and Northern Ireland before reaching northwest Scotland on Monday evening. The storm will then move across northern Scotland and the Shetland Islands through Tuesday.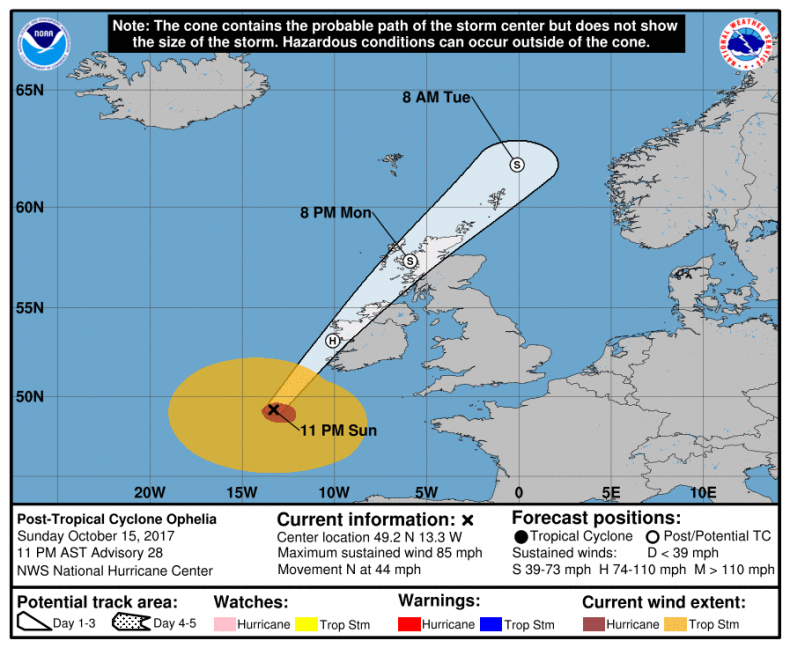 How powerful is Ophelia?
Met Eireann said that the storm will bring "violent and destructive gusts" to the country and that heavy rain and storm surges could result in flooding of coastal areas. "There is a danger to life and property," said the weather service.
The U.K. Met Office has issued amber weather warnings—its second-highest ranking of warnings—for Northern Ireland, Wales and southwest Scotland. Winds are expected to peak in Northern Ireland on Monday afternoon, and the Met Office warned that the storm could cause flying debris, power cuts and travel cancellations.
Ophelia had been as strong as a Category 3 hurricane—which means wind speeds of up to 129 mph—at one point on its journey through the Atlantic Ocean, but was downgraded to storm status before hitting Ireland.
What is happening in Ireland?
The Irish government has ordered all schools, colleges and other educational institutions to remain closed on Monday to minimize the risk posed by Ophelia, while the army has been deployed to help in areas most at risk of impact from the storm.
Leo Varadkar, Ireland's Taoiseach—the title given to Ireland's prime minister and head of state—said that the government's priority was protecting the public.
Many private businesses have closed their doors on Monday, while widespread travel disruptions are also expected. Dublin Airport said that around 130 flights had been canceled, while many were expecting long delays.
What about the U.K.?
While Ireland is expected to bear the brunt of Ophelia's wrath, the storm is also threatening parts of the U.K., particularly Northern Ireland. The U.K. Met Office says it expects "very windy weather" in Northern Ireland from 12:00 p.m. on Monday. All schools and colleges have been ordered to close in what the U.K. government described as an "entirely precautionary" measure.
The U.K. Ministry of Defence has made three battalions totaling 1,200 soldiers available for dealing with any weather incidents in the U.K., but has not had any specific requests from local authorities yet, the BBC reported.
Has Ireland and the U.K. seen anything like Ophelia before?
You have to go back over 50 years for a weather event comparable to Ophelia's predicted impact in Ireland. The country was struck by Hurricane Debbie when it was a storm in September 1961; Debbie brought winds of over 110 mph as it passed close to the southwest coast of Ireland. The storm killed 15 people across Ireland and Northern Ireland, the Irish Times reported, with most being killed by falling debris, while some drowned.
Ophelia also comes 30 years exactly after the Great Storm of 1987, which caused massive destruction in the U.K. and also caused casualties in France and the Channel Islands. Eighteen people were killed in the U.K. by the storm, the BBC reported, which left thousands without power and caused over £1 billion ($1.3 billion at today's exchange rate) of damage.