Tropical Storm Sally Could Become Hurricane and Hit Louisiana Just Two Weeks After Deadly Category 4 Cyclone Laura
Tropical Storm Sally is strengthening off Florida's west coast, prompting forecasters to issue storm surge and hurricane warnings for parts of the U.S. Gulf Coast, including Louisiana, where many residents are still recovering from the impacts of Hurricane Laura—one of the strongest hurricanes ever to hit the state.
As of 5 a.m. EDT on Sunday, the center of the storm was located around 115 miles west of Port Charlotte, Florida, and was moving northwestward at around 13 miles per hour, according to the National Hurricane Center (NHC).
Maximum sustained wind speeds have increased to around 50 miles per hour, with tropical-storm force winds extending outward up to 90 miles from the center. However, further strengthening is expected over the next couple of days and Sally is forecast to become a hurricane on Monday.
"On the forecast track, the center of Sally will move over the southeastern and eastern Gulf of Mexico today, move over the north-central Gulf of Mexico tonight and Monday, and approach the north-central Gulf Coast within the hurricane watch area late Monday and Tuesday," an NHC advisory read.
Sally—the earliest 18th named storm to form in a single Atlantic hurricane season—is expected to bring hurricane conditions to a region stretching from Grand Isle, Louisiana to Ocean Springs, Mississippi, including the New Orleans metropolitan area, by early Tuesday, according to forecasters. Tropical storm conditions are likely by Monday.
The storm is expected to bring "dangerous and life-threatening" storm surges to coastal areas from Louisiana to the Mississippi/Alabama border.
Sally is also expected to produce flash flooding across southern and central Florida through Monday, and parts of the central Gulf Coast from Monday through the middle of the week.
The storm is not expected to reach the size and intensity of Hurricane Laura, which made landfall in Louisiana on August 27. Residents in the affected parts of Louisiana and Texas have not had much time to recover after many areas sustained major damage during the Category 4 Hurricane, which clocked sustained wind speeds of up to 150 miles per hour.
These maximum sustained wind speeds meant Laura tied the strongest hurricane ever to make landfall in Louisiana. The storm destroyed or caused major damage to more than 7,200 homes in Louisiana and Texas, and has been linked to more than 30 deaths in the United States, The Weather Channel reported.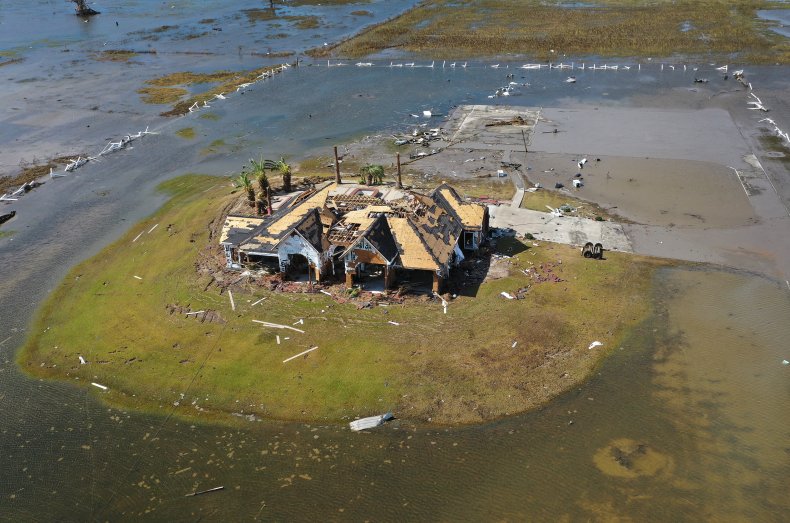 Some of the people who have were affected by the hurricane say that authorities have been slow at providing aid, as wildfires rage in the west of the country and the coronavirus pandemic continues.
"If people nationwide had a better understanding of really how bad this thing is, I think the recovery really might be a lot faster," Jim Beam, a reporter from Lake Charles, told the Beauregard Daily News.
On Saturday, Louisiana Governor John Bel Edwards declawed a state of emergency and urged residents to prepare of the storm. Meanwhile, officials in the New Orleans area issued a mandatory evacuation order—to go into effect from 6 p.m. Sunday—for some areas that are not protected by levees, Stars and Stripes reported.