Storm System Brings Winter Weather Advisories, Avalanche Warnings and Flood Watch for Northwest
Weather warnings have been issued for the Northwest, with heavy snow, high wind, flash floods and avalanches putting residents at risk.
The National Weather Service (NWS) has advised that the states of Oregon and Washington will be affected due to a storm system currently impacting the region. The system, according to the NWS, brought rain and high-elevation snow over night that will continue into this morning. Snow levels will generally
fluctuate between 4,000 to 5,000 feet, except in central Washington, where trapped colder air will help keep snow levels down to around 3,000 feet through tomorrow morning.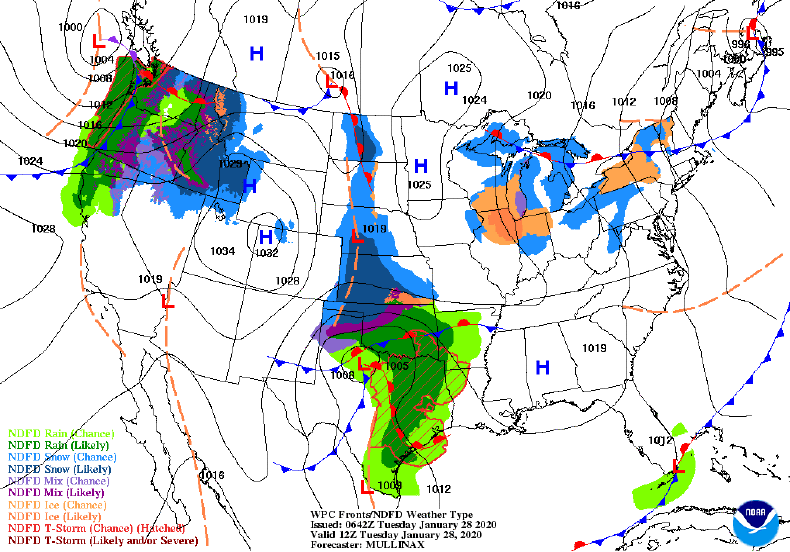 In an urgent winter weather message, NWS Portland's said that additional snow accumulations of four to eight inches will impact Lane County, Oregon, with wind gusting as high as 45 mph. The advisory is in effect for areas above 5,000 feet elevation until noon PST today.
The Northern Oregon Cascades could see snow accumulations up to 10 inches, as well as Southern Oregon Cascades seeing hazardous conditions. These conditions are expected to affect portions of Highway 62, Highway 232, and near the junction of Highways 138 and 230.
The South Washington Cascades, including the city of Mount St. Helens, is also under advisory until noon PST today for above 4,500 feet. According to NWS, six to 12 inches of snow is expected. Other areas could see up to nine inches of snow, including the Cascade mountains and valleys of Whatcom and Skagit Counties. For these areas, NWS also warned that "dangerous avalanche conditions" are expected to develop into this morning.
The Northwest Avalanche Center has also issued a backcountry avalanche warning for the Mountain Hood Area, according to the NWS. In place until 6:00 p.m. PST today, the warning says that "very dangerous avalanche conditions will develop" overnight and continue into today. This warning does not apply to highways or ski areas.
The storm system affecting the region is creating conditions that can produce large and dangerous avalanches in many backcountry areas, according to the warning. Heavy snow and strong winds will continue these conditions until later today. Residents are warned not to travel in avalanche terrain as it can run long distances can run into mature forests, valley floors or flat terrain.
A flood watch is also in effect through to this afternoon for a portion for southwest Washington, which includes the south Washington Coast and Willapa Hills. According to the NWS, heavy rain is expected in Willapa Hills of one and a half to three inches, causing sharp rises in water levels in the small streams and rivers of the area. "The river with the greatest concern of flooding is the Grays River in Wahkiakum County since it responds quickly to excessive rainfall," says NWS.
A flood watch means there is a potential for flooding based on current forecasts, so residents should monitor later forecasts and be alert for possible warnings. NWS also advises that landslides and debris flows are possible during this flood event.
For people in these areas or for people planning to travel today, the following resources provide updates:
Call 5-1-1 local for travel and road updates
Precautions can also be taken during winter weather to help you stay safe.