Storms Knock Out Power For At Least 300K In Wisconsin and Illinois
Over 300,000 people in Wisconsin and Illinois were left without power after storms battered the Midwest on Tuesday.
Illinois power company ComEd said that over 183,000 of its customers had lost power following the storms, while Wisconsin's We Energies said that more than 120,000 had lost power. Power lines were knocked down as the powerful storms wracked havoc on both states, leaving the utility companies to scramble to repair the damage and restore service in the areas that went dark.
Areas affected by the Illinois storms included the Chicago metro area, where more than half the outages were reported. Residents posted footage and photos of the storm causing lightning strikes in the city, as well as trees knocked over by heavy winds. In Chicago suburb Evanston, the fire department warned residents to stay indoors as the extreme weather was expected to continue into the late evening.
"Major storm knocks down trees across Evanston, resulting in massive power outage," the Evanston Fire Department tweeted. "Storm activity expected to continue until late this evening. Stay safe and stay indoors!"
Police in Kenosha, Wisconsin urged residents to exercise "extreme caution and stay indoors" due to "multiple reports of trees and wires down in the city." Kenosha had been under a severe thunderstorm warning as the storm hit the area.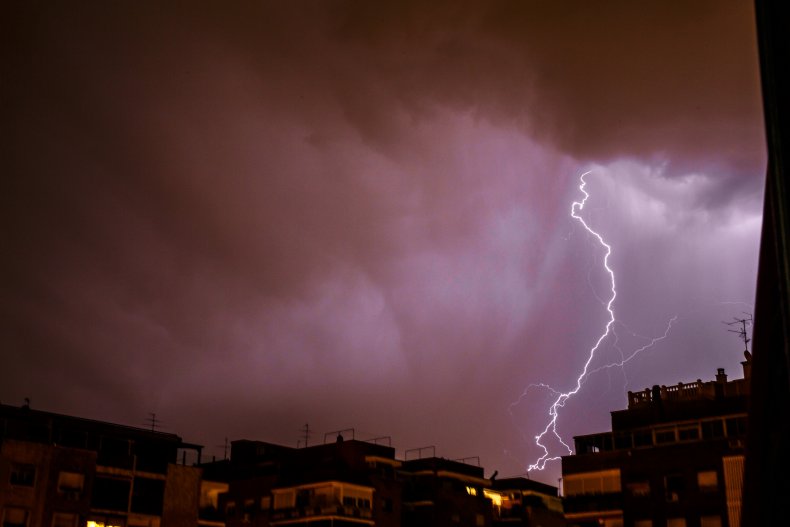 A severe thunderstorm warning was also issued in the Milwaukee area, while law enforcement reported an unconfirmed tornado touching down near Black Creek, about 25 miles west of Green Bay. Footage posted online appears to show a tornado touching the ground. Winds of 70 miles per hour and higher were reported in multiple areas.
"We are seeing a large amount of power outages due to strong storms with high winds and lightning. We currently have more than 120,000 customers without power," We Energies spokesman Brendan Conway told The Milwaukee Journal Sentinel. "Stay away from downed lines and use our app or website to report an outage."
The storms began in Iowa, where they caused some damage and power outages in the eastern part of the state earlier in the day. By a little after 9 p.m. local time, the storms had moved out of Illinois and were heading further east into Indiana and Michigan.
Severe thunderstorm warnings were issued in parts of both Michigan and Indiana as the storms moved into the states. Michigan power company Consumers Energy reported that almost 150,000 people had been affected by outages by around 11:30 p.m. local time. A smaller number of people were affected by outages in Indiana.
Exactly one year earlier, a series of storms and thunderstorms known as a "derecho" hit the Midwest. The storms caused widespread power outages and damaged or destroyed millions of trees, as well as devastating crops in the region. Four people were killed and the storms left over $11 billion worth of estimated damages, making it the costliest thunderstorm event in U.S. history.