Storms Loom at Daytona 500 on 20th Anniversary of Dale Earnhardt's Deadly Crash
Two different storm clouds will surface on the east coast of Florida this weekend. One will bring heavy rains to Daytona Beach. The other dark cloud is the memory of racing legend Dale Earnhardt, who died in a car crash 20 years ago here at the Daytona International Speedway.
Stock car racing hasn't been the same since Earnhardt's famous No. 3 car slammed into the wall at turn four during the final lap of the Daytona 500 in 2001.
The Daytona 500 is scheduled for this Sunday, February 14, 2021, and thunderstorms are in the forecast all weekend with temperatures in the mid 70s. That means there's a good chance that water will fall from the sky Sunday, possibly postponing the 63rd Annual Daytona 500—again.
Alex Bowman had the fastest qualifying time, and he will be in the pole position. He'll be joined on the front row by William Byron for the first lap.
The next qualifiers (2 per row) are: Aric Almirola, Austin Dillon, Christopher Bell, Bubba Wallace, Ryan Newman, Kevin Harvick, Joey Logano and Kyle Busch.
Last year's Daytona was won by Denny Hamlin, who claimed his third checkered flag in this race. Hamlin is in the 25th starting spot this year.
The 2020 race was rain-delayed until the next day, and Ryan Newman had a fiery crash while leading on the final lap. Newman was removed from his car and taken to a local hospital, where he was listed in critical condition for several hour. He walked out of the hospital 48 hours later.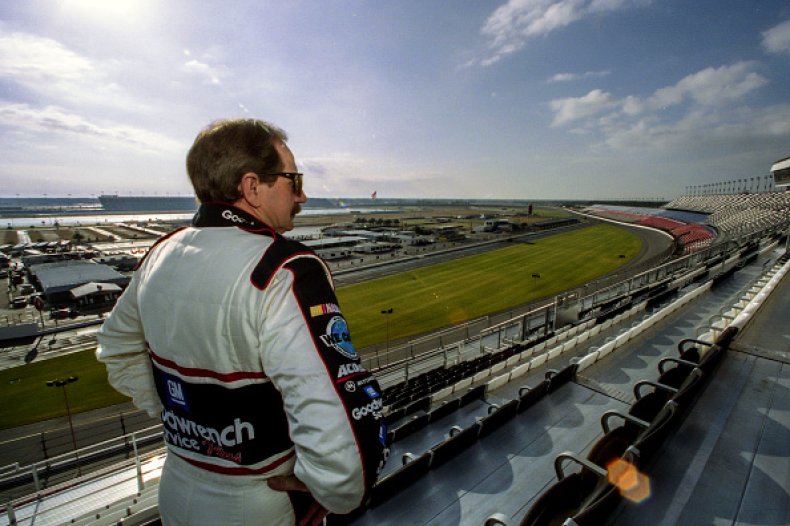 Newman's crash last year brought eerie reminders of the Earnhardt crash, which seemed more like yesterday than 19 years earlier. Now, it's the 20th year since Earnhardt perished on February 18, 2001 at age 49.
Earnhardt, who was already a racing legend, did not win his first Daytona 500 until February 15, 1998—on his 20th attempt. He was 46 at the time.
Since then, there have been vast safety improvements for drivers, crew members and fans.
The Daytona 500 last year was the last major sporting event before the COVID-19 pandemic temporarily shut down the sports world last spring. NASCAR was one of the first sports to get back on track, and it did so without fans in the stands.
Sports slowly opened back up, and things didn't quite look the same with very few fans in attendance, if there were any fans at all. The 63rd Daytona 500 is scheduled to run this Sunday, and they expect about 30,000 fans in the stands.
While 30,000 might seem like a hefty number—and more than the 25,000 in attendance for this week's Super Bowl in nearby Tampa—it's still far below the 100,000-plus fans that fill the Daytona Speedway on an annual basis for the Super Bowl of NASCAR.
How to watch the Daytona 500
Date: Sunday, February 14, 2021
Time: 2:30 p.m. ET
TV: FOX and the Motor Racing Network
Live Stream: FuboTV