Where Is Stormy Daniels? Trump Affair Porn Star Addresses 'Celebrity Big Brother' 2018 Rumors
Adult film star Stormy Daniels, real name Stephanie Clifford, denied rumors that she is set to appear as a contestant on the U.K. version of Celebrity Big Brother.
Daniels, 39, who alleges she had an affair with President Donald Trump over a decade ago, was asked on Twitter if she is appearing on Celebrity Big Brother following reports that she will be a housemate. "Nope," came the reply from Daniels.
It followed tweets by Daniels two days before in which she said: "For those excitedly believing I am going on a reality show to talk about Trump, I hate to rain on your parade. That is absolutely NOT gonna happen. I never said that. When will people learn? You can put a lot of things in my mouth. Words are not one of them."
Her name appeared at the top of a list of Celebrity Big Brother U.K. housemates reported by The Sun, a popular British tabloid, which said it exclusively obtained the "closely guarded" list.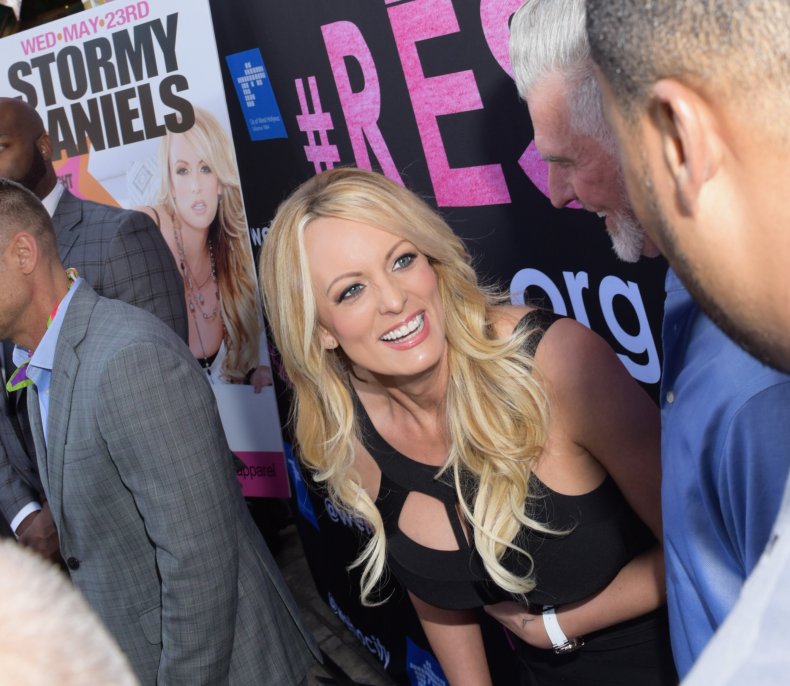 Daniels did not immediately respond to a request for comment by Newsweek.
She is scheduled to appear at Dreams, a strip club in Killeen, Texas, on August 17 and 18. Celebrity Big Brother begins in the U.K. on August 16. A man who answered the phone at Dreams told Newsweek that Daniels is still slated to appear at the club on those dates.
A representative for Big Brother told Newsweek previously that they "never confirm or deny the involvement of any B.B. contributors in advance."
Trump's legal team is suing Daniels for breaching a $130,000 hush deal she signed just before the 2016 election to keep quiet about the alleged affair. She is trying to break out of that non-disclosure agreement. Her lawyer Michael Avenatti argues it is void because Trump never actually signed the document.
Details of that deal, arranged by Trump's former fixer and attorney Michael Cohen, emerged in January 2018. Cohen fronted the money and was later reimbursed by Trump, who denies the affair happened. He also denied knowing about the payment until media reports emerged.
Daniels is also suing Trump's former lawyer Cohen for defamation over his statement in February suggesting she was lying about the $130,000 payment. And she is suing Cohen and her former attorney Keith Davidson, accusing them of colluding in the interests of Trump over Daniels, CNN reported.
More Americans believe Daniels than Trump. Thirty-four percent of respondents said they believe Daniels more, according to a poll from YouGov/The Economist. Thirty percent said they believed Trump more, while another 30 percent said "neither one." Six percent said Daniels and Trump were equally trustworthy.
Where Is Stormy Daniels? Trump Affair Porn Star Addresses 'Celebrity Big Brother' 2018 Rumors | U.S.