Stormy Daniels Says Donald Trump Admitted His Hair was 'Ridiculous' But Said 'It's My Trademark'
Adult film star Stormy Daniels claims in her forthcoming memoir Full Disclosure that, before he became president, Donald Trump admitted that his hair was "ridiculous" but that he declined to change it because it is his "trademark."
Daniels, whose legal name is Stephanie Clifford and who is suing Trump over a nondisclosure agreement related to their alleged affair, writes that she asked Trump about his hairdo because he seemed to enjoy being teased, The Guardian reported based on a copy it obtained.
"'I know,' he said with a smile. 'It's ridiculous. Come on. First of all, I have a mirror,'" Daniels wrote.
Trump apparently told Daniels that "every celebrity stylist" had offered to fix his unusual haircut but that he refused because he did not want to start a fight—and also because "it's my thing. It's my trademark."
In her memoir, out October 2, Daniels also details her alleged affair with Trump in 2006 and a subsequent $130,000 hush payment. She added that she did not want to sign statements on the payout because they were "bullshit," but she accepted the agreement to protect her daughter and husband.
She also shared her impressions of Trump, including that he seemed insecure. "He was just run-of-the-mill insecure, which I find happens a lot with people with money that they didn't earn themselves," Daniels wrote.
Even before Daniels's comments about Trump's hair, it has been apparent that the president cares deeply about his famed hair.
First daughter Ivanka Trump reportedly described the intricate steps it took to put her father's hair together.
"She often described the mechanics behind it to friends: an absolutely clean pate—a contained island after scalp-reduction surgery—surrounded by a furry circle of hair around the sides and front, from which all ends are drawn up to meet in the center and then swept back and secured by a stiffening spray," Michael Wolff wrote in his book Fire and Fury: Inside the Trump White House, published in January.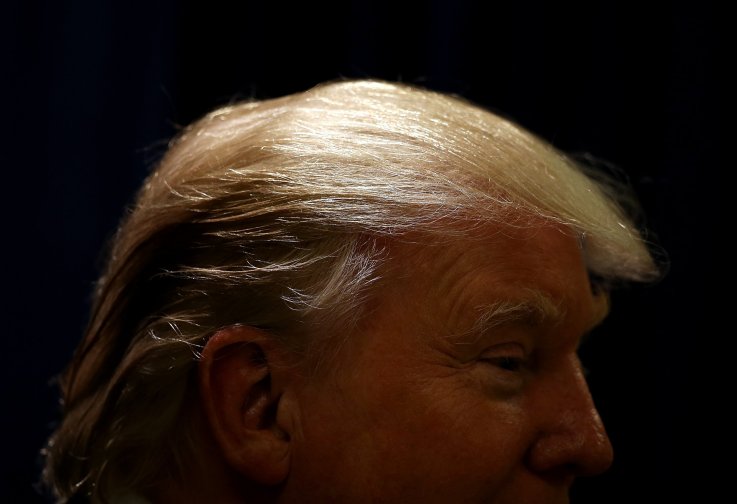 Donald Trump had scalp reduction surgery in 1989, according to his first wife Ivana Trump's divorce papers and the 1993 biography Lost Tycoon: The Many Lives of Donald J. Trump. His hairdo has been described as a side-and-back comb-over, and gusts of wind have on occasion revealed a bald spot.
Late Night comedian Seth Meyers in July mocked the president by impersonating him saying: "The Founding Fathers were a bunch of great, great men. But they had really bad hair. If you're the president, you need to have good hair that doesn't in any way look like a wig."
Stormy Daniels Says Donald Trump Admitted His Hair was 'Ridiculous' But Said 'It's My Trademark' | U.S.